Bohemian wedding dresses are popular as ever. More and more brides go for the natural look when it comes to choosing the perfect wedding dress. Bohemian design goes hand in hand with comfort. You can forget about the uncomfortable wedding dresses because boho style means comfortable clothing.
Let's clear up some questions you may have about bohemian style.
What does bohemian mean: it is usually called as boho or boho chic style. This style was extremely popular in the 60's and 70's but we can trace it back to even earlier. Bohemian style focuses on free and flowy natural fabrics. Natural is an important word because it emphasizes concern for the environment.
What is a bohemian wedding: bohemian weddings are more relaxed than traditional ones. Bohemian weddings are close to nature. Bohemian couples often choose venues that are non-traditional like rustic farms or ranches, backyards, vineyards, beaches, lofts or even warehouses. You can mix and match anything and everything.The more eclectic, the more vintage the better.

What is a bohemian wedding dress: Bohemian brides love organza, lace and all kind of organic fabrics. Bohemian wedding dresses are comfortable, free flowy and of course amazing. They are for the free-spirited, unconventional brides who want something different for their big day.
If you are a bride-to-be and wondering where to buy and where to get bohemian wedding dresses, this article will help you to find the right one.  Fortunately there are many very talented wedding dress designers who are specialised in bohemian style. Here is the ultimate list of the top 20 bohemian wedding dress designers.
I want to thank all wedding dress designers for giving me permission to use their beautiful and outstanding images.
Lena Medoyeff Wedding Dresses
Her wedding dresses are absolutely fantastic. They are effortless, feminine, reflect understated sex appeal and individuality at the same time. All of her wedding dresses are made from FairTrade fabrics and were sewn in Portland. She uses playful sleeves to make these beautiful dresses even more exclusive.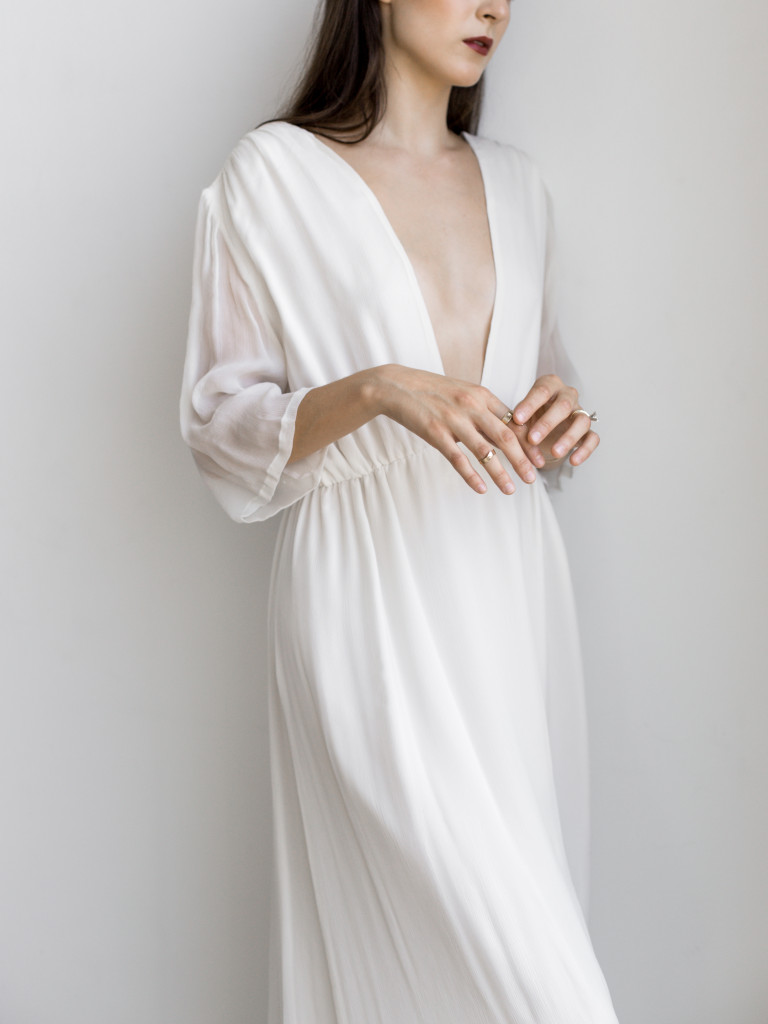 Her dresses are very romantic and delicate looking. No wonder that one her dresses – Julianna – was featured in the Fall/Winter 2016 issue of Oregon Bride Magazine.
Lace plays an important part in her collection. The unlined back and bodice are combined with lace, the result speaks for itself. Just have a look at the fabulous Nellie Scott bohemian wedding dress with lace, pictured below. Photos are by Benjamin Holtrop Photography.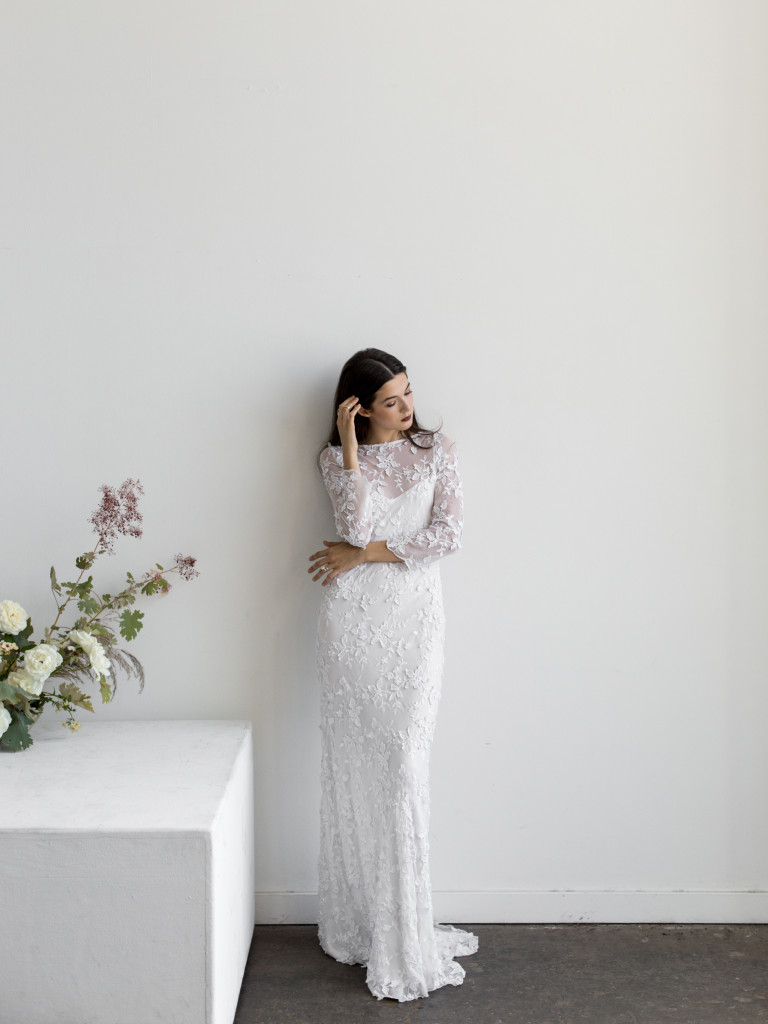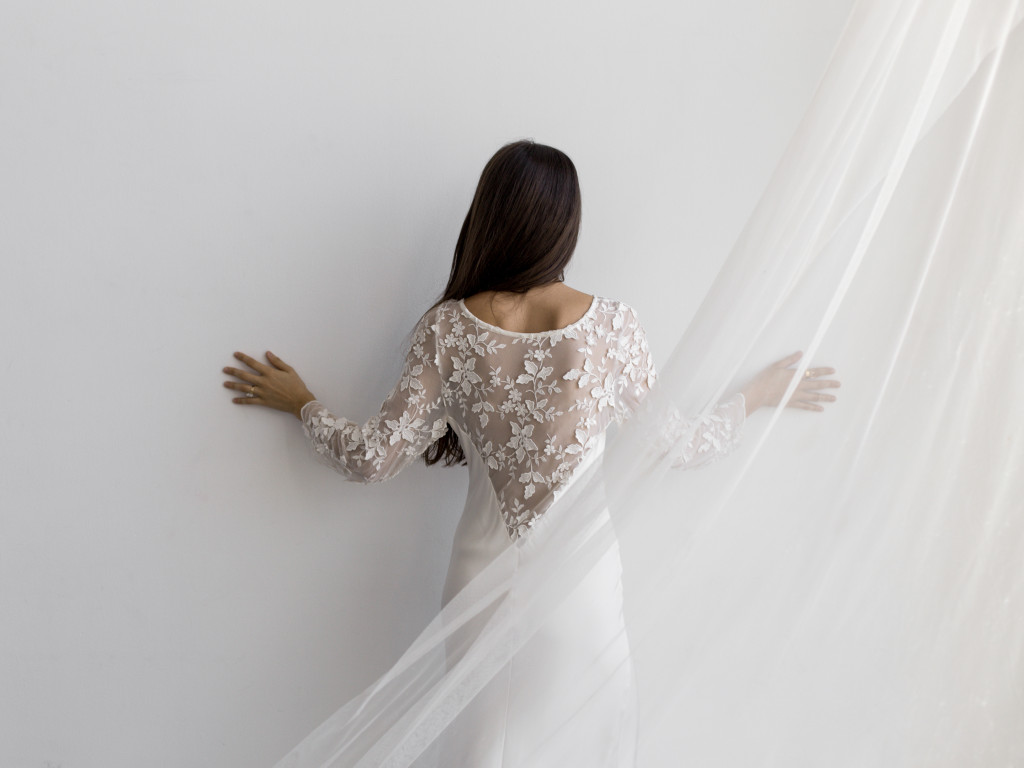 Sometimes she goes for "the less is more" approach. The Patricia bohemian white wedding dress is so simple yet modern, sexy and elegant. It has a beautiful flowing skirt and low-back.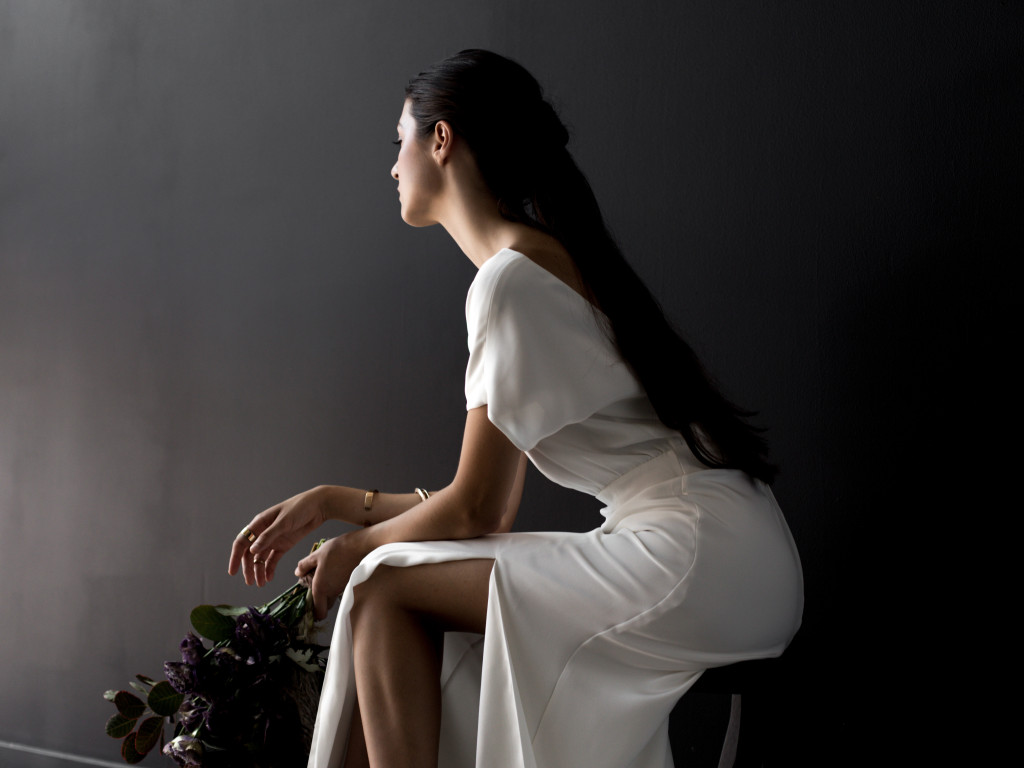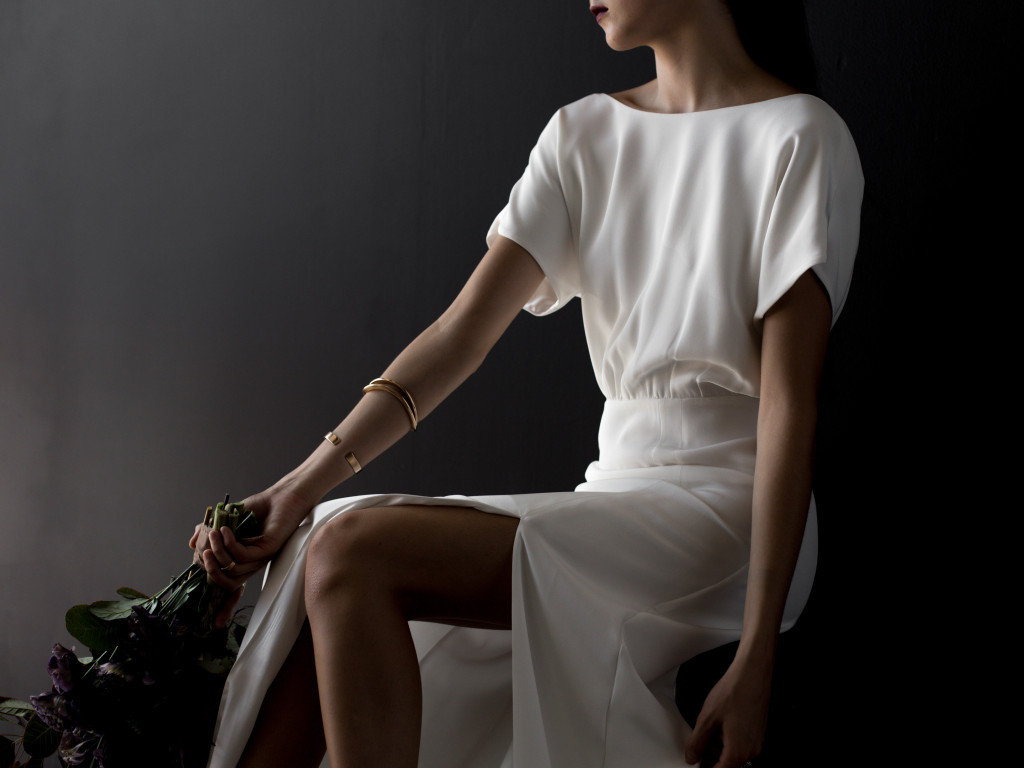 The next dress – Pilar – is inspired by 70s bohemian weddings, it has a distinctive chic vibe. The bell-sleeve is a great addition to this gorgeous dress which has a straight skirt and low-back.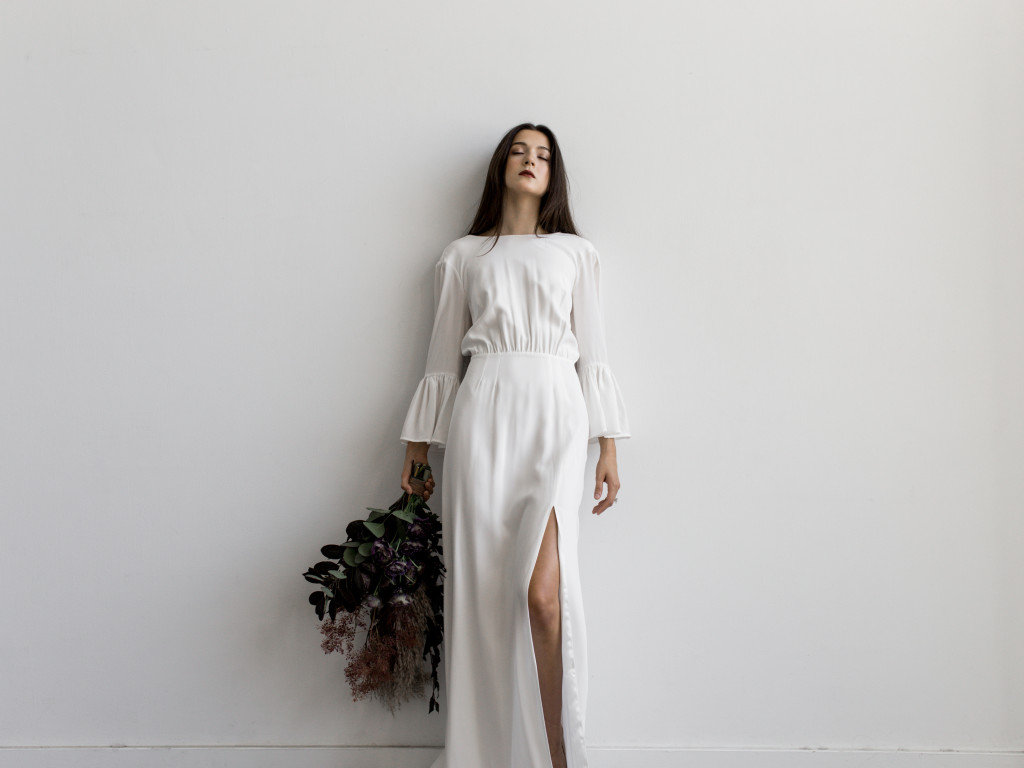 If you want a unique wedding dress then this – Kimberly – is for you. It's feminine, delicate and flirty at the same time. The style is a mixture of kaftan and slip dress. This bohemian wedding dress definitely makes a statement.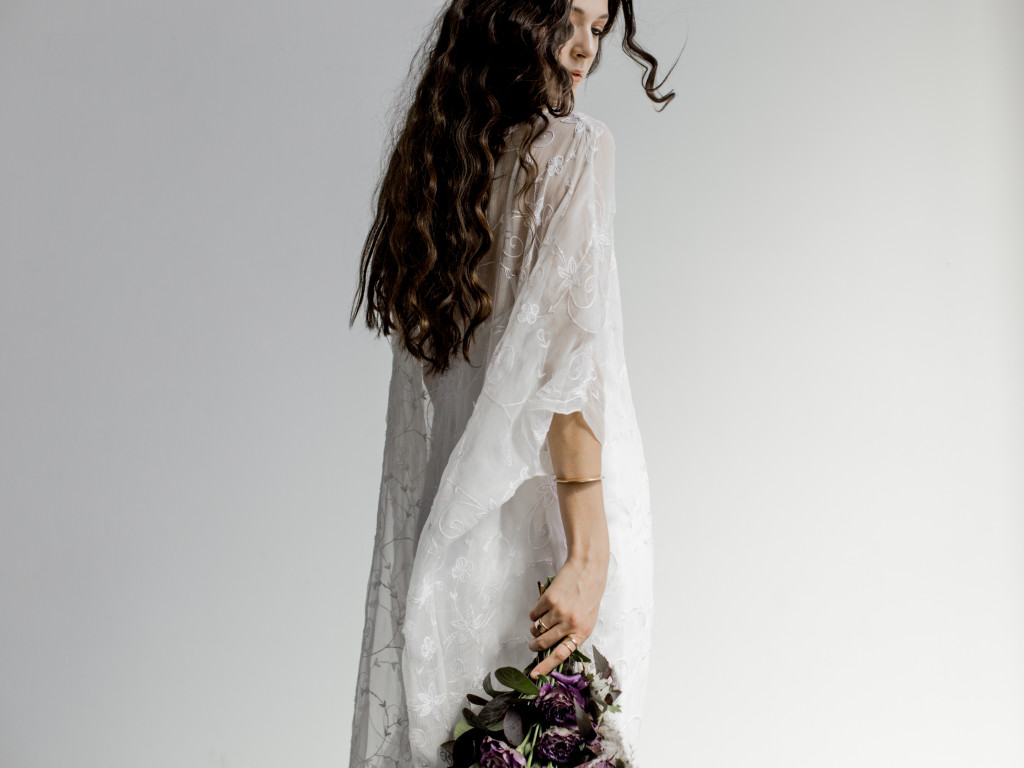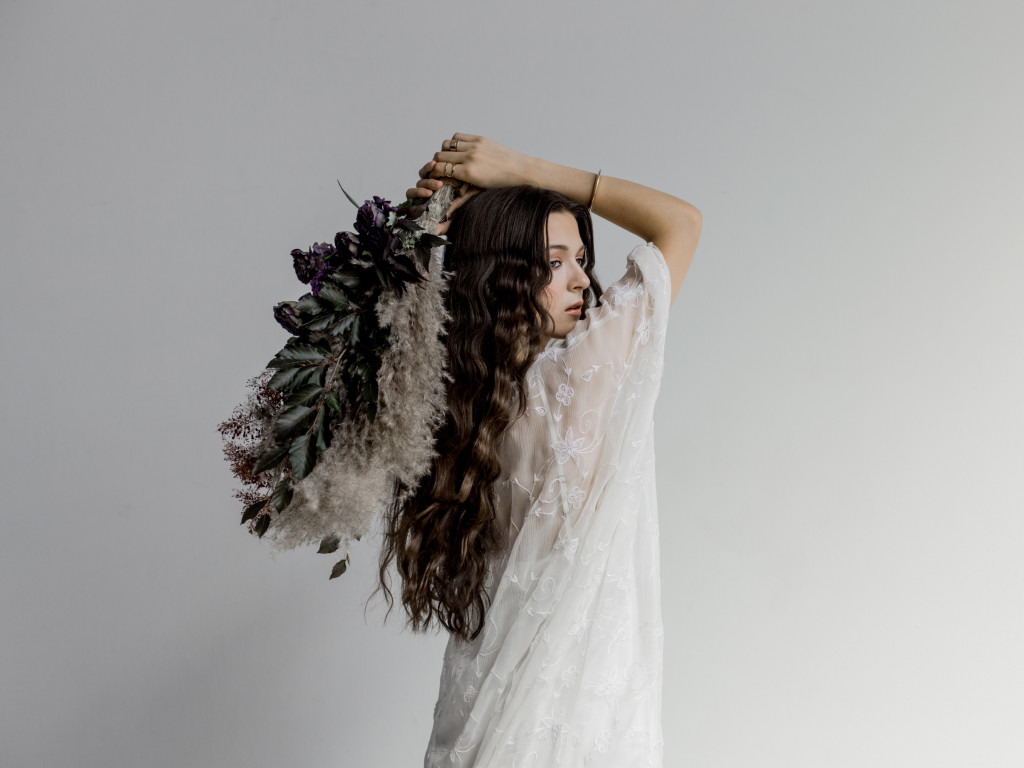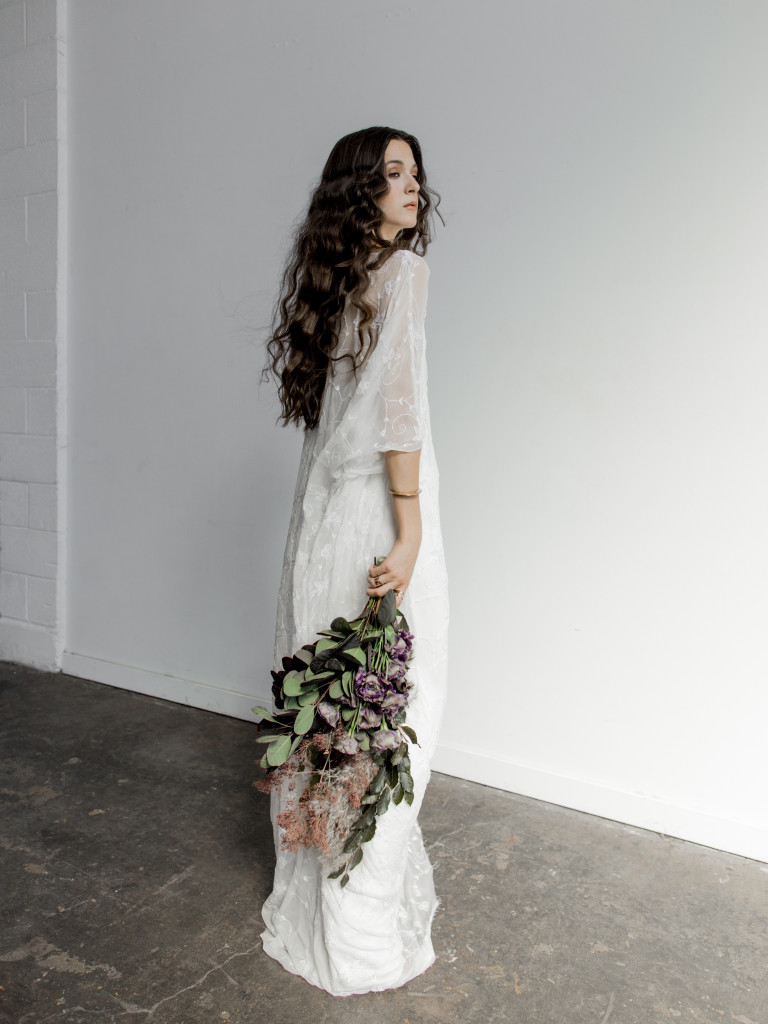 YolanChris Wedding Dresses
TheYolanChris fashion house is based in Barcelona where the two sisters, Yolanda and Cristina work together. They are specialized in haute couture wedding dresses. They are present in over forty  countries and their secret is that they use the best European fabrics. All their dresses are handcrafted in their Atelier in Barcelona.
This gorgeous V-neck bohemian wedding dress – Mariona, pictured below – has boho chic style. The low back makes it even more sophisticated and pretty. The bohemian wedding flower crown goes perfectly with this amazing dress.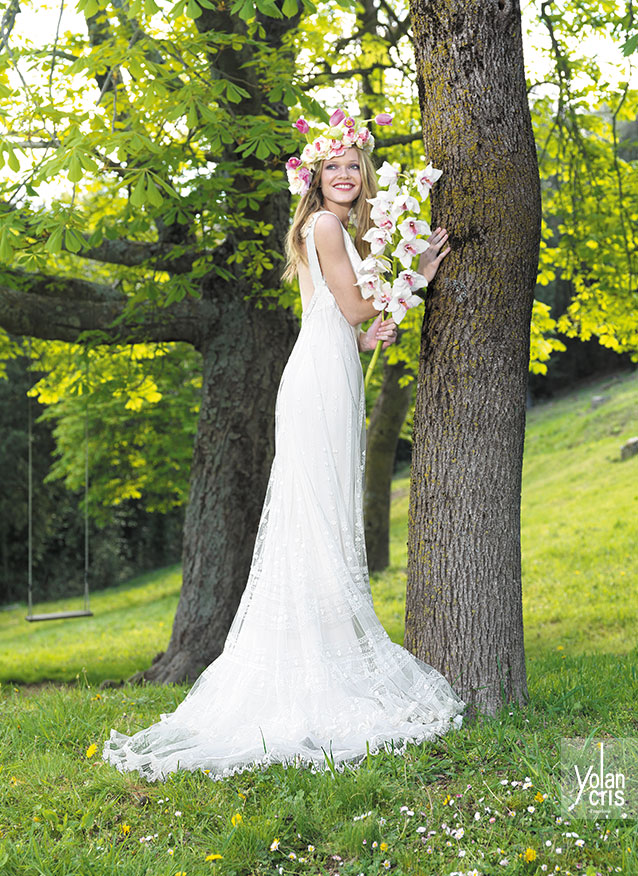 Another beautiful and feminine wedding dress – Marisol –  with V-neckline and boho chic style. The skirt made of silk, tulle and lace; it looks really sophisticated. The bohemian wedding hair piece gives a distinctive vintage look.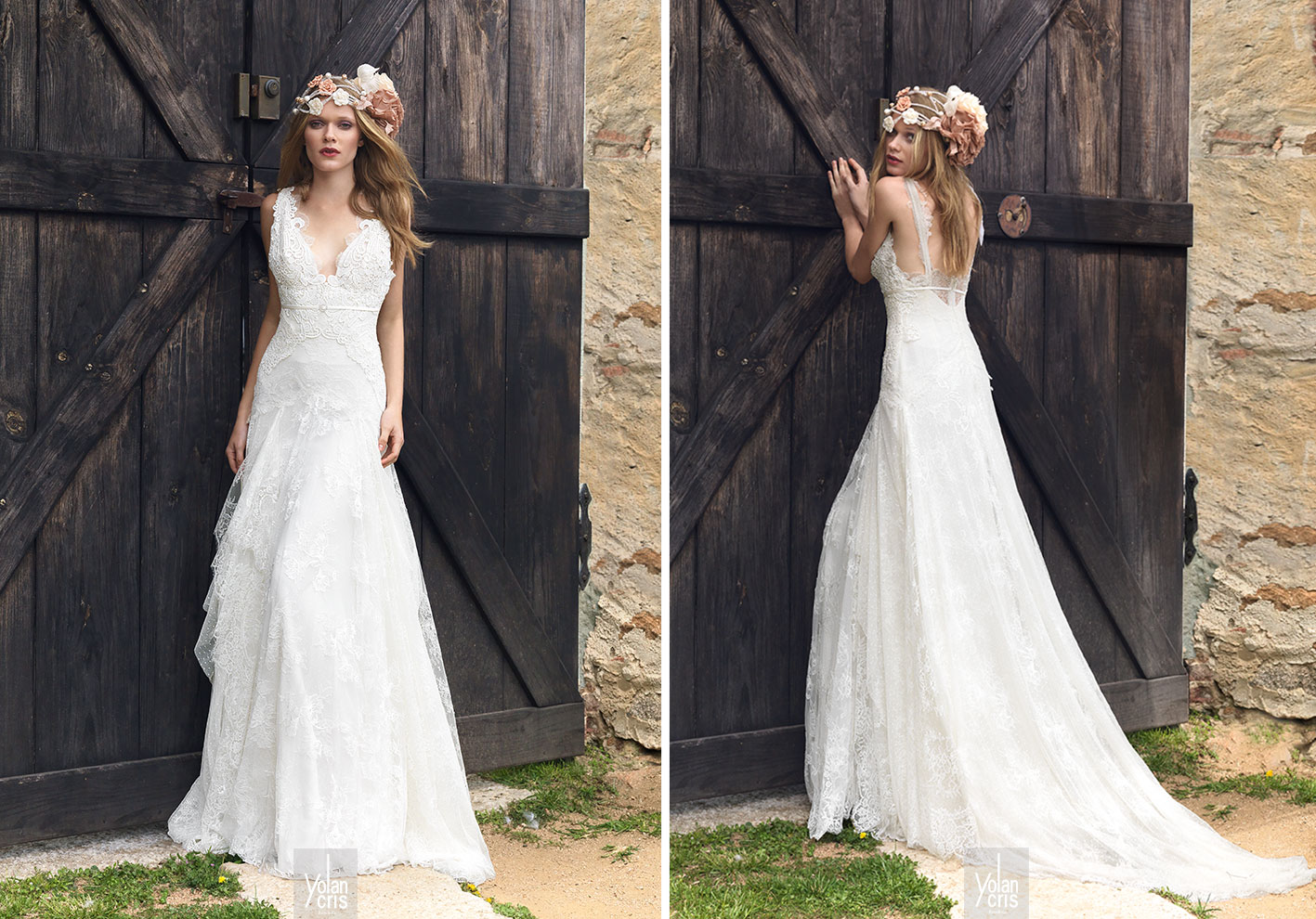 If you like romantic and very elegant wedding dresses then this is for you.  The Anais dress has a high neckline which is made of very fine and beautiful French lace. I think bohemian wedding dresses with long sleeves are even more stylish. This dress is perfect for a wedding outdoors or in the woods, especially if the weather is a bit cooler.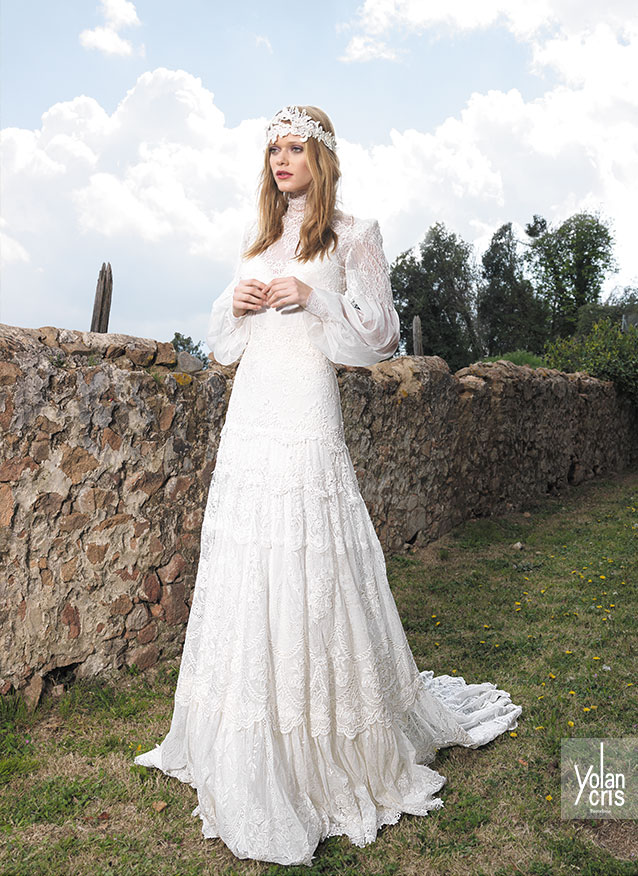 This bohemian wedding dress – pictured below – reminds me the 1970s, probably because of the Pamela hat. This Faina wedding gown has a "très chic" Parisian style. It is perfect for a garden or a countryside wedding.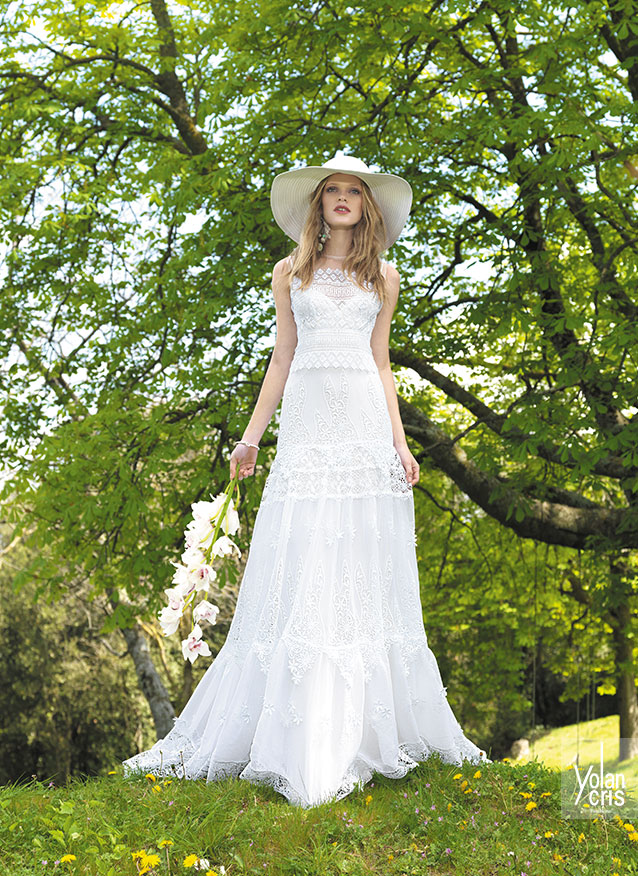 The figure hugging Monterrey wedding dress gives you an ultimate mermaid silhouette. It's made from organic fabrics – cotton, crochet, lace and guipure – so it's really comfortable to wear. It comes with long or short sleeves.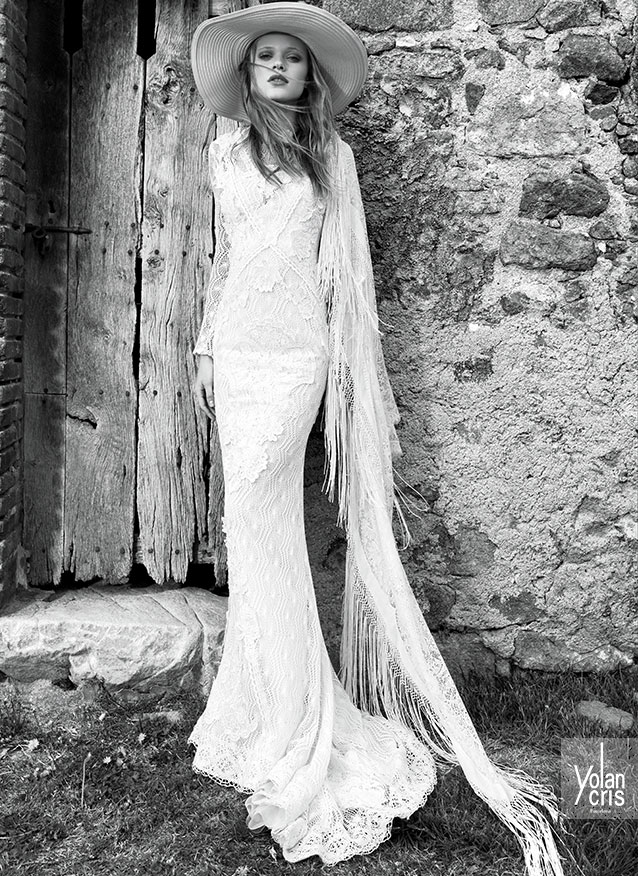 The Nicol wedding dress is for the free spirited, bohemian brides who want fun and youthfulness on their big day. This beautiful bohemian wedding dress has almost no weight thanks to the layers of very fine laces.  You can eve go barefoot if you wear a dress like this.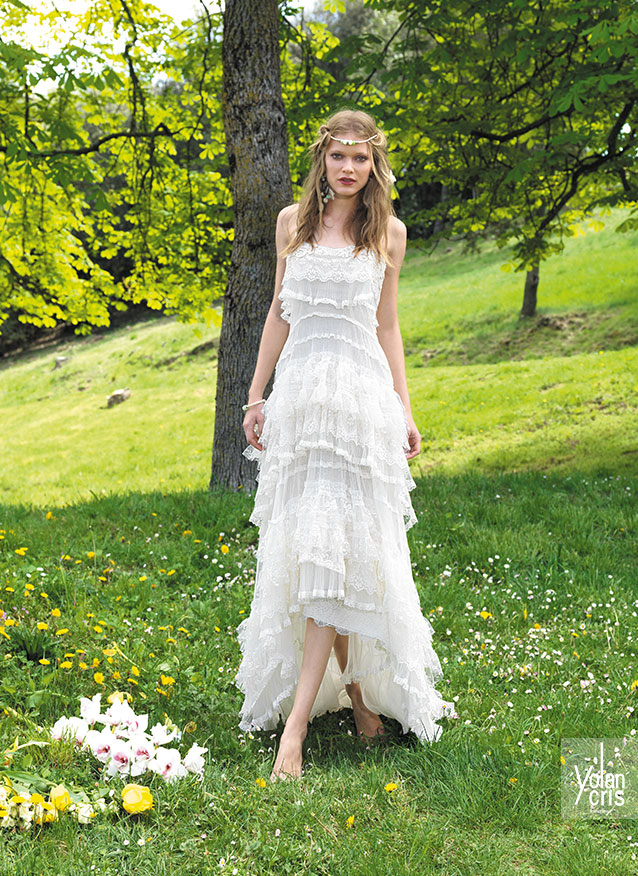 If you want a bohemian wedding on the beach you can choose this – Tomy – modern and chic dress which is shorter in front. It's made of silk, tulle and lace.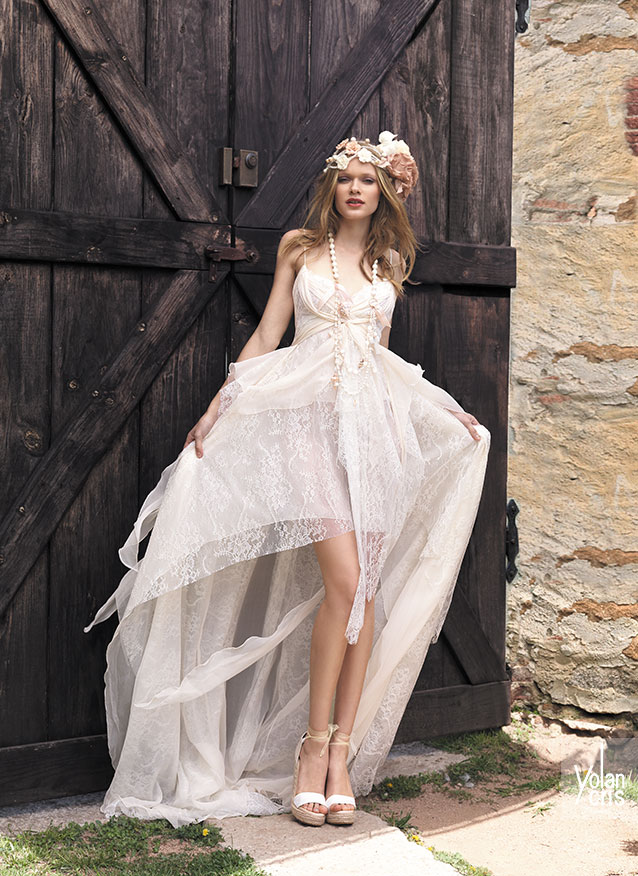 The Japanese sleeves give a distinctive look to this amazingly stylish boho chic wedding dress – Joan. It has V-neck and a big volume skirt. It definitely reminds me the of 70's bohemian wedding dresses.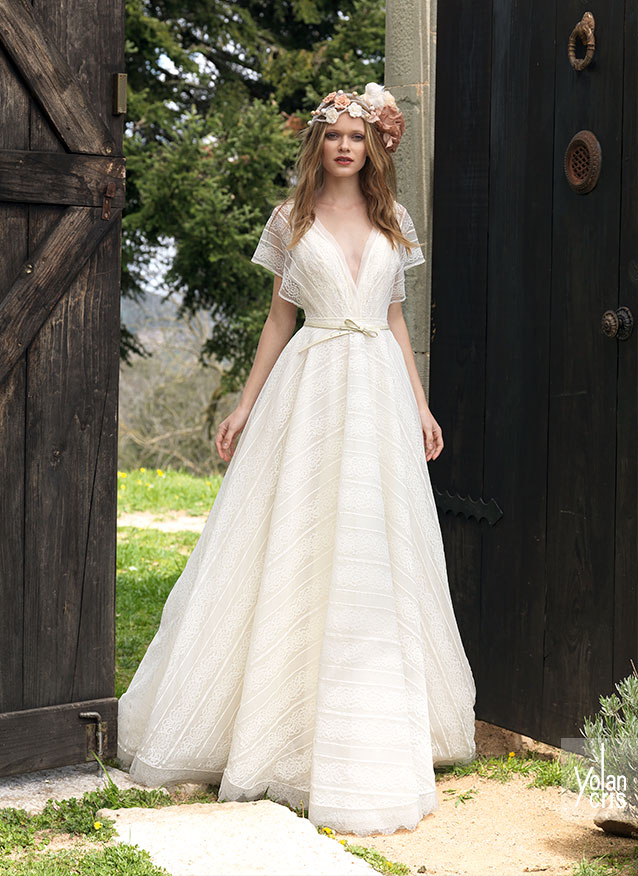 Tara Lynn Bridal Collection
Tara Lynn is famous for her eco friendly wedding dresses which are made of natural fibers like organic cotton, linen, hemp blends and organic silks. As an eco-fashion designer she started making hemp wedding dresses in 1999. She works by hand on her vintage sewing machine in her solar-powered studio in Vermont.
This amazing and eco friendly dress – pictured below – has a vintage bohemian feeling. The beautiful silk chiffon wedding dress with its lace up back, French knots and vintage beads is perfect for a bohemian barn and woodsy style wedding.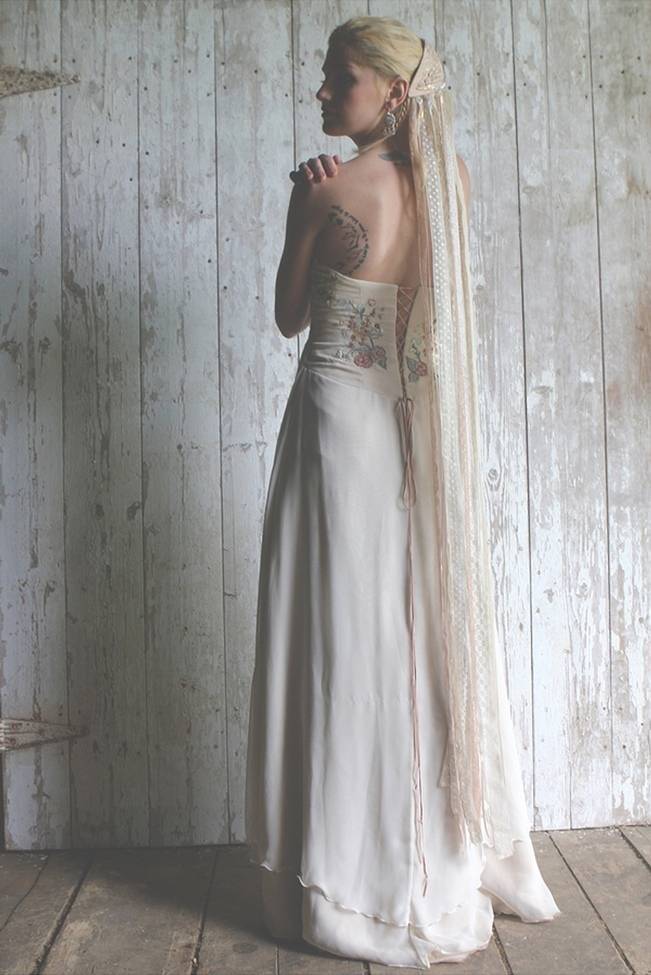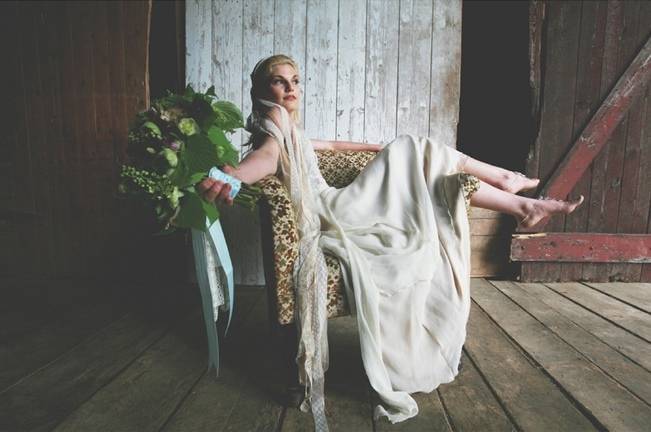 The following, beautifully embroidered bohemian wedding dress – Farfalla – is ideal for a bohemian outdoor wedding. It's a hemp silk dress with mystic green skirt, it goes well with nature.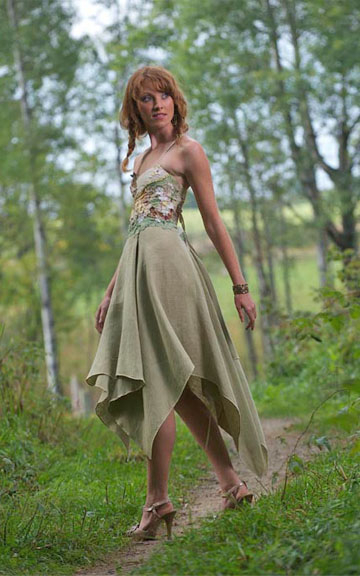 The Aphrodite backless bohemian ethereal wedding dress embraces the female form and of course it"s made of natural fibers – 55% hemp and 45% organic cotton. Its trailing tail made of seashells, glass and wooden  beads.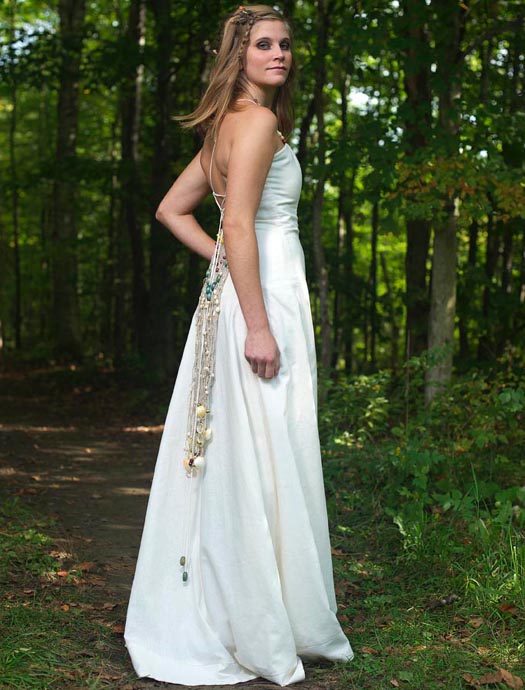 Another gorgeous embroidered bohemian hemp wedding dress – Fiorella – with a princess bodice and layered skirt. Butterflies and flowers make it hippie style which actually Tara Lynn creates out of vintage remnants and hand paints.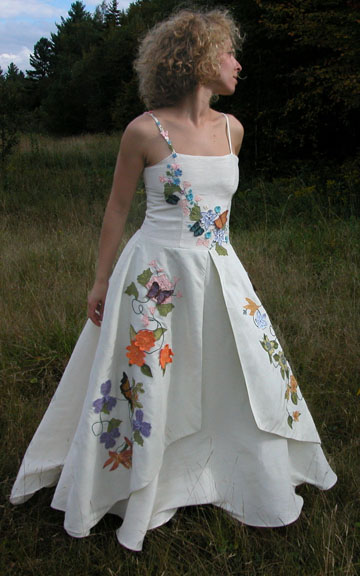 Simple yet stunning hippie wedding dress – Maya – with an empire waistline. It's 100% eco friendly, made of hemp and organic cotton. If you plan a bohemian outdoor wedding, this wedding dress is for you. And of course, it's made in Vermont.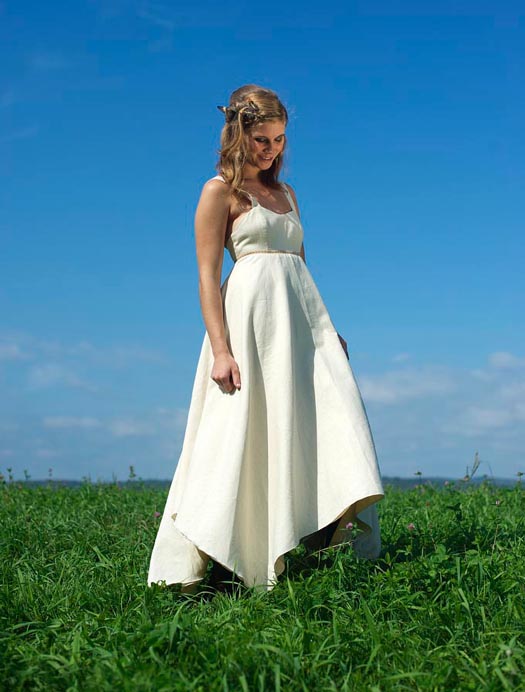 Anna Campbell Wedding Dresses
She is from Melbourne, Australia but her dresses are well known and popular in Europe and at the New York Bridal Week too. Her beautiful wedding dresses are inspired by romance, bygone times and love for design.
This bohemian wedding dress – pictured below – is made in Melbourne, Australia. It's the perfect dress for the free-spirited bride. It has an amazing botanical-inspired embroidered lace, V-shaped neckline, fitted skirt, low back with lace covered and embroidered long sleeves.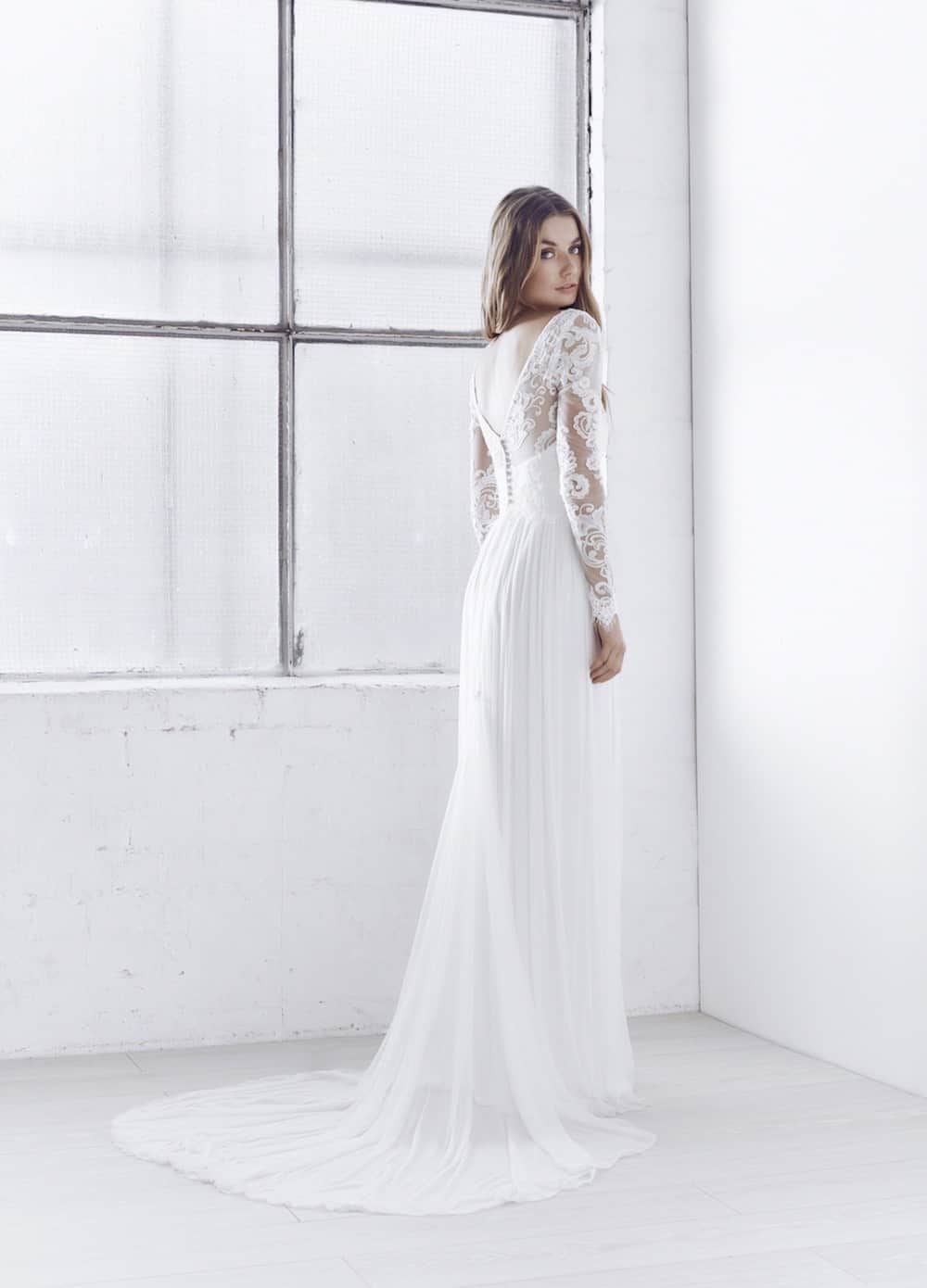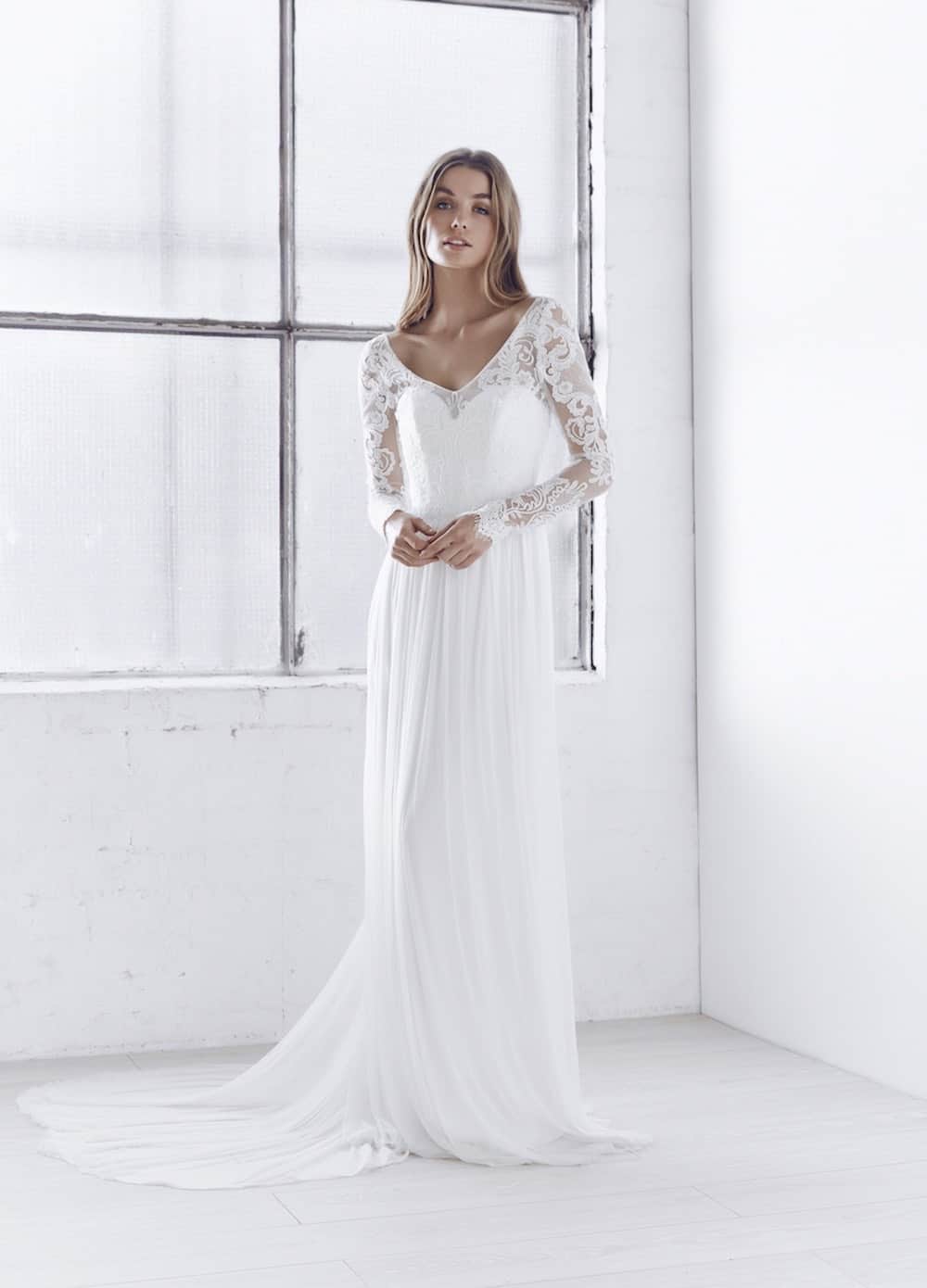 Jaclyn Jordan Wedding Dresses
Jaclyn Jordan started her bridal career in 2005 and in 2009 she founded Jaclyn Jordan New York. She loves using lace when she designs wedding dresses. She is really passionate about fulfilling brides dreams for the big day. Jaclyn Jordan had been already featured in PEOPLE magazine, Martha Stewart Wedding and Style Me Pretty.
The Rema wedding dress has beautiful embroidered bell sleeves and silk chiffon skirt which moves elegantly as you walk.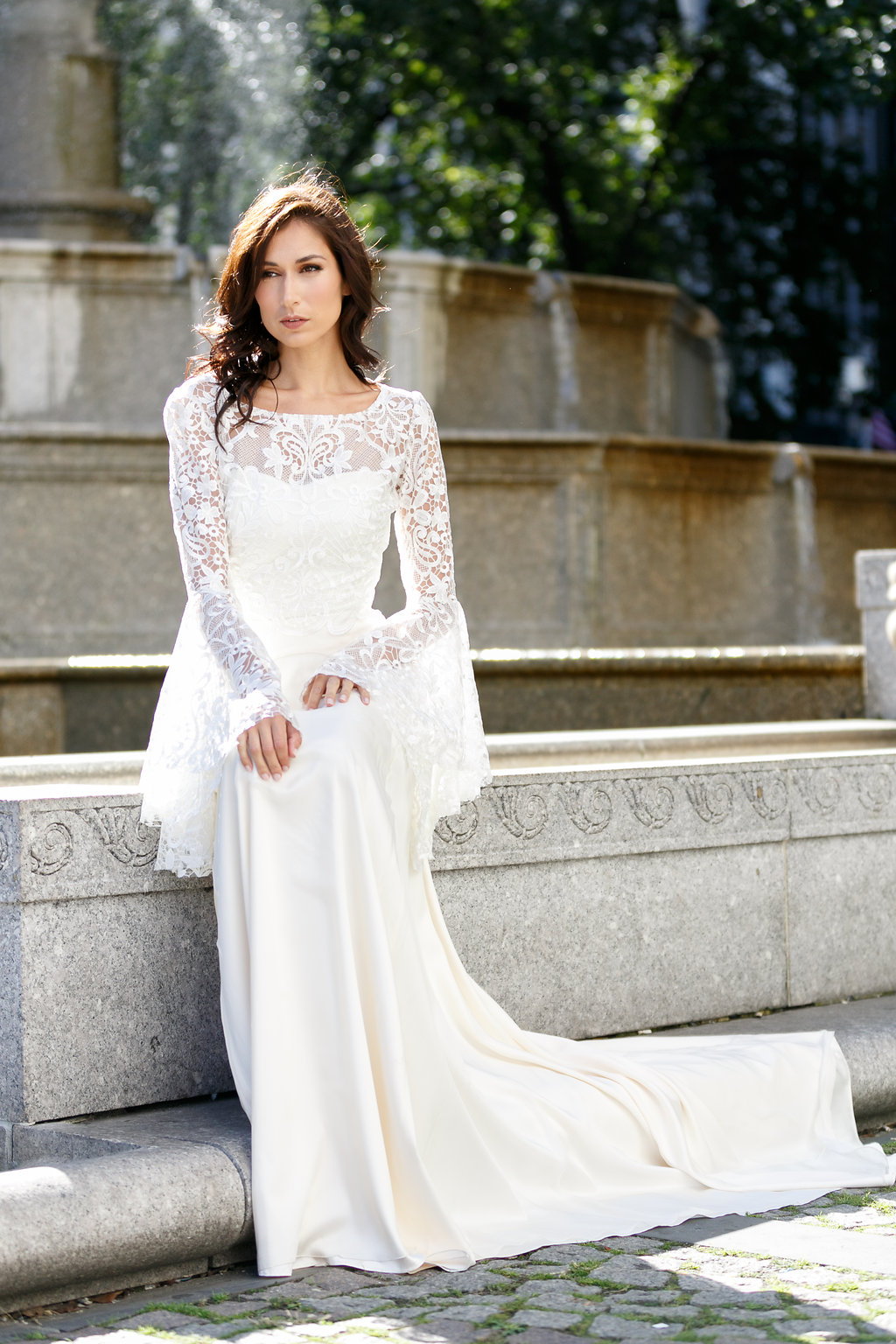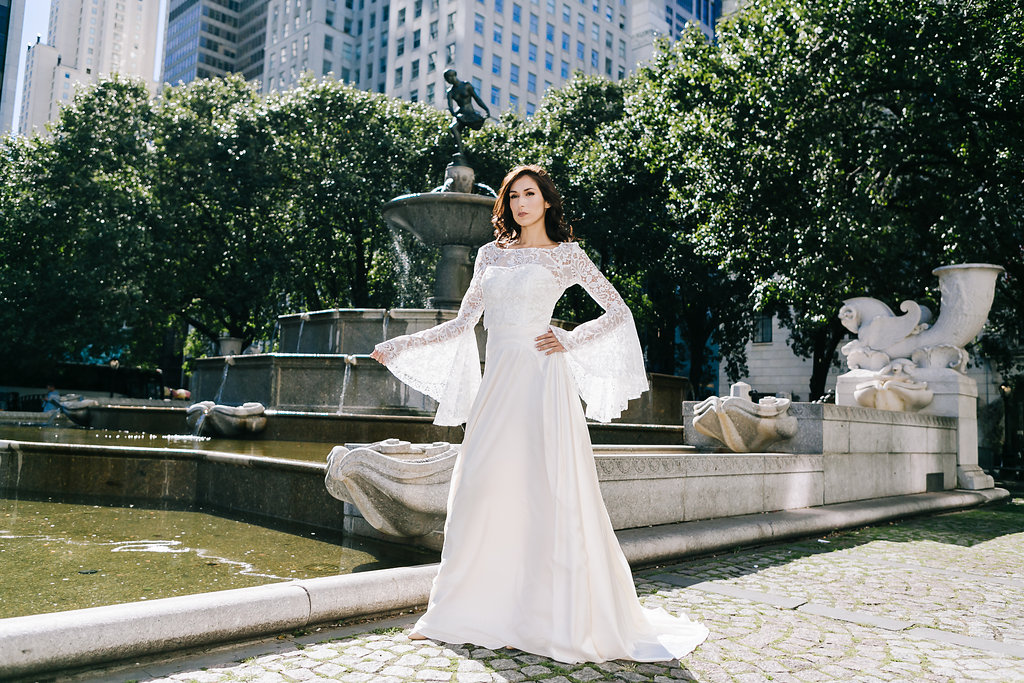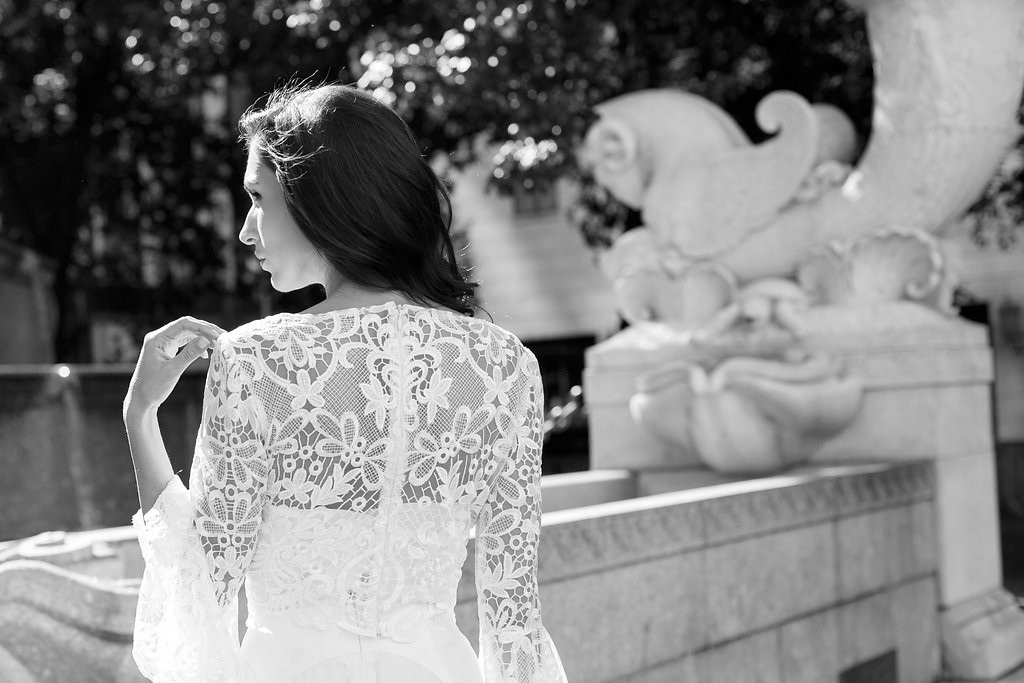 Maggie Sottero Wedding Dresses
Maggie Sottero's ethereal bohemian wedding dresses are absolutely wonderful. Her designs are really innovative and attractive. Through four generations Maggie Sottero and her family created designs that stand out. Her Avery Collection is my personal favourite.
As you probably guessed by now I love bohemian fashion. The Avery wedding dress is a perfect example of a bohemian wedding dress.  It has a very exquisite lace appliqués on the back, plunging neckline and a beautiful beaded crosshatch embroidery. It looks absolutely perfect.

The Caprice wedding dress is beautifully decorated with pearls, Swarovski crystals and beaded lace appliqués. It has a scoop neckline and low back.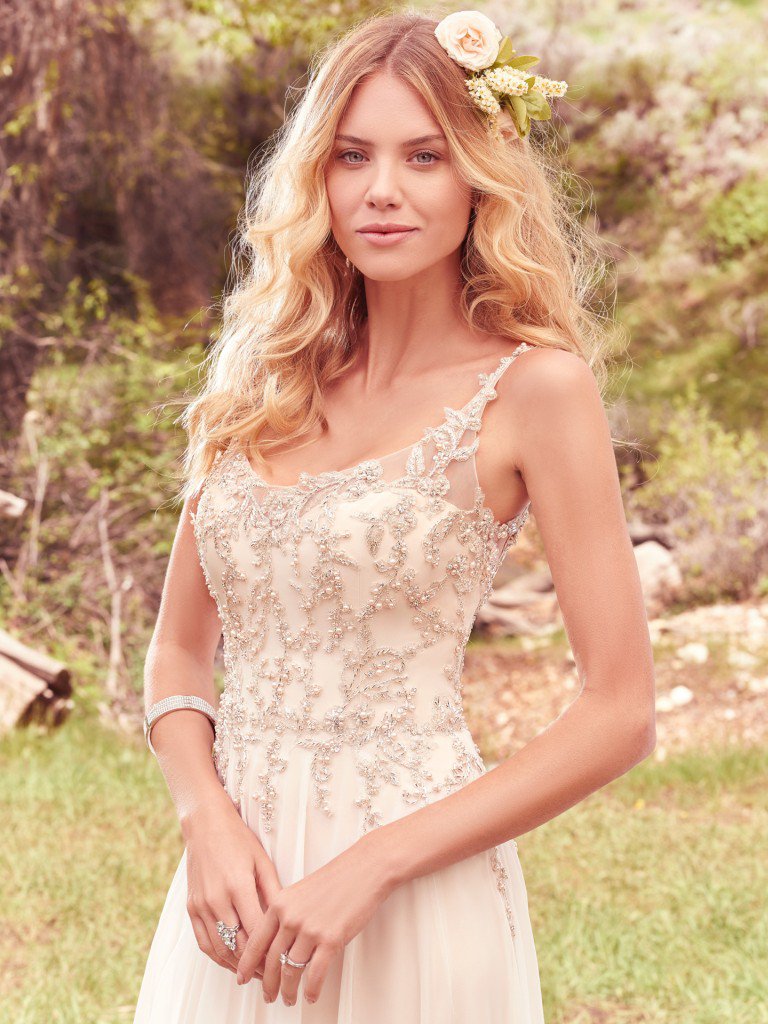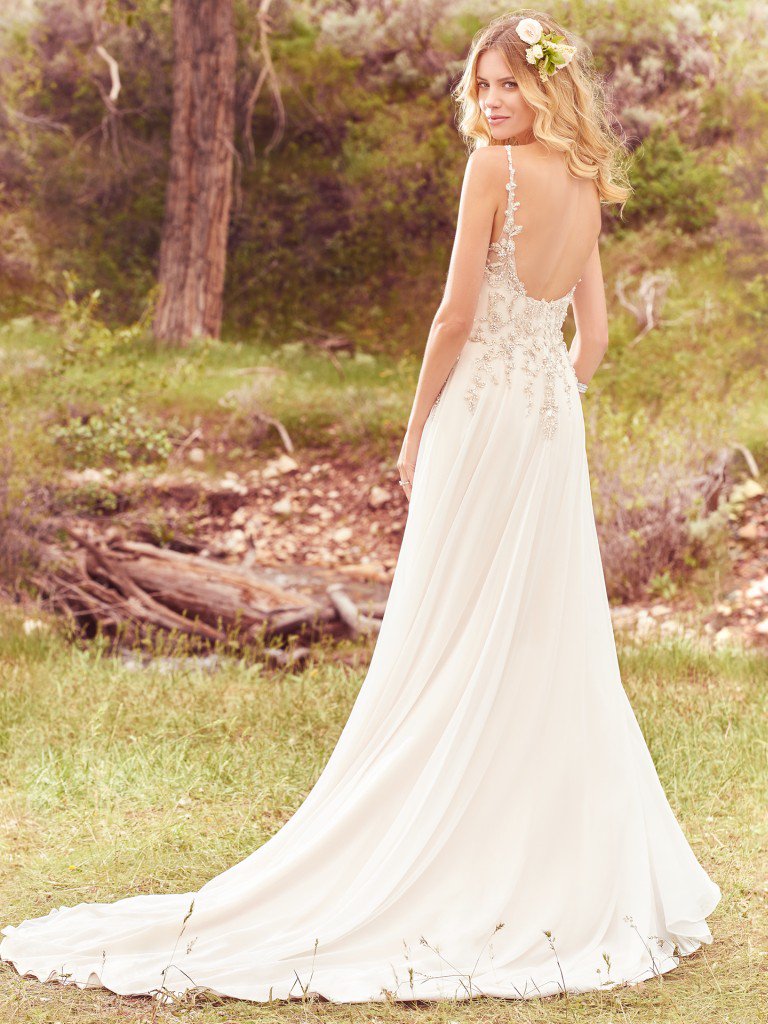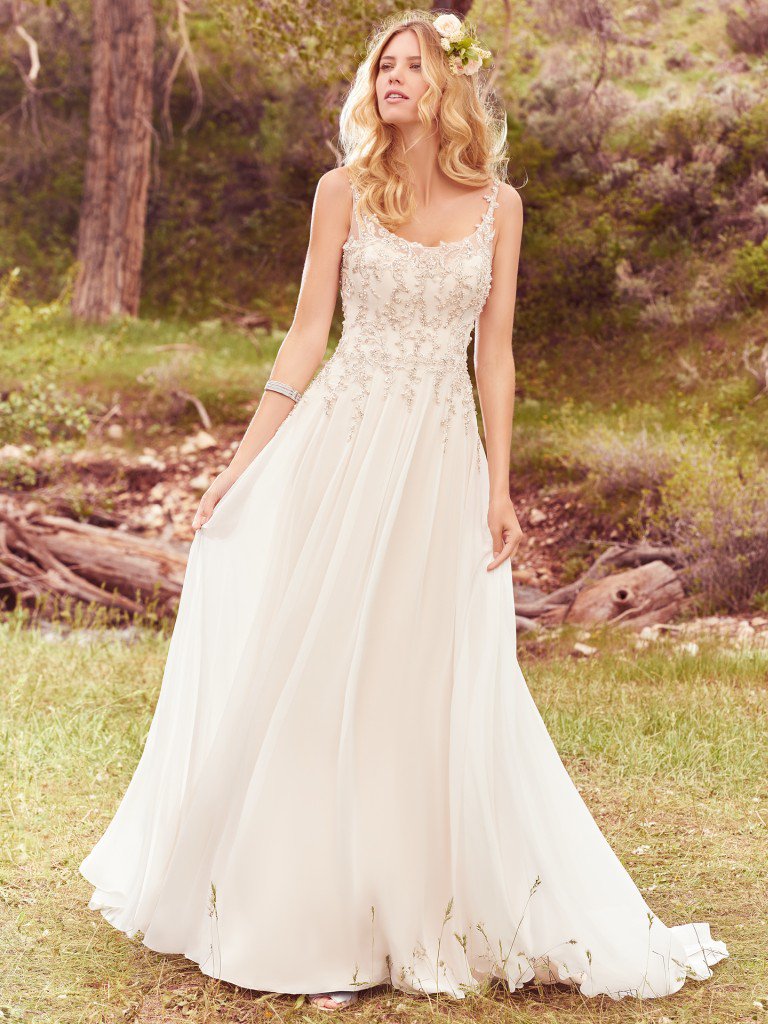 Nicole Miller Wedding Dresses
Her beautiful dresses were worn by celebrities like Angelina Jolie, Joss Stone, Jennifer Aniston, Beyoncé, Blake Lively and Eva Longoria. She has been making wedding dresses since 1999.
The Millie bridal gown  is a beautiful, ethereal Grecian inspired wedding dress made from crinkle silk chiffon. It gives a figure-flattering shape and pretty neckline. The back looks really incredible because of the necklace-inspired look.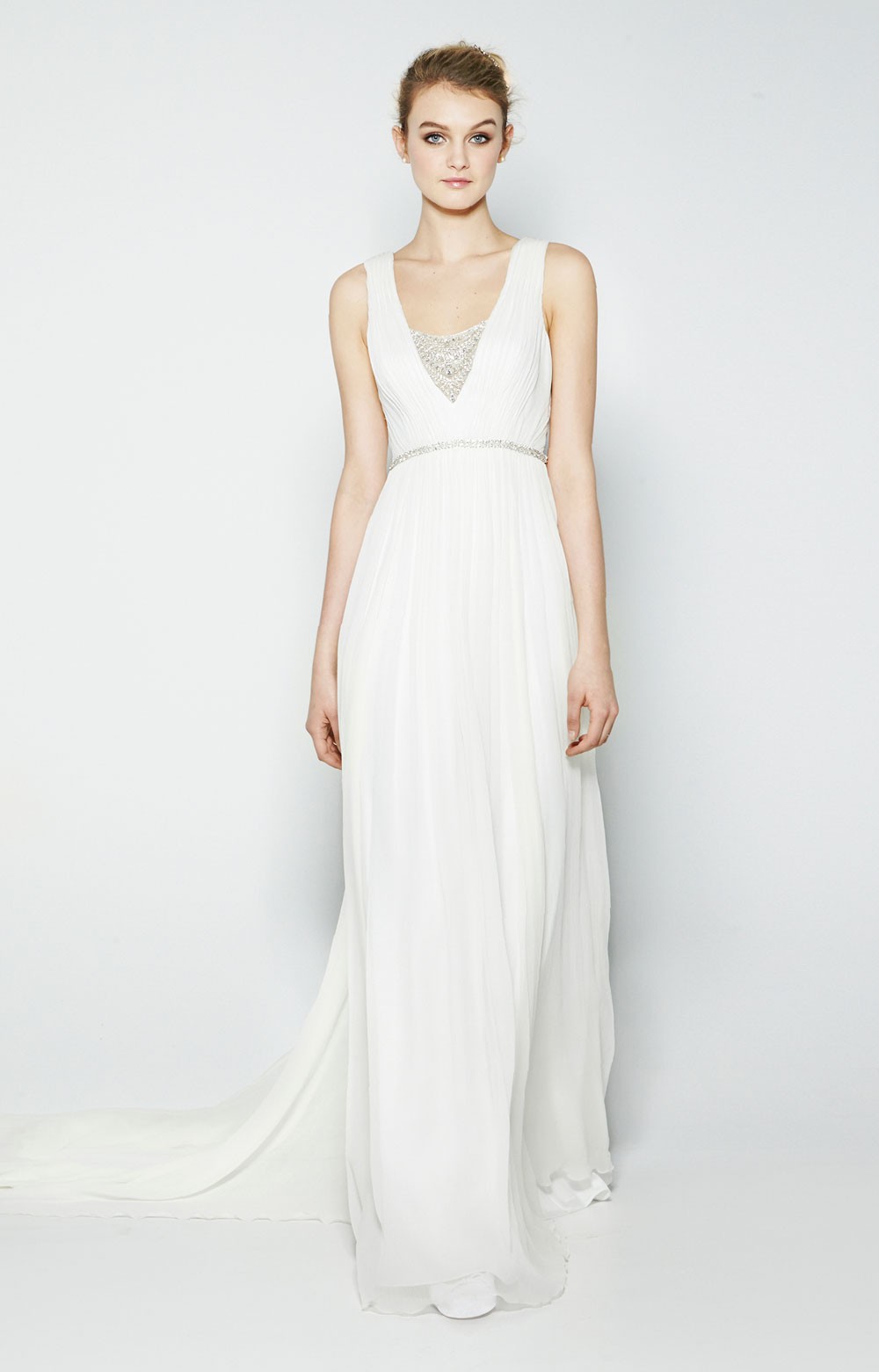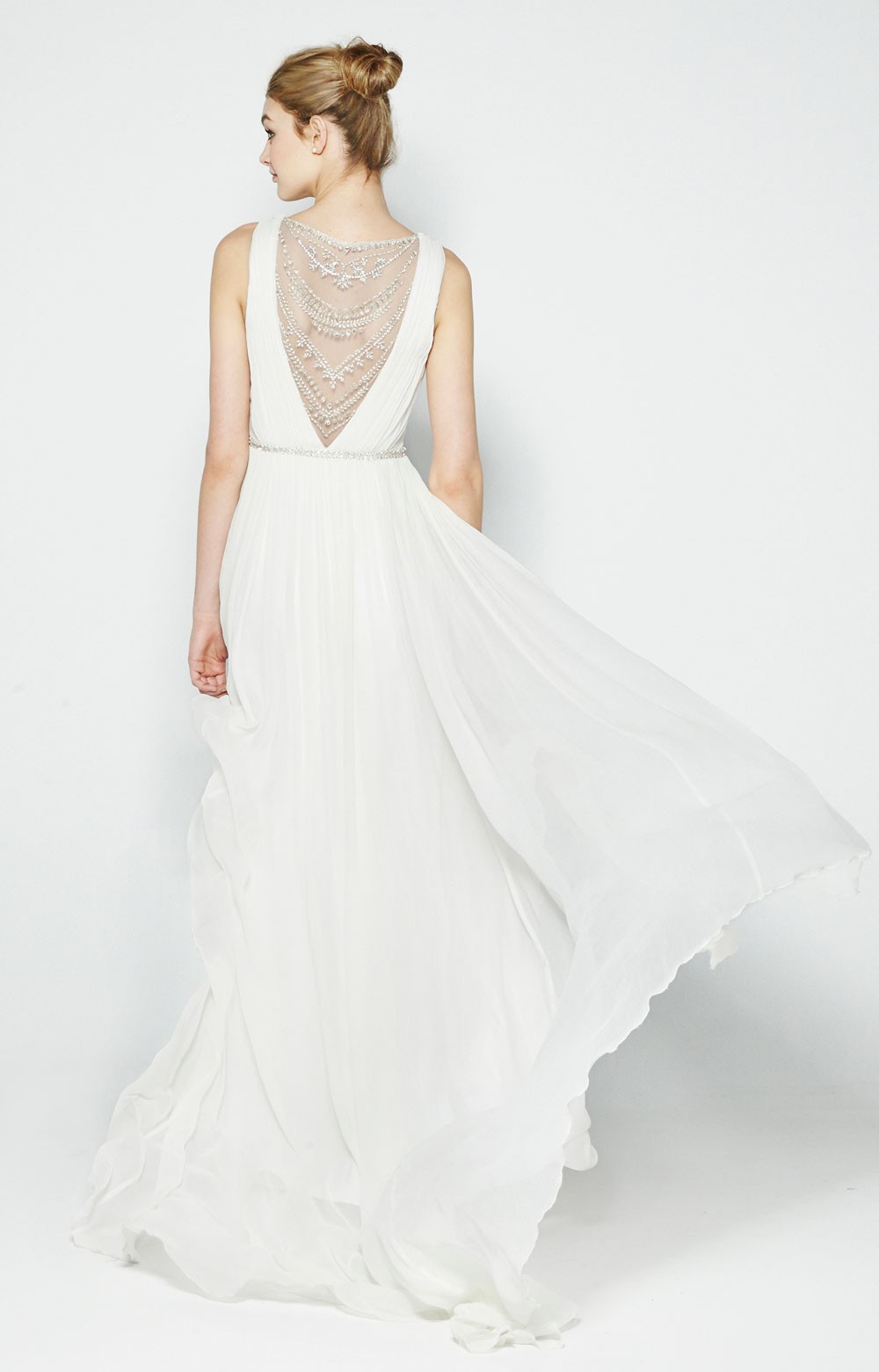 Rebecca Schoneveld Wedding Dresses
Rebecca Schoneveld creates wedding dresses that emphasise women's natural beauty.  She launched her first bridal shop in 2013 in Brooklyn, New York. Her brides are women who "move freely, laugh easily and love honestly". Romanticism and elegant minimalism go hand in hand in her style. New York area brides can meet her at her flagship store.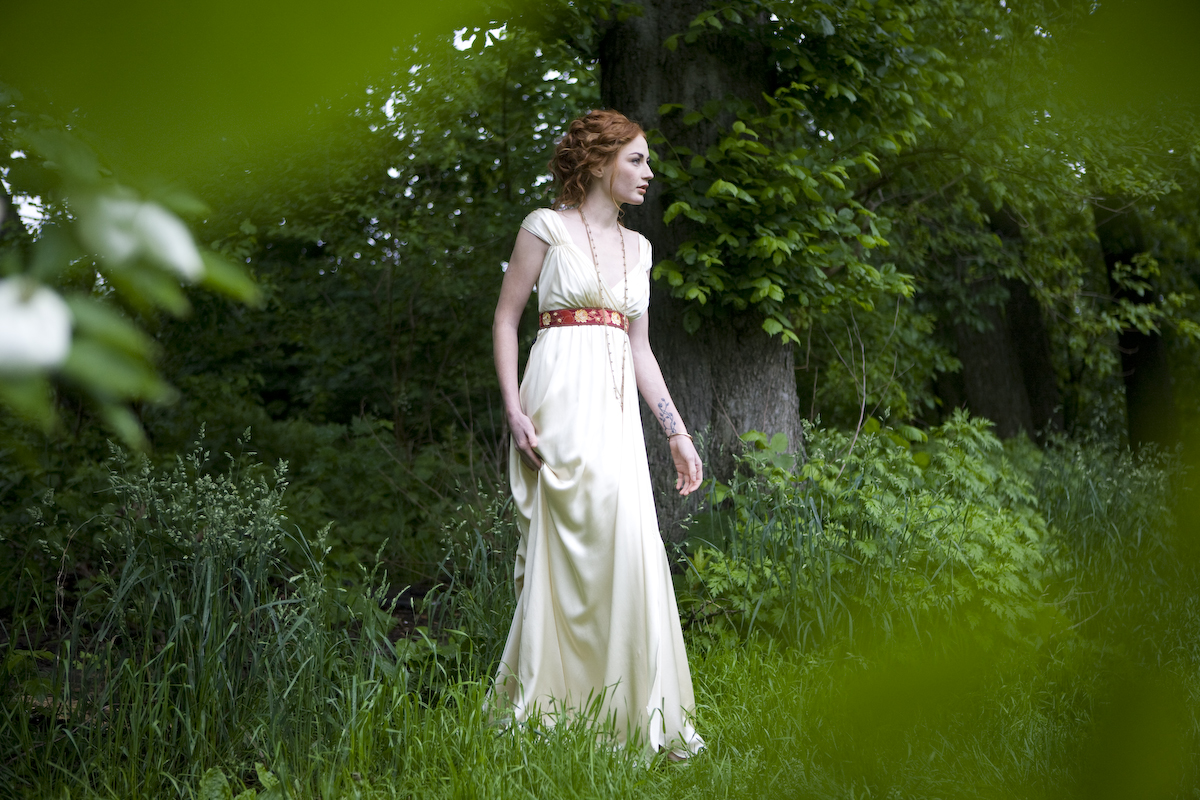 The combination of her Brianna Top and Shannon Skirt creates a non-traditional, bohemian 2 piece wedding dress which is elegant and sophisticated.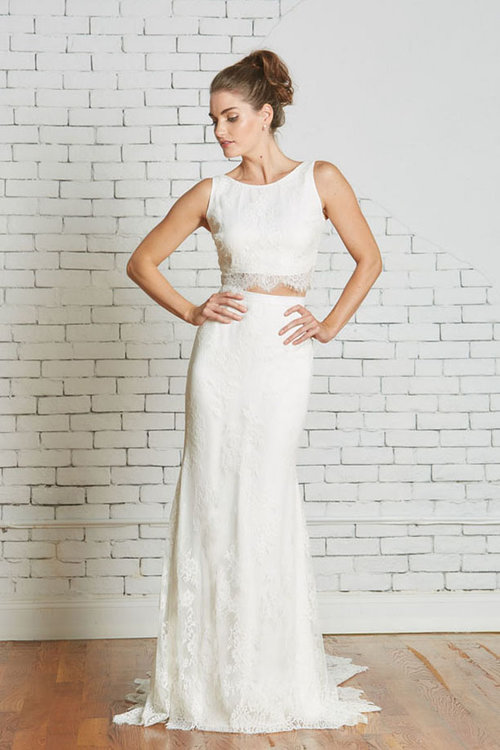 This Sienna Kimono – Nico Gown wedding dress also gives a natural yet very feminine and sophisticated look.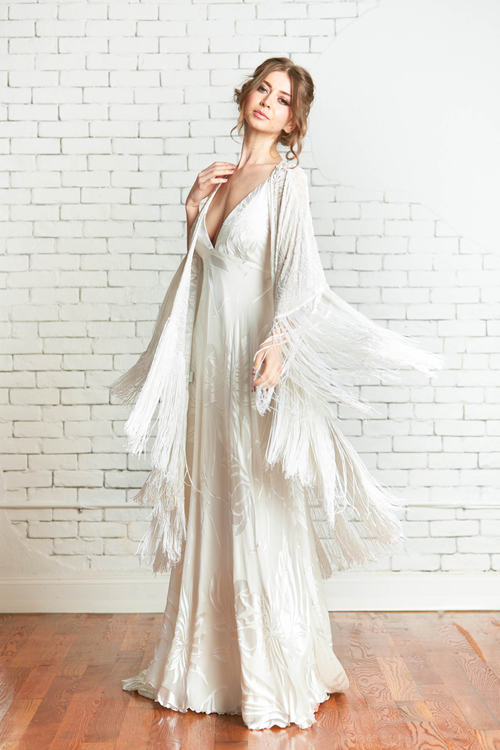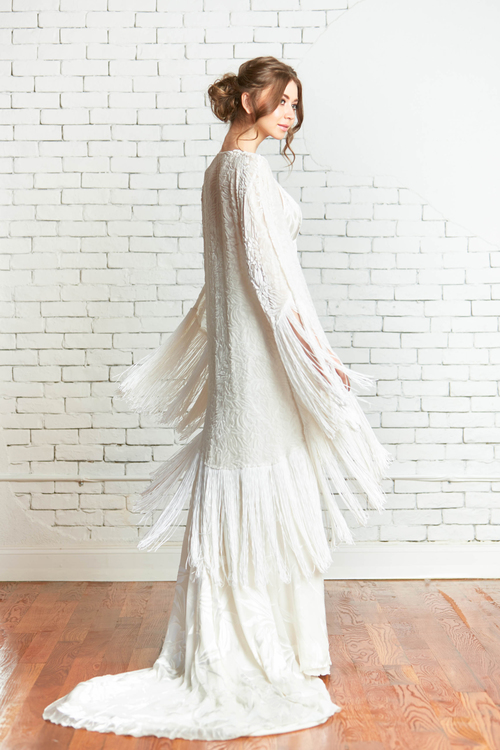 JLM Couture – Jessica Williams
The Ti Adora by Alvina Valenta collection is designed by Jessica Williams who focuses on the carefree, adventurous, free-spirited and bohemian bride. All of her bohemian wedding dresses are perfect for the gypset brides who have wanderlust and want to explore the world which is full of surprises. She uses beautiful fabrics, laces and amazing embroidery to create this romantic and feminine look.
This beautiful – pictured below – A-line wedding dress has draped bodice and a sweetheart neckline.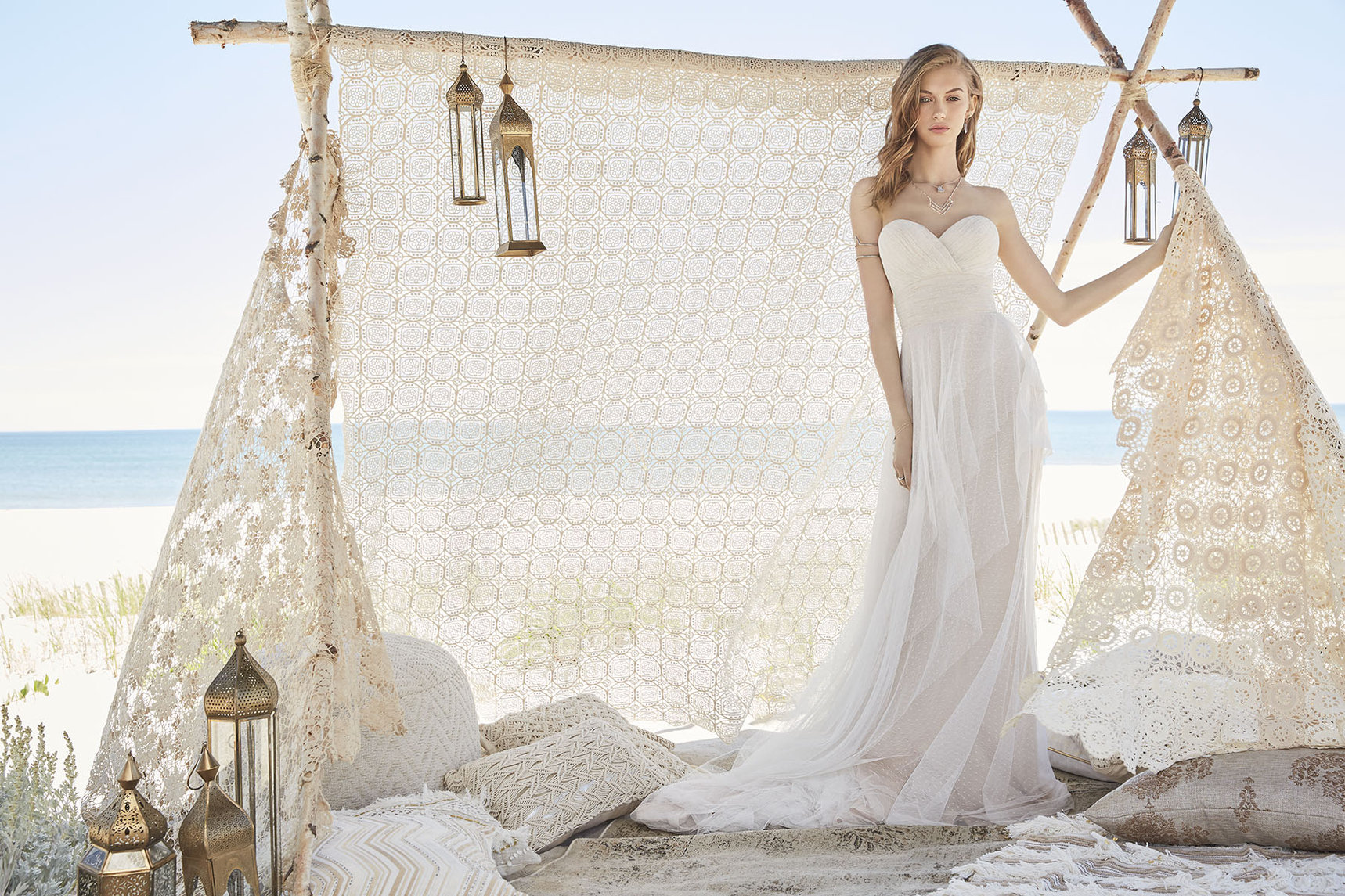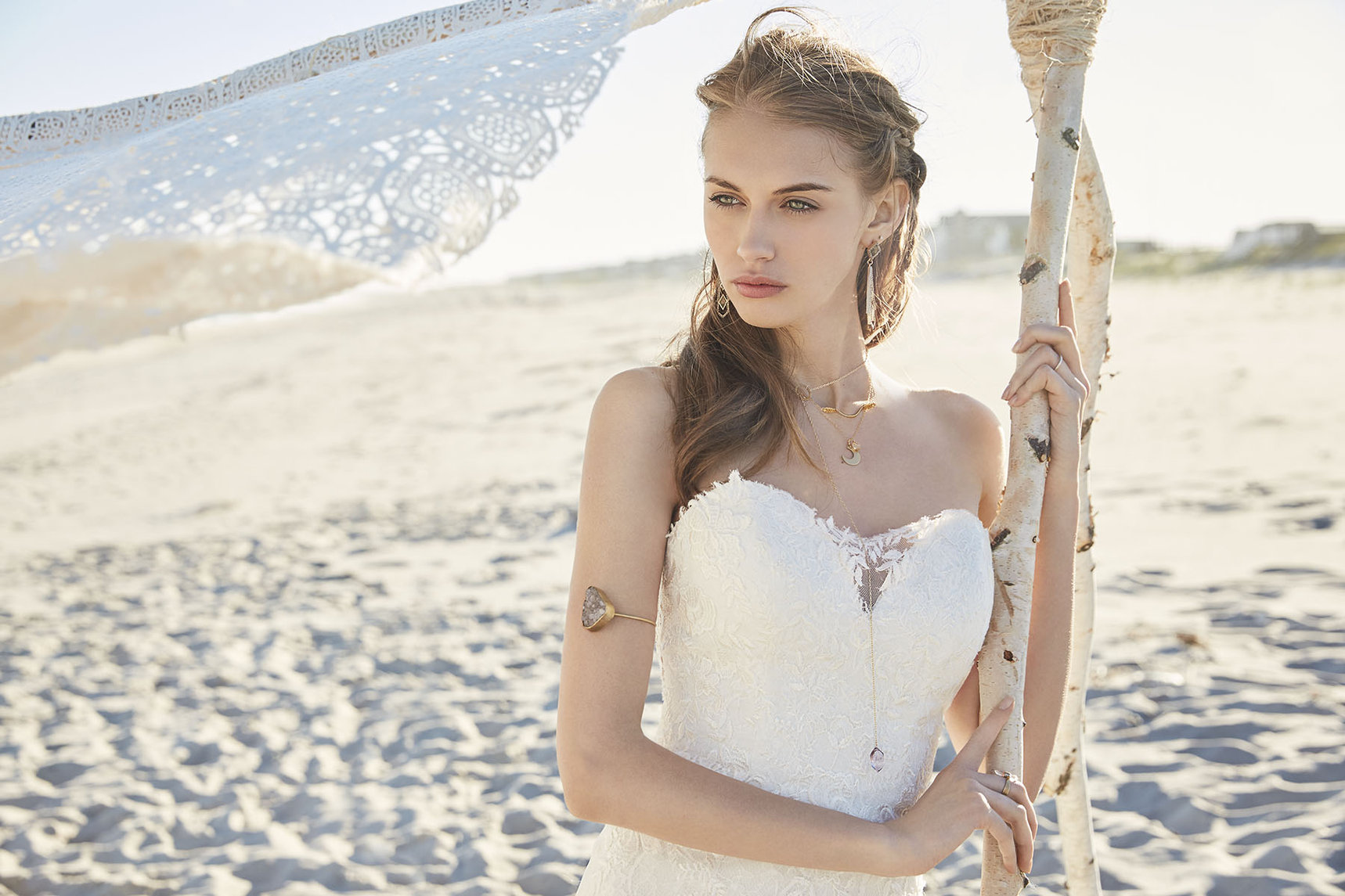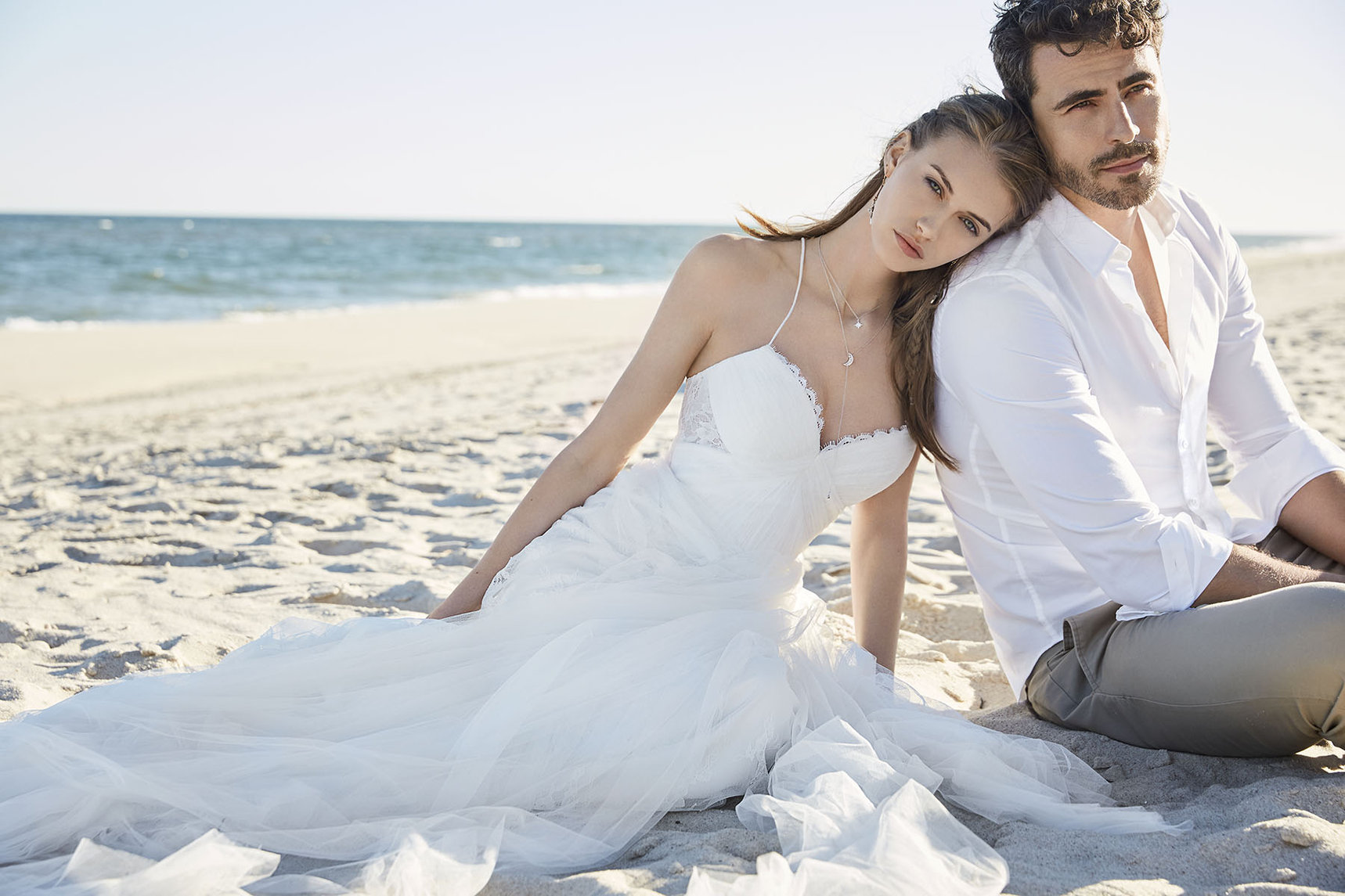 The next is an ivory lace fit n flare wedding dress with V-neckline and low open back.

Twigs & Honey by Myra Callan
Myra Callan is famous for her amazing bridal veils, headpieces, brooches, mini hats, jewelry but in 2012 she also launched her wonderful bridal collection. Her background includes working with design companies like J.Crew, Anthropologie, BHLDN, Wedding Suites at Nordstrom and David's Bridal.

The Petunia wedding dress has very pretty bishop's sleeves, a scoop back and train. She used French lace and stretch silk charmeuse to create this ethereal bohemian wedding dress.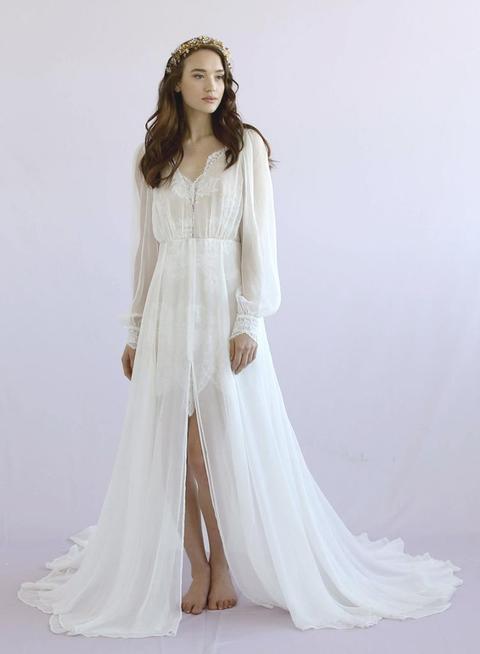 The next dress is lace mini dress – Sweet Pea – which is perfect for reception. It's a combination of very fine French lace, silk and tulle. It's sexy, feminine and it's perfect for the free-spirited bohemian bride.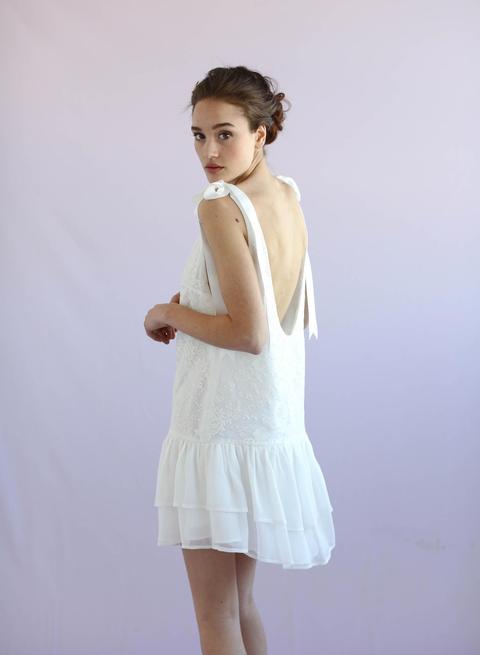 The Roslyn wedding gown has a vintage feeling to it. The sheer silk organza layers give an ethereal appearance. It's really feminine and exquisite.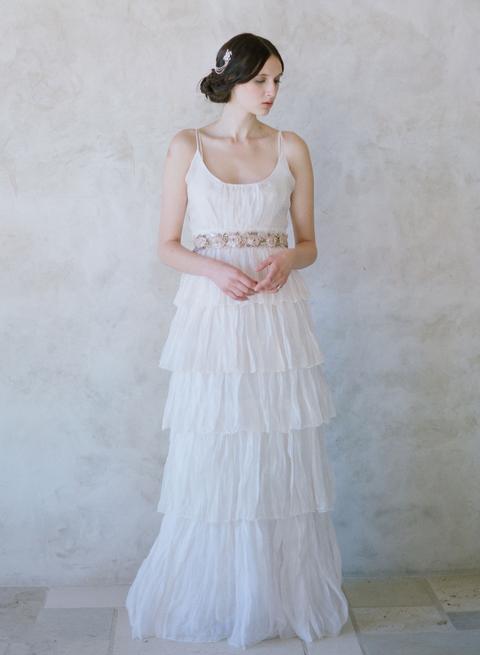 Most of the time wearing a wedding dress is not comfortable at all. If you wear this bridal gown – Odell – you don't have to suffer to be beautiful.  It's really comfortable yet charming and delicate. It had gathered flutter sleeves, scoop neckline, natural waist and a gorgeous train at back.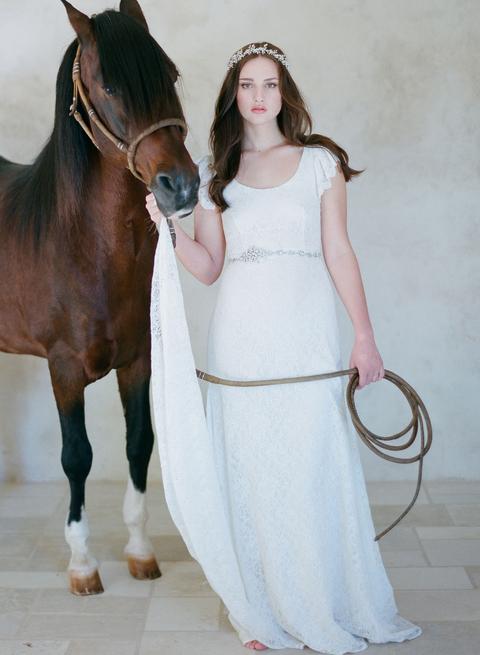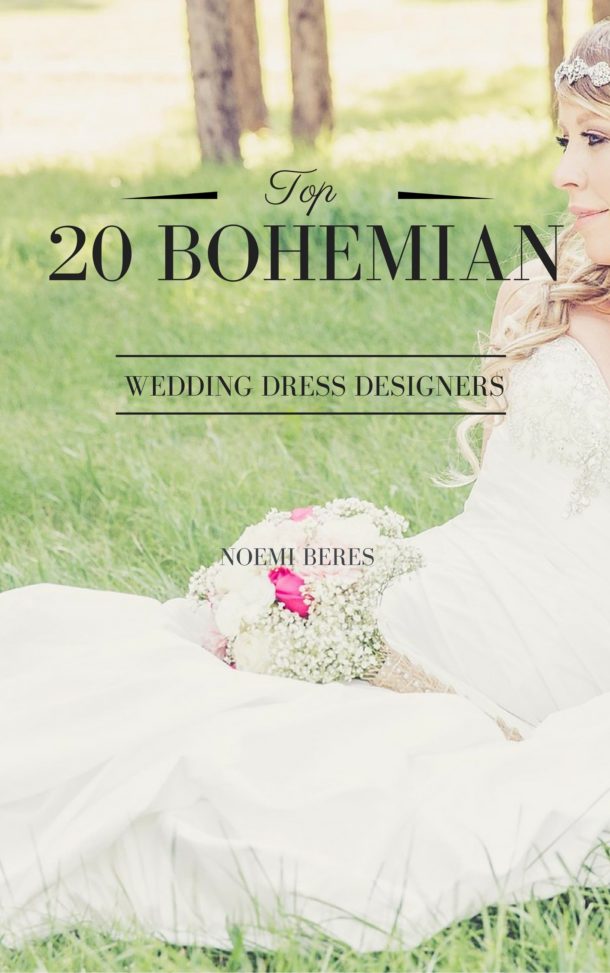 Download Your Free Boho Wedding Dress Catalogue
Download the free catalogue which inludes many beautiful bohemian wedding dresses from the top 20 designers.
Please enter your email address below and I send the free catalogue to your inbox.
Thank you. Please check your inbox for the download!
Dreamers and Lovers bohemian wedding dresses
Dreamers and Lovers studio is making dress for the laid-back bride who loves bohemian fashion. Their wedding dresses are romantic but not extravagant or over-the-top. The less is more approach describes these beautiful wedding gowns. They are for the free-spirited, boho-chic brides who feel comfortable in their own skin and who have a positive attitude to life. It's all about elegance and comfort, not to mention expressing themselves as well.
The Alana Top and the Fiona skirt together is a beautiful 2 piece bohemian wedding dress which is best worn with a flower crown. It's the perfect silk chiffon dress for the hippie, no fuss bride who wants a wedding on a beach or in a flower-filled meadow.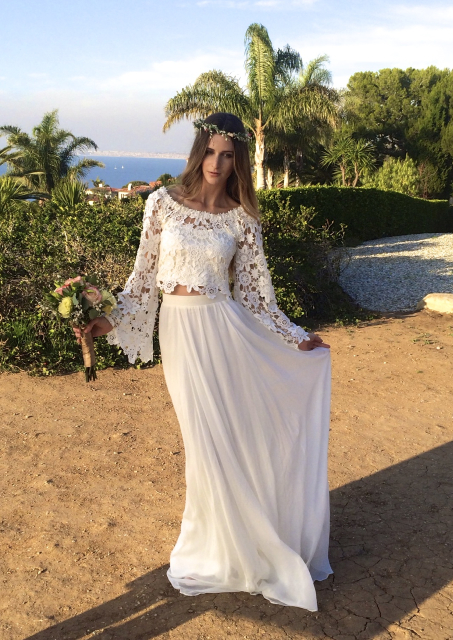 The Daphne bohemian bridal gown is a lace dress with wide bell sleeves.  You can be either a Renaissance princess or a boho girl wearing this dress. It's romantic, feminine and divine.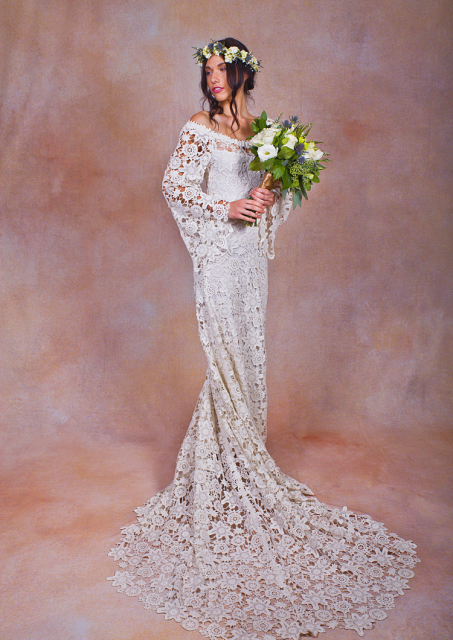 The Racquel lace maxi dress has bohemian inspired bell sleeves. It is the perfect boho bridal gown for the special day.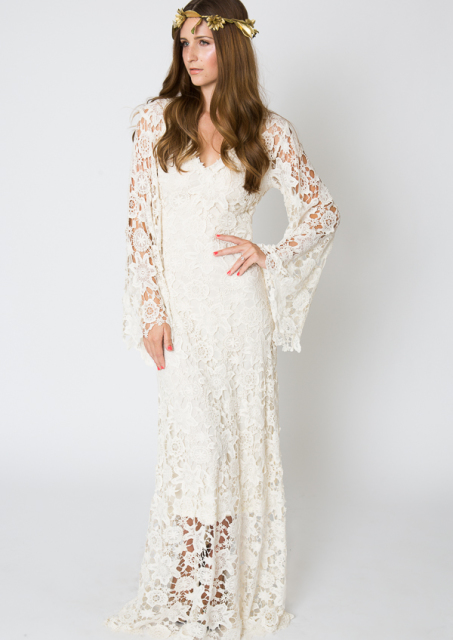 Another beautiful lace dress is the Lottie which you can actually wear on or off shoulder. This is the perfect laid-back bohemian wedding dress, it's perfect for spring or summer wedding and on the beach too. The exposed shoulders make the bride look feminine and sexy. It's not only gorgeous but incredibly soft and comfortable to wear.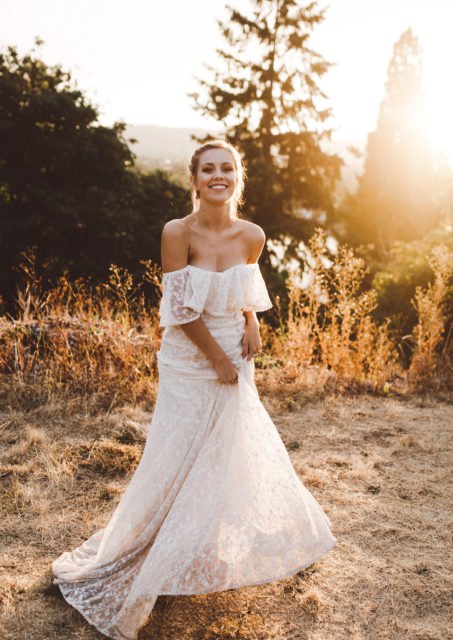 The romantic Azalea wedding dress has a bohemian draped bodice with beautiful embroidery. The amazing feminine silhouette is assured.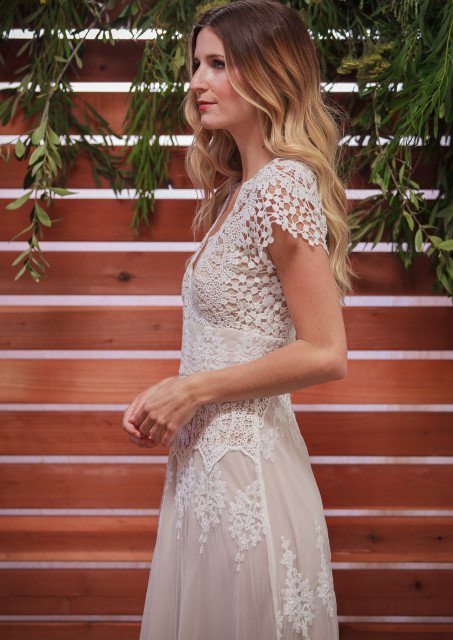 Kelsey Genna Wedding Dresses
Kelsey Genna is a very talented fashion designer from New Zealand. She only uses ethically made fabrics, she is really eco-conscious. All her beautiful dresses are made in New Zealand. Her designs are inspired by nature and the florals.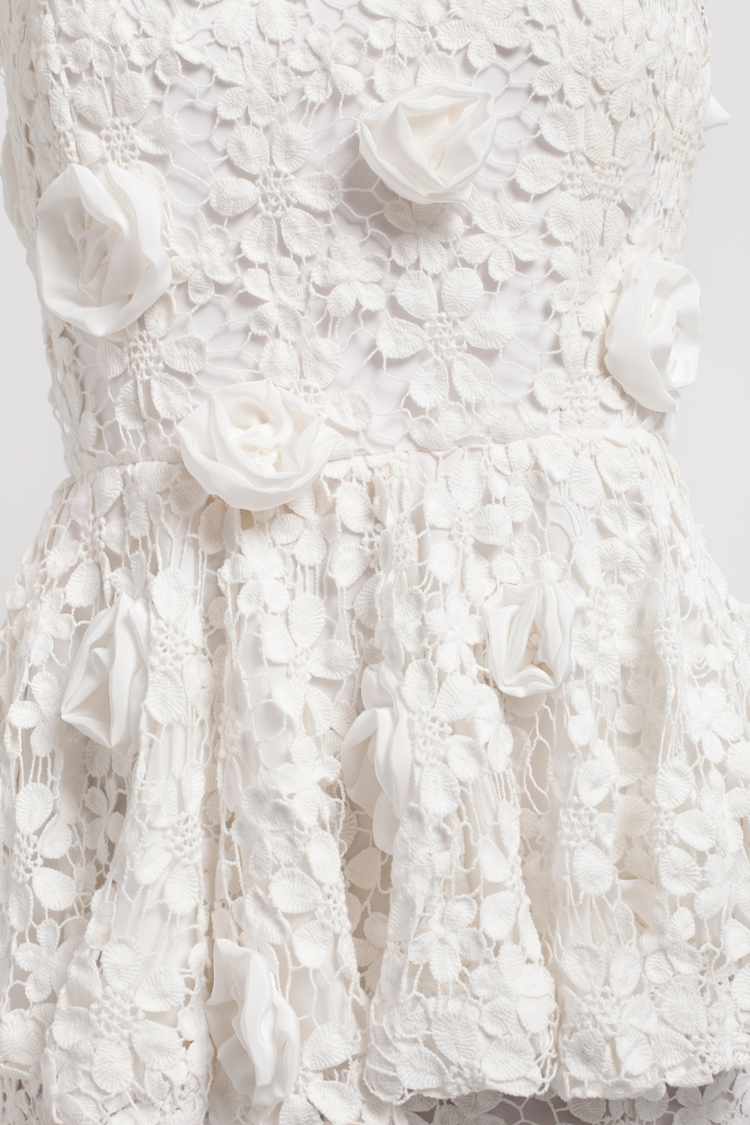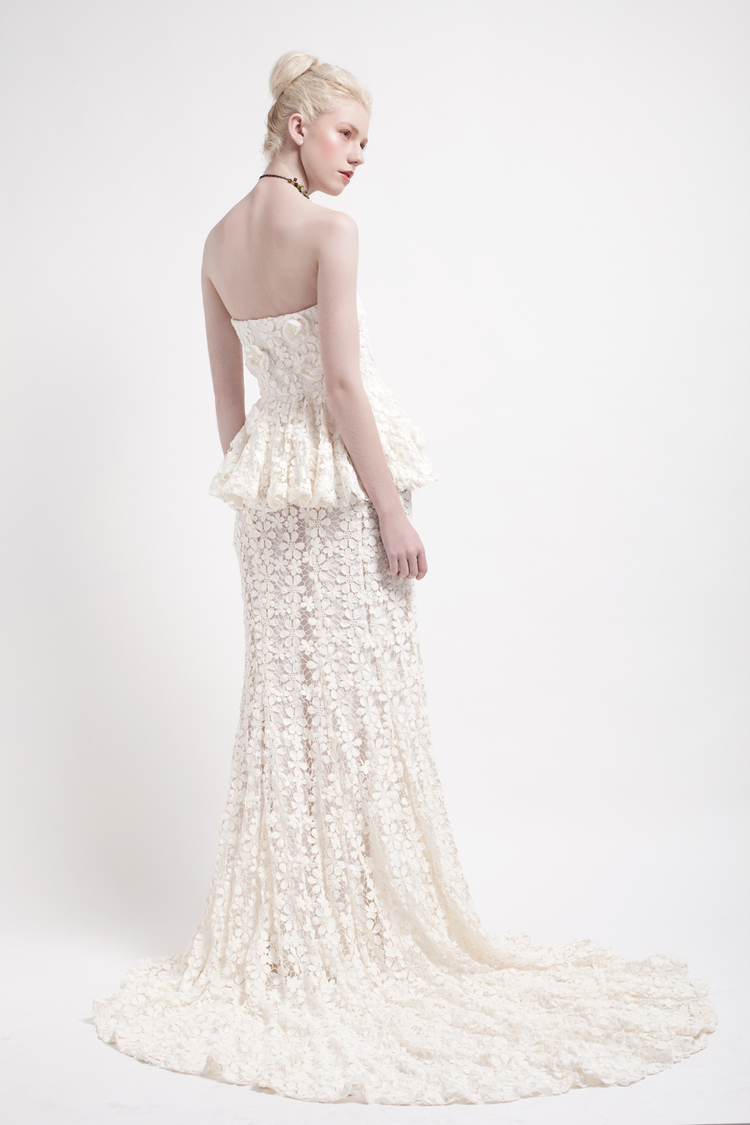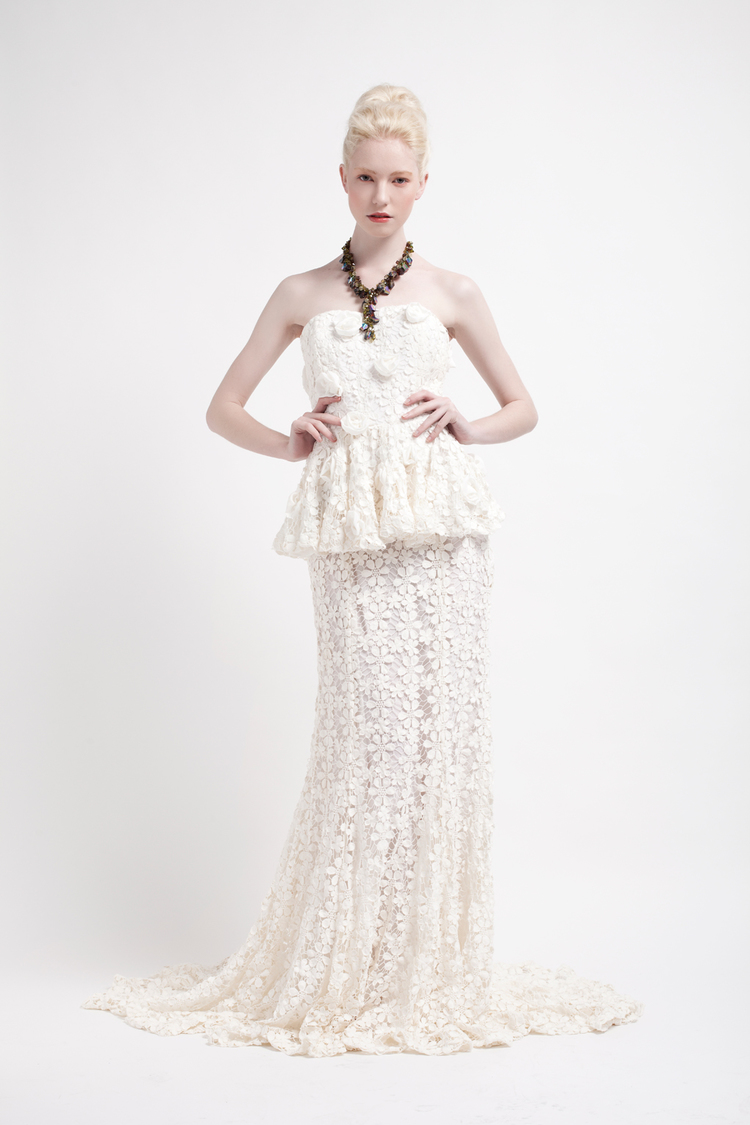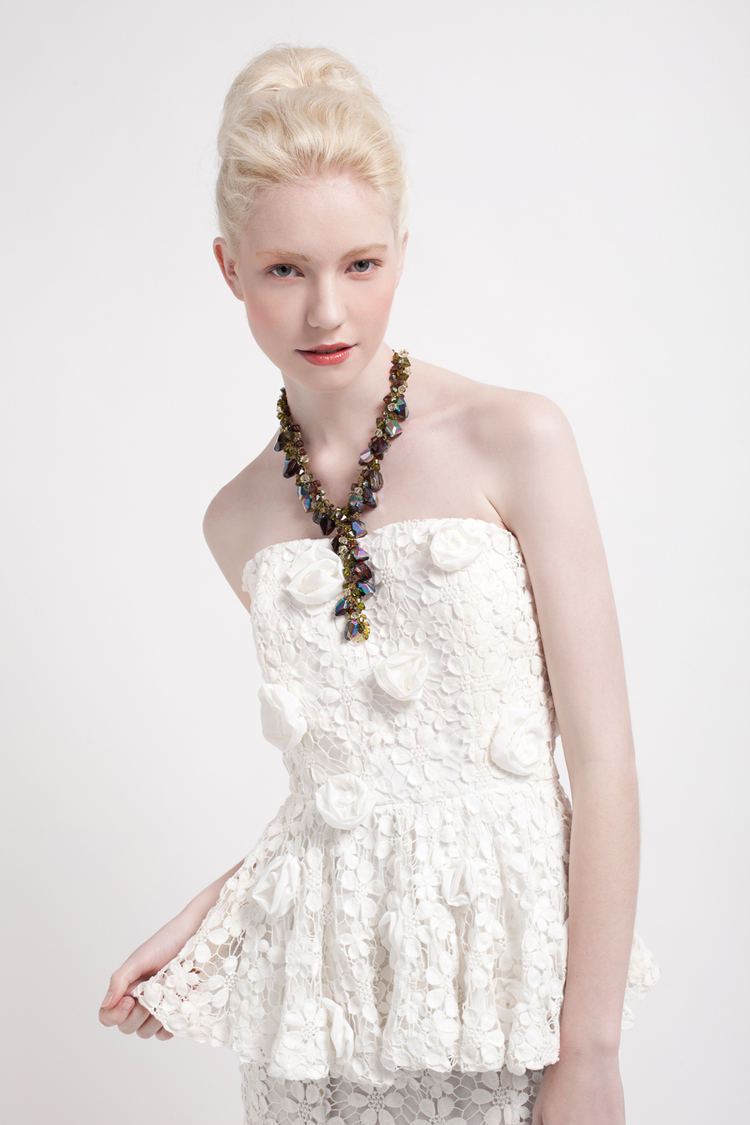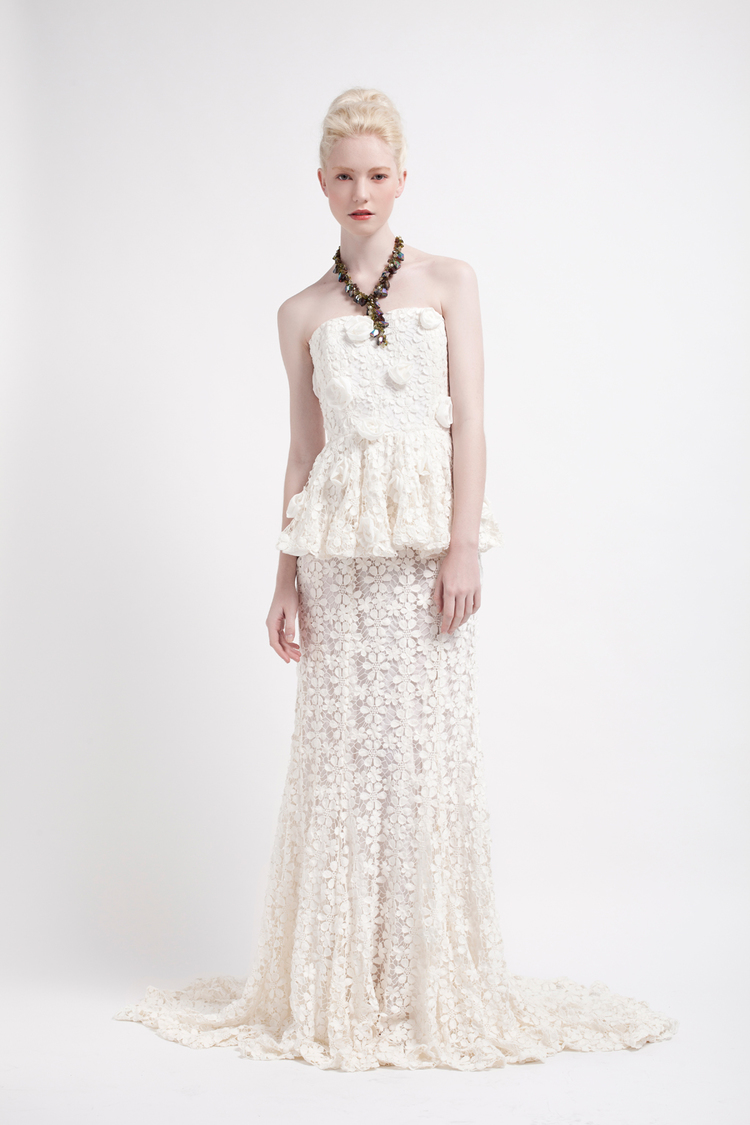 Moons Varsovie Wedding Dresses
Moons Varsovie is a Polish wedding dress designer company. Simplicity, harmony and romanticism describe best their bridal gowns. Their collection – called Flower Stories – was inspired by bohemian style.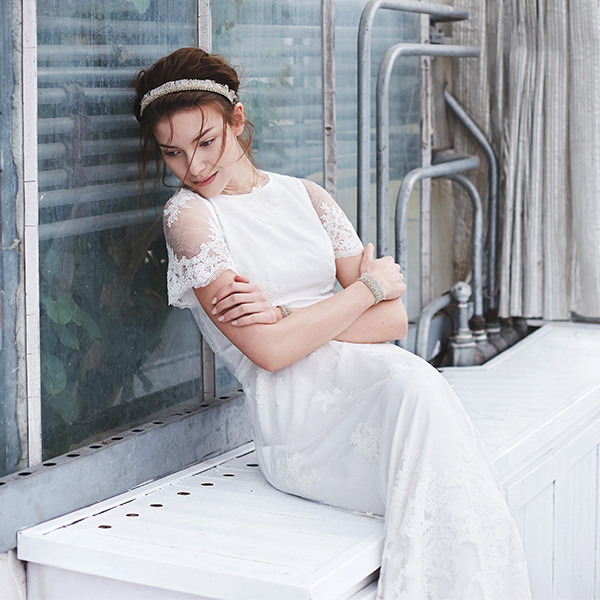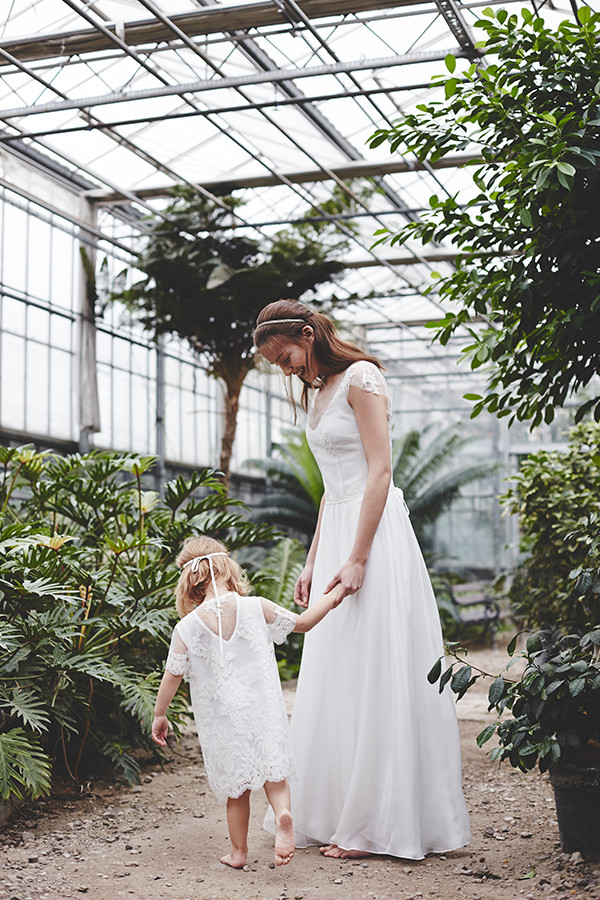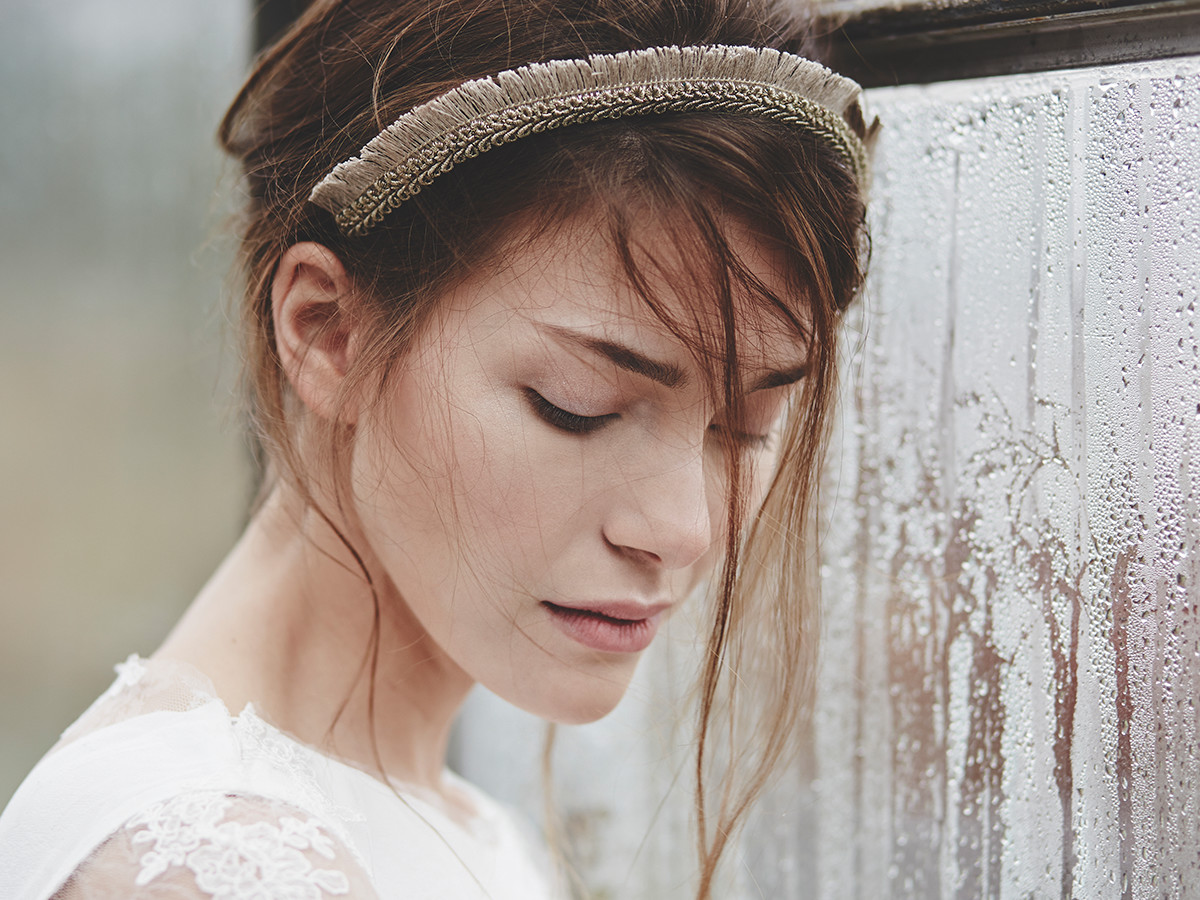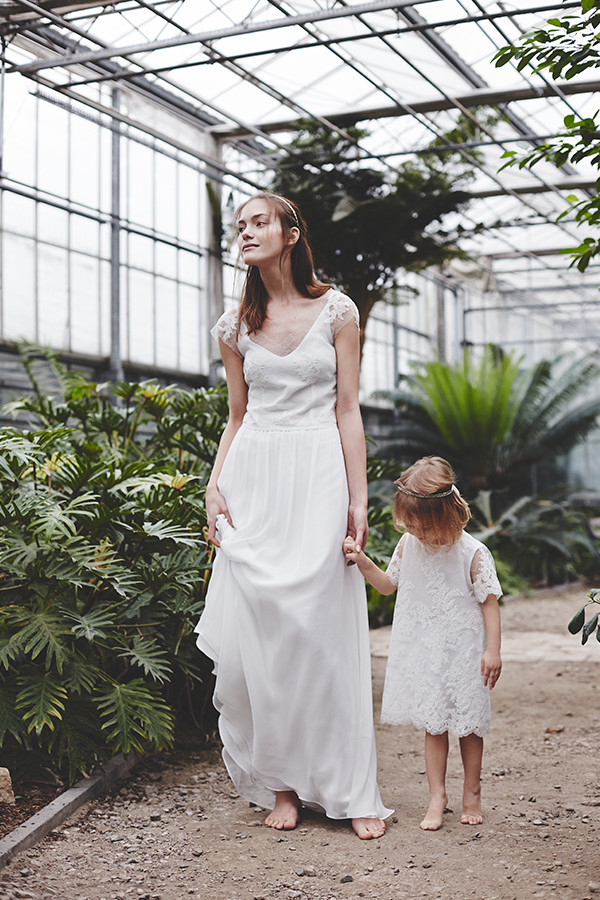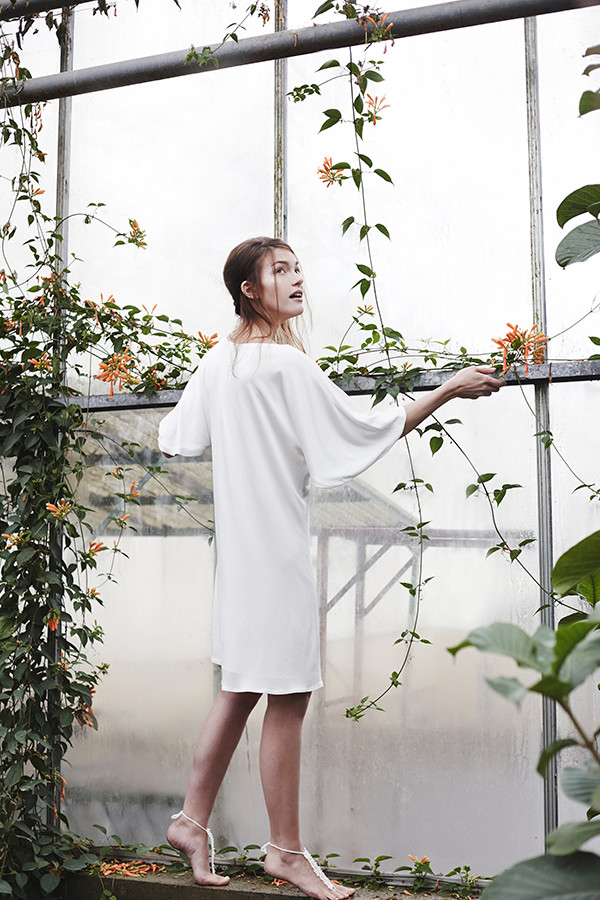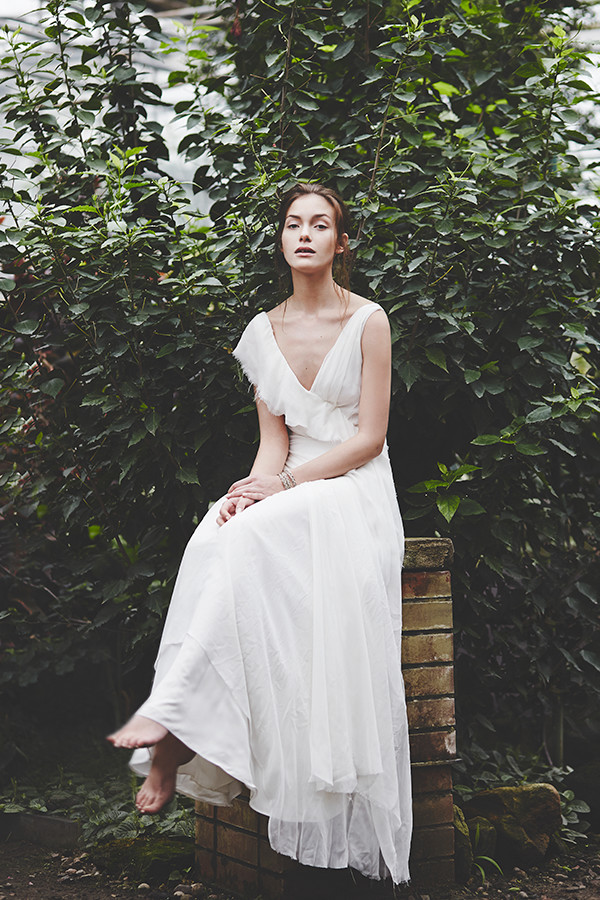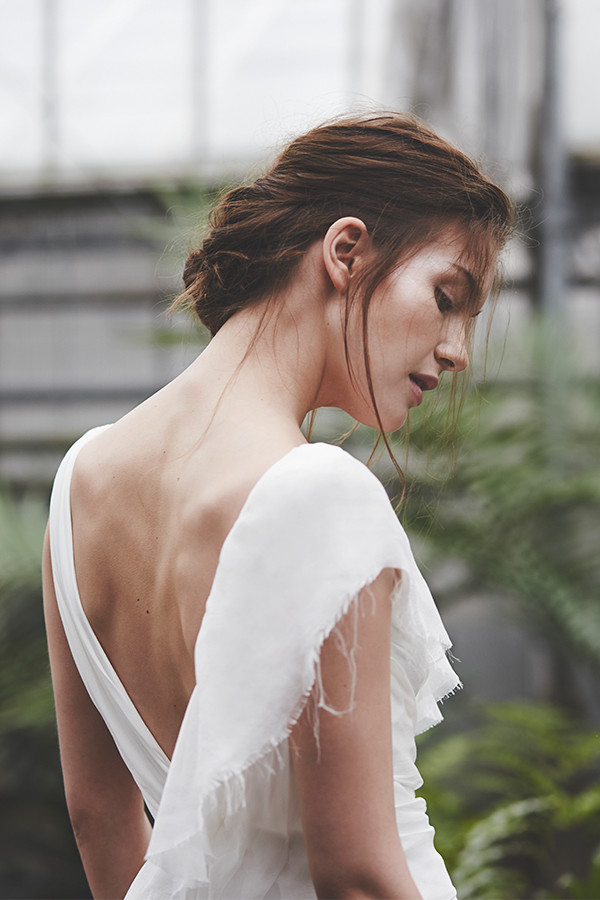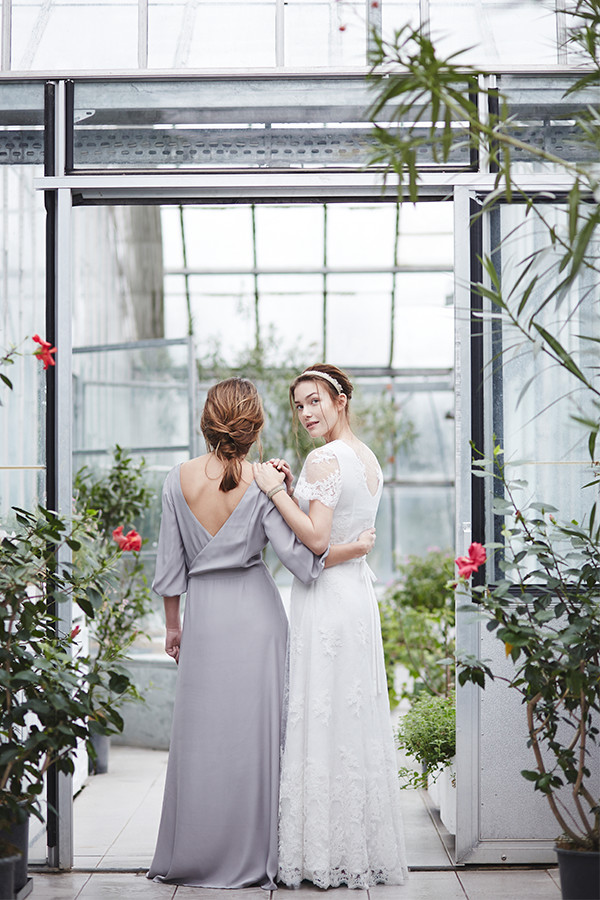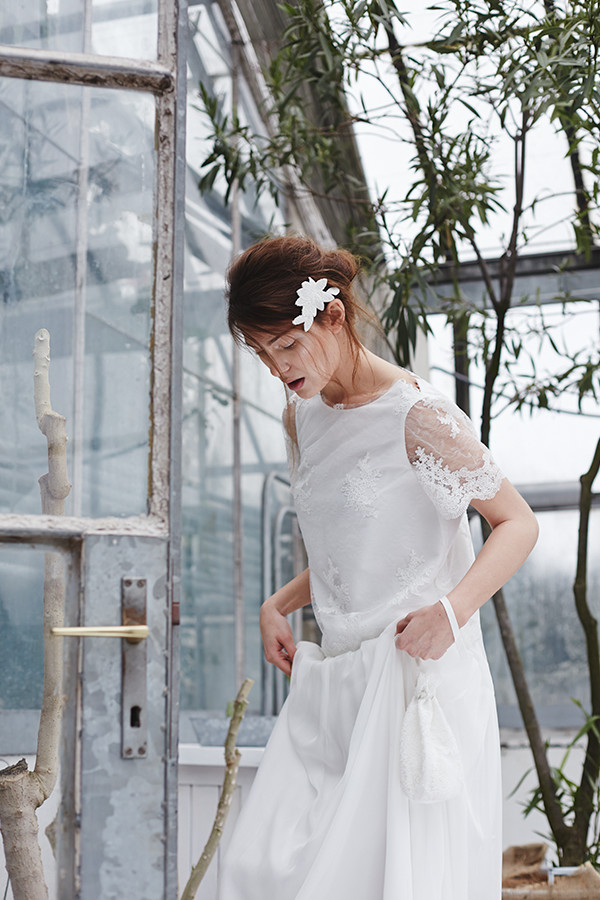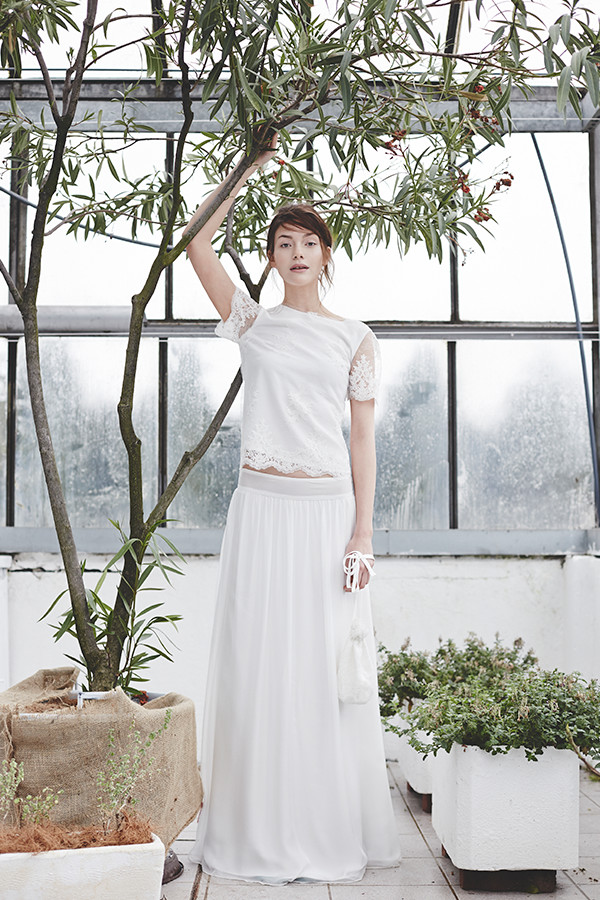 Bridal by Vania Romoff
Bridal by Vania Romoff focuses on feminine style, elegance, modern yet very graceful wedding dresses. Her design is characterized by clean lines, flattering silhouettes,  wonderful laces and high quality bridal fabrics. Her wedding dresses are not conventional and even perfect for the bohemian brides too.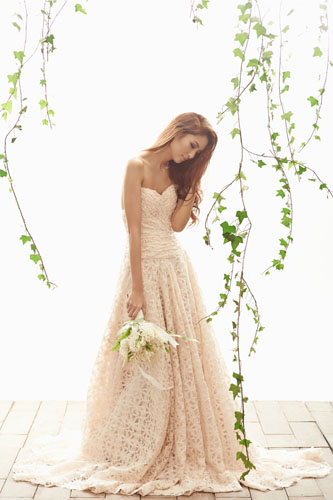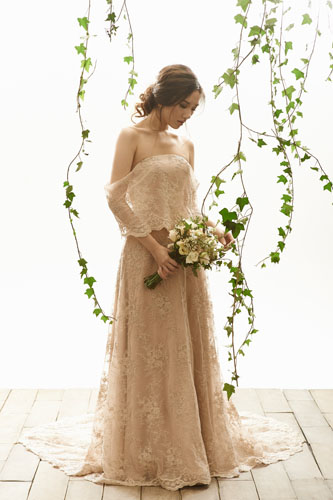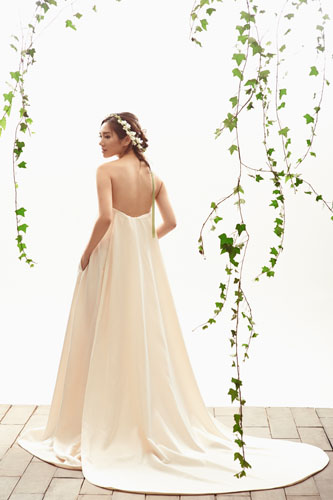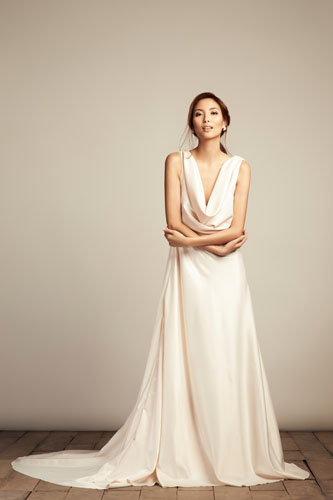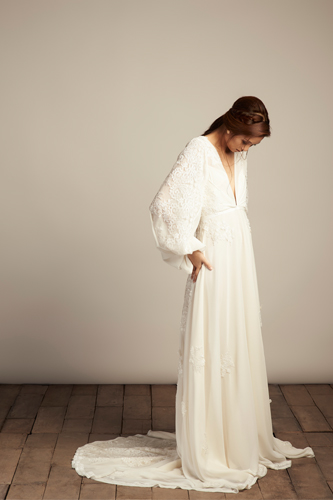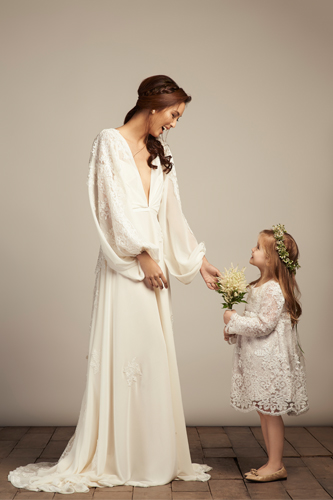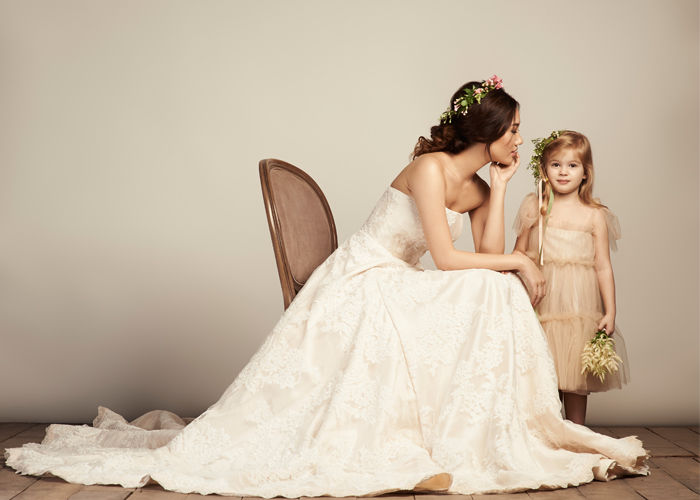 Minna Wedding Dresses
Minna Hepburn is a very talented Finnish designer who launched her label back in 2008. She loves vintage style and environmental issues are important to her that's why she calls her design Eco Luxe. Minna only uses ethically and locally produced organic and recycled fabrics. Her dresses have been featured in Vogue, Elle, Cosmopolitan and Red. Her bohemian wedding dresses are stylish, desirable and amazing. I also love her incredibly amazing photo shoots.

The Minna wedding dress – pictured below – is a gorgeous bohemian and vintage inspired bridal gown. It's is made from delicate lace and it has a beautiful low open back.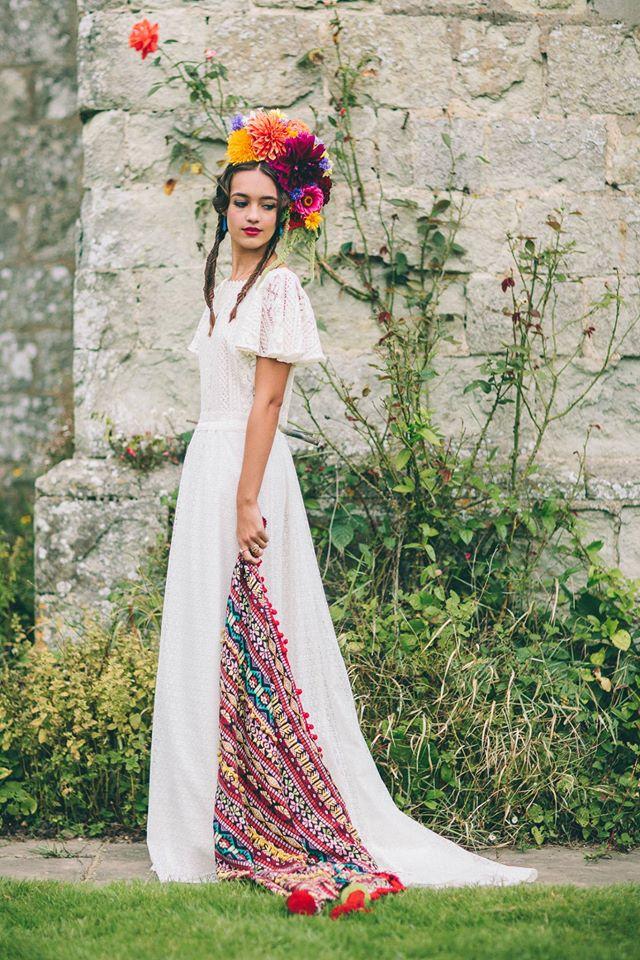 The Charlotta dress – pictured below – is really pretty and unique. It's a vintage looking ethereal bohemian wedding dress. It's made from gorgeous silk georgette and lace.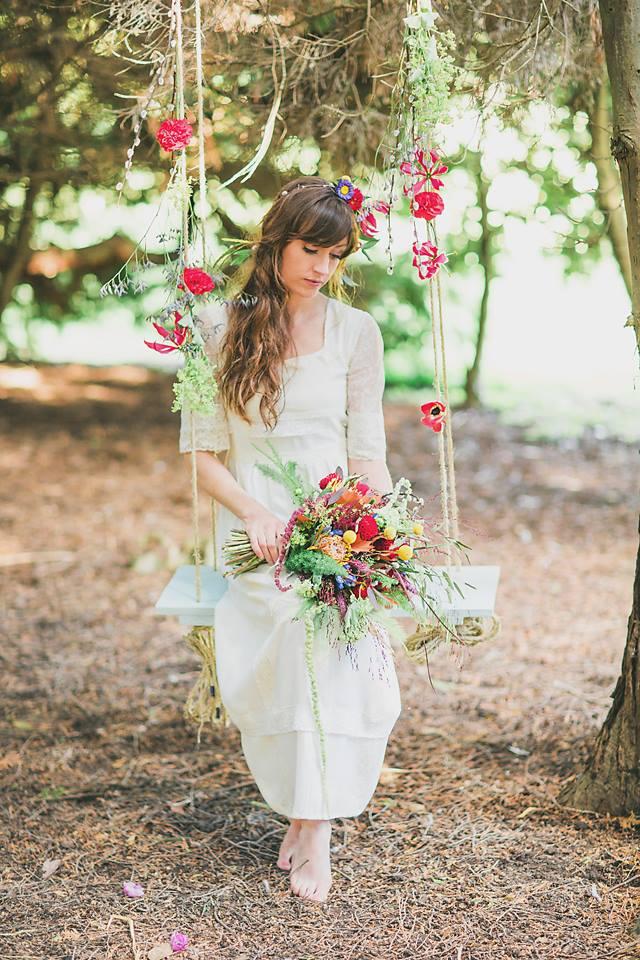 The Tilly dress is made from French lace and it has a gorgeous maxi skirt. Because of the loose bodice it's perfect for the free-spirited, nature loving bohemian bride.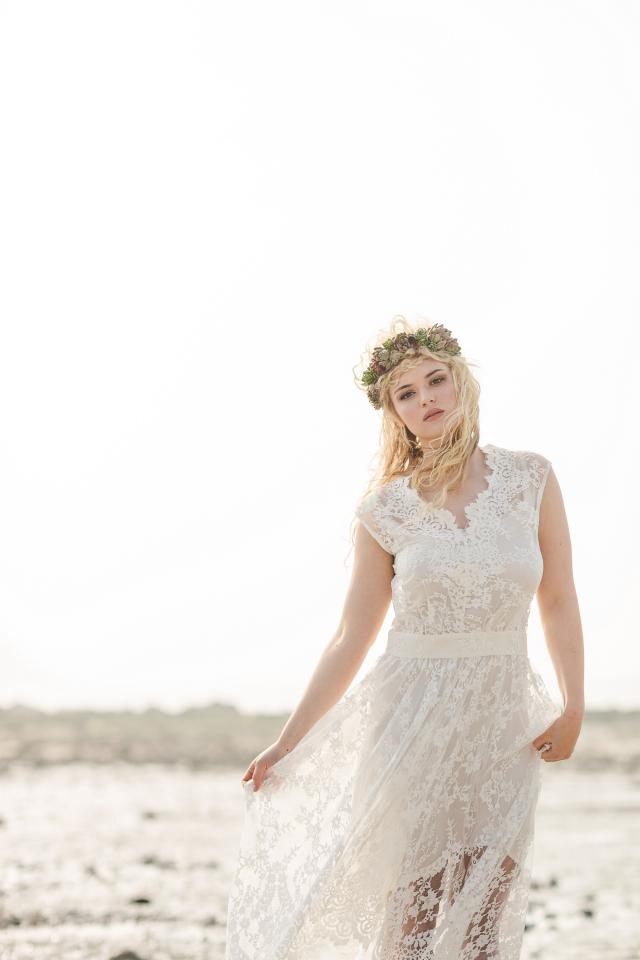 The Iris bridal dress – on the left – is truly bohemian and it's made from delicate silk chiffon with lace overlay at the front. It's the best choice if you are a hippie or boho bride.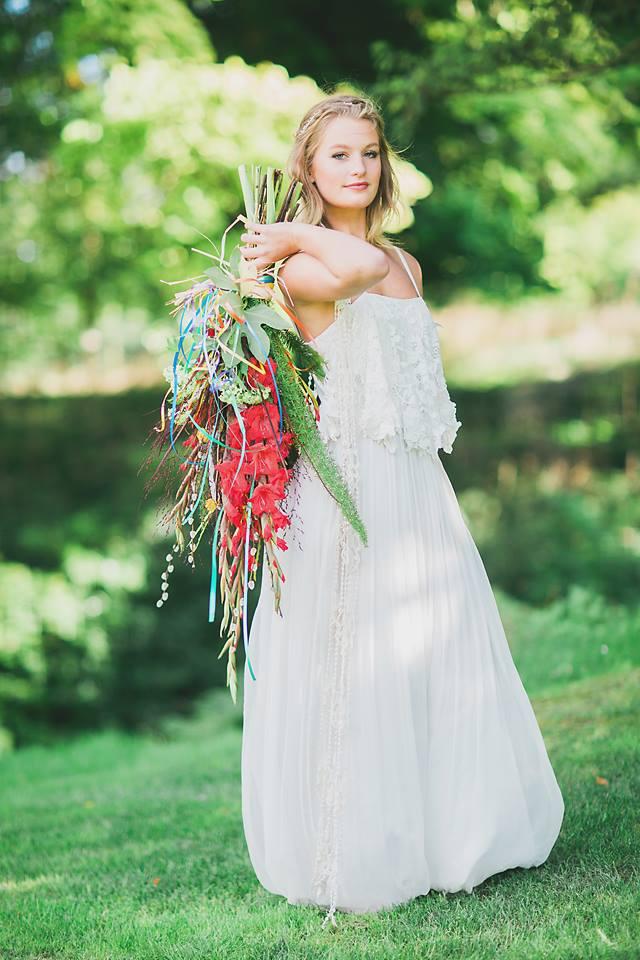 The Jada dress is alo a vintage-inspired bohemian wedding gown with V-shaped Valencienne lace panels. It also has delicate kimono sleeves and loose bodice.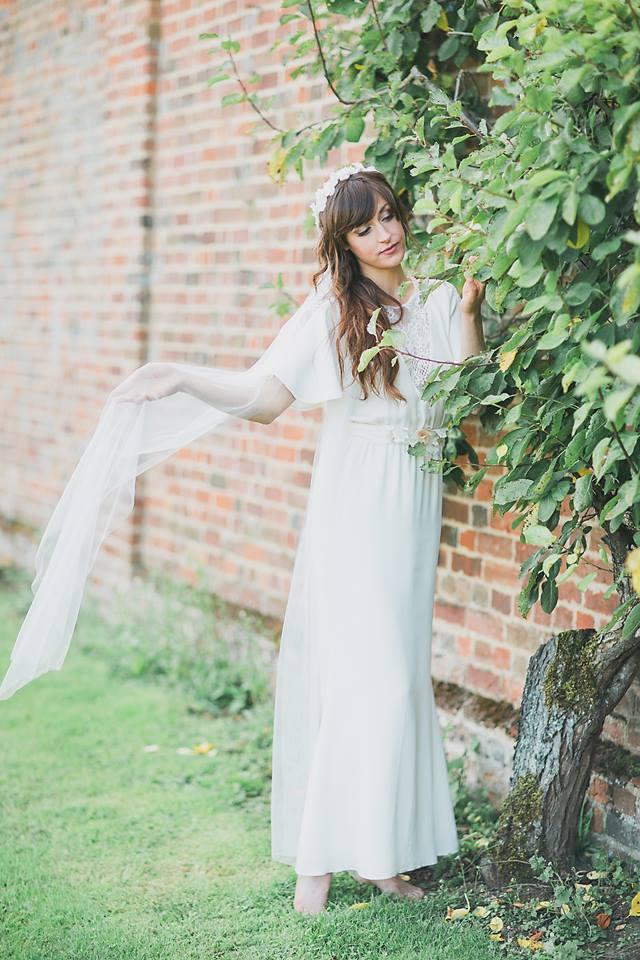 Rembo Styling wedding dresses
Rembo Styling wedding dresses are designed with passion in Belgium and made with love in Portugal. All of their handmade dresses are very innovative. They love to surprise brides with their unique and bohemian wedding dresses. Rembo Styling makes dresses for the young bride who loves her friends and nature; whose world is dynamic and free and who is enjoying life to the fullest.
Their 2017 bridal collection can be best described by these words: "boho chic meets Rock 'n' Roll".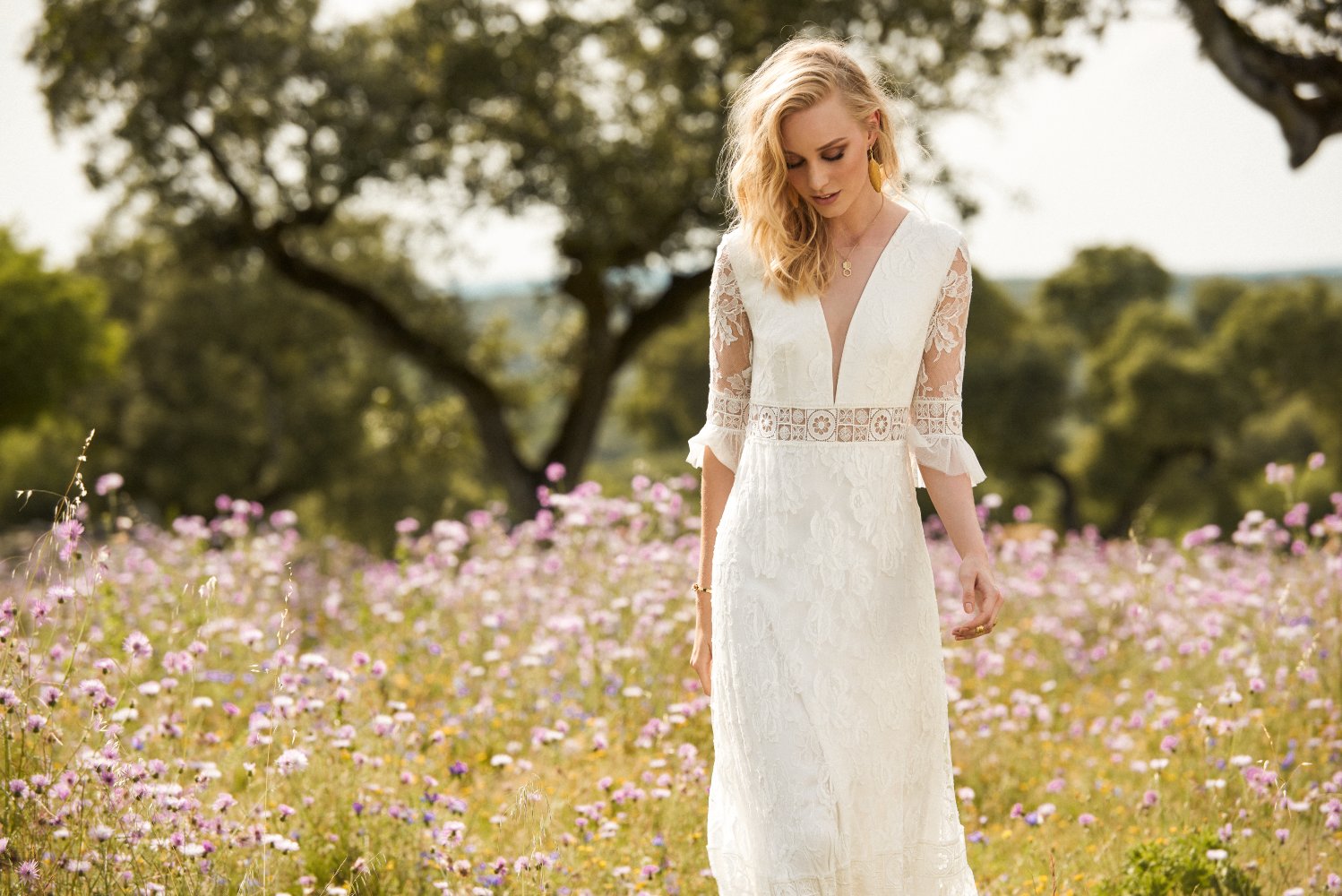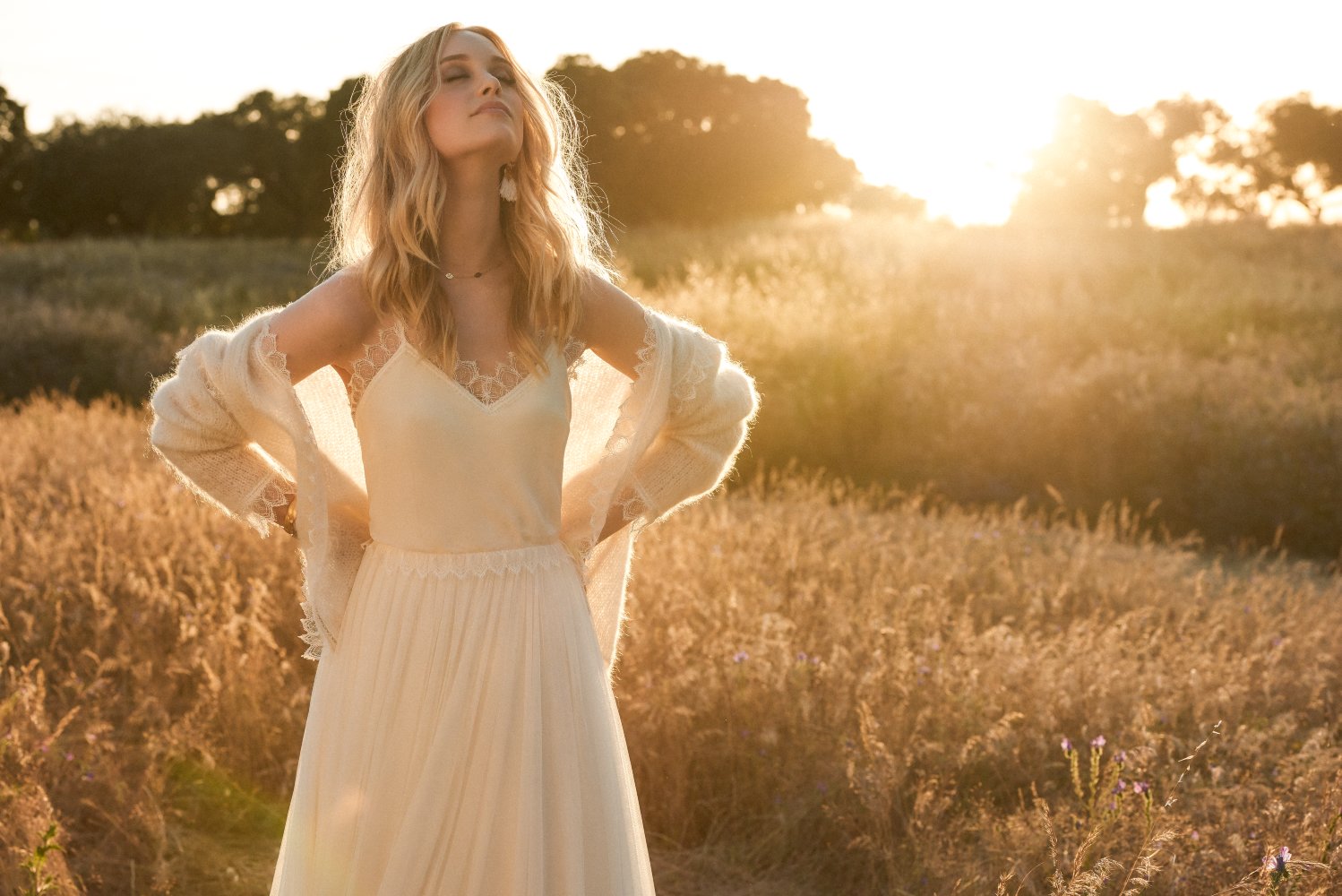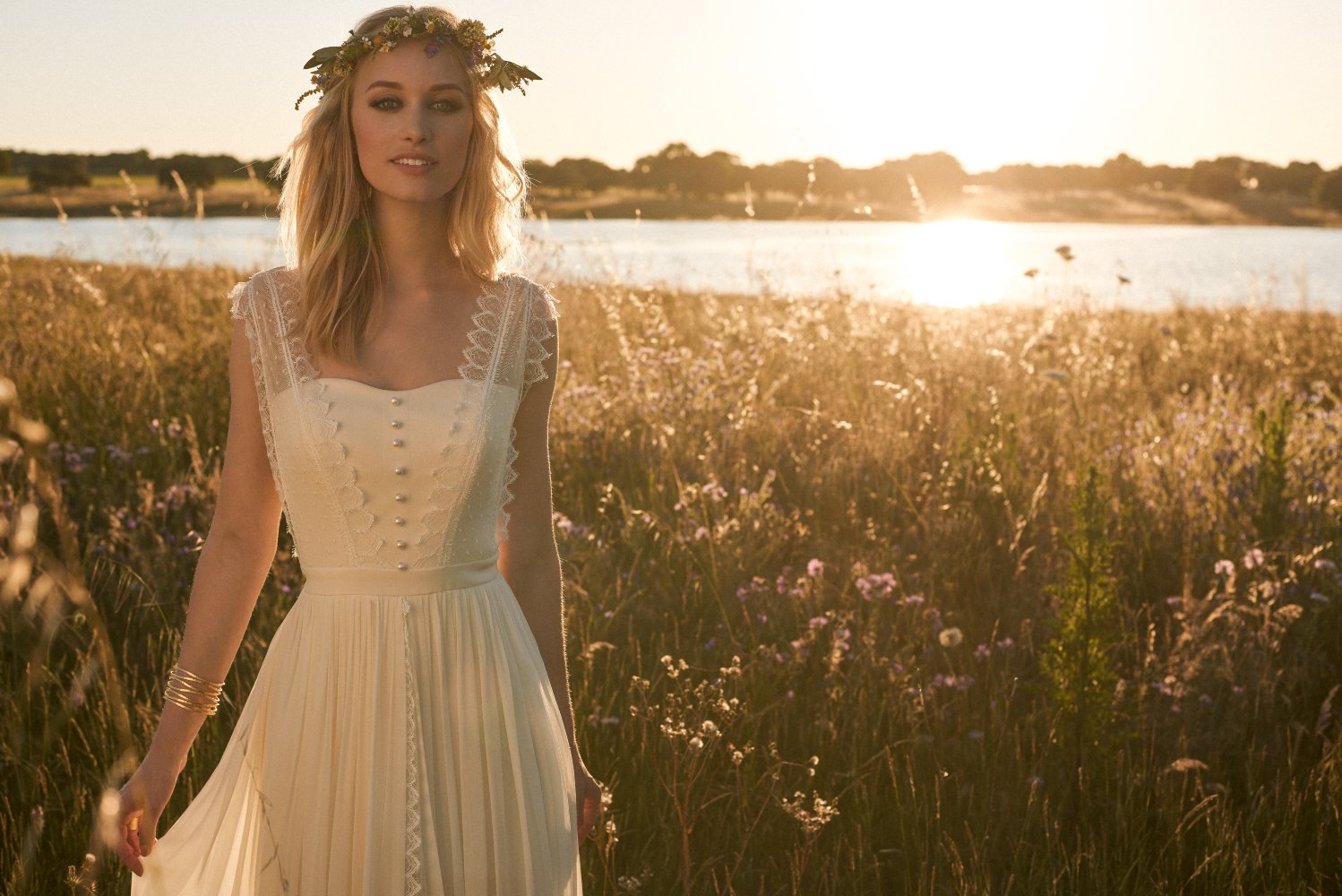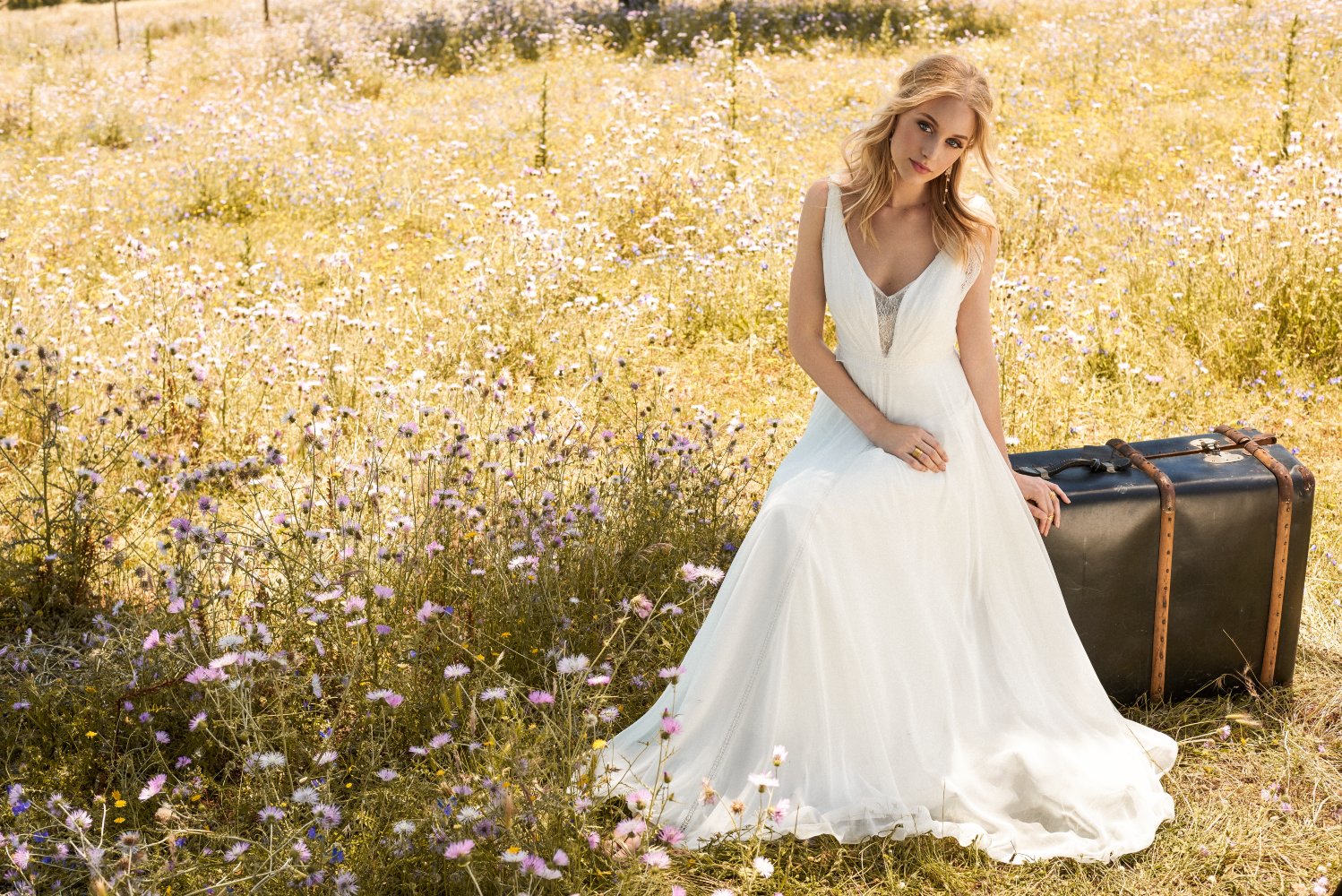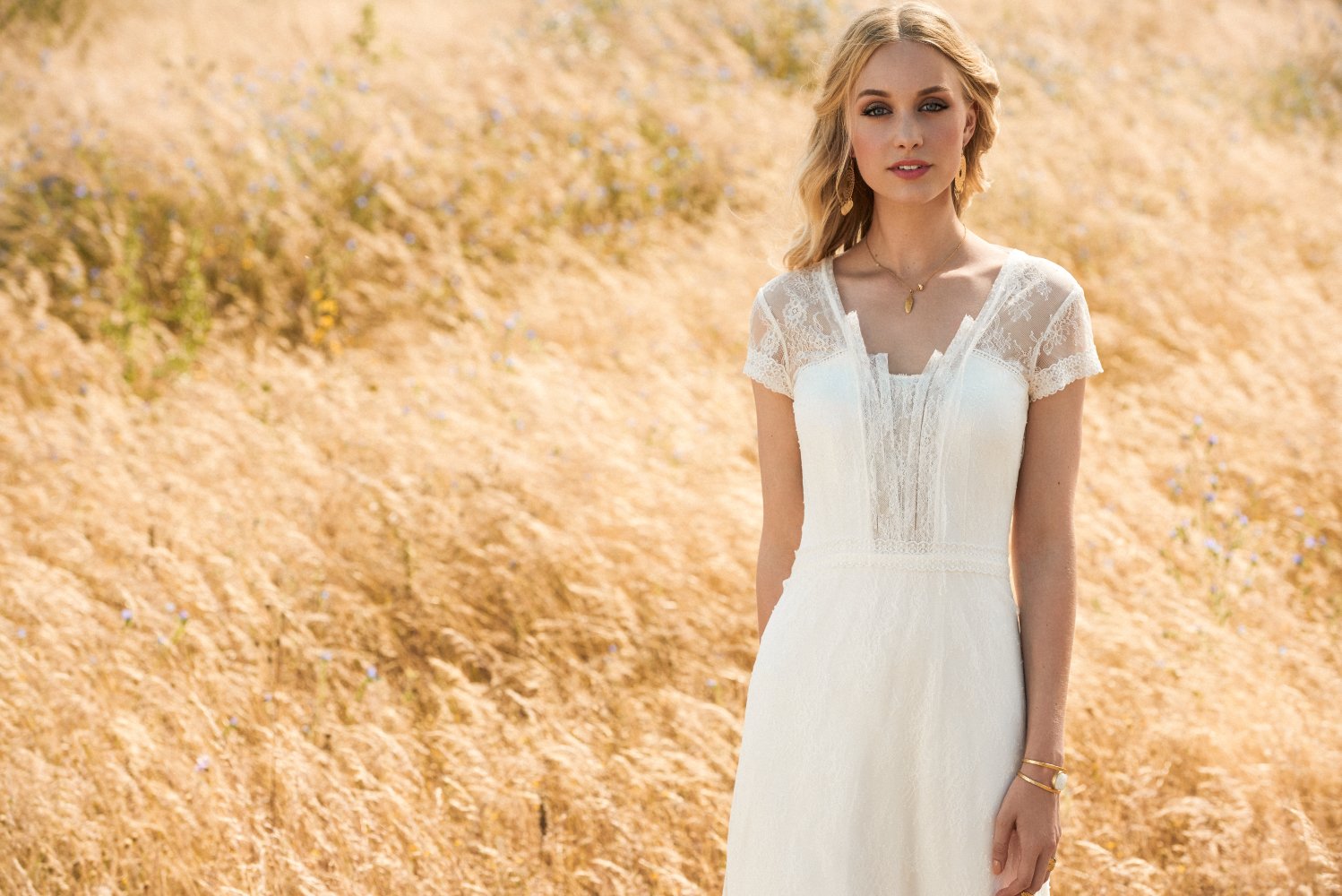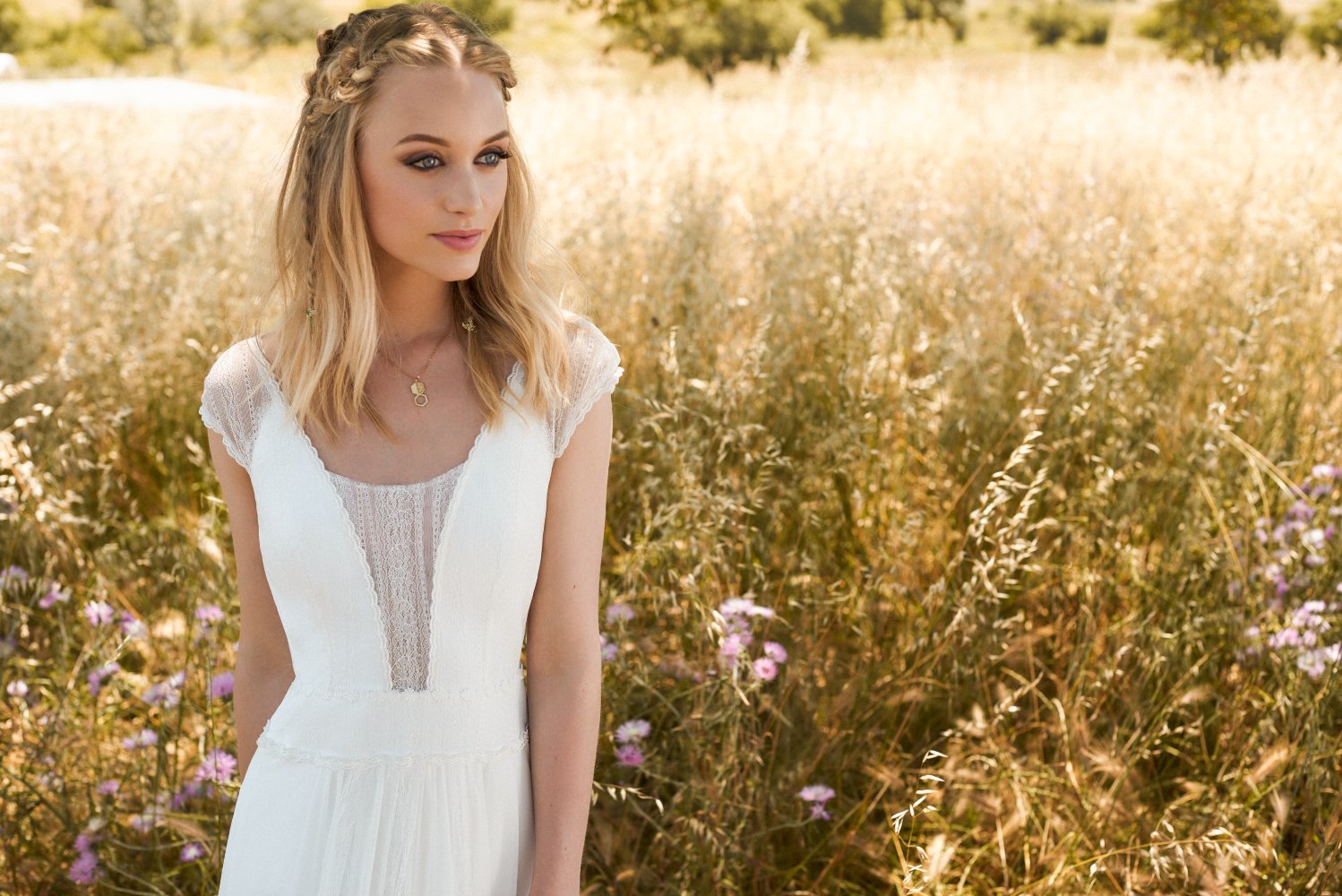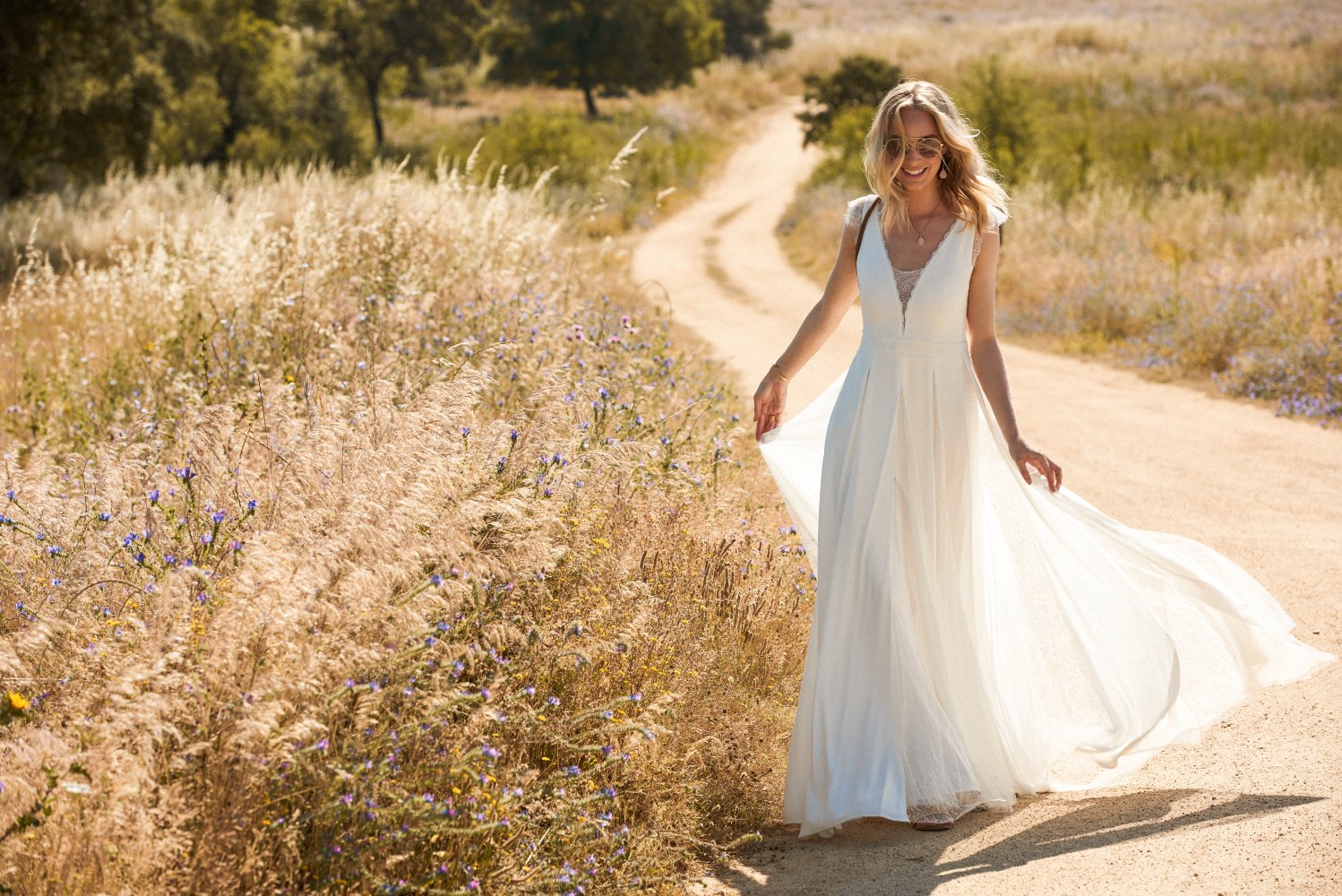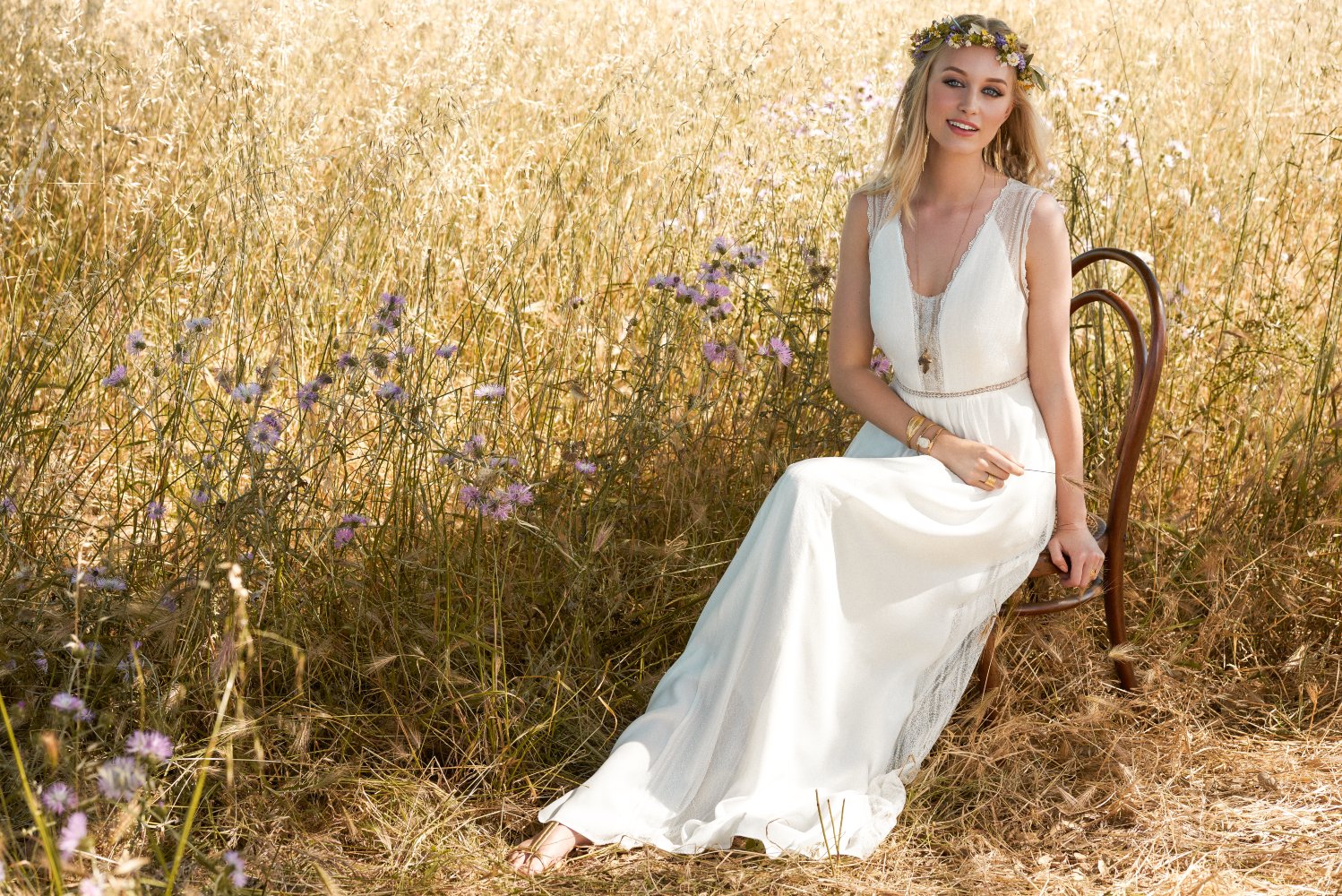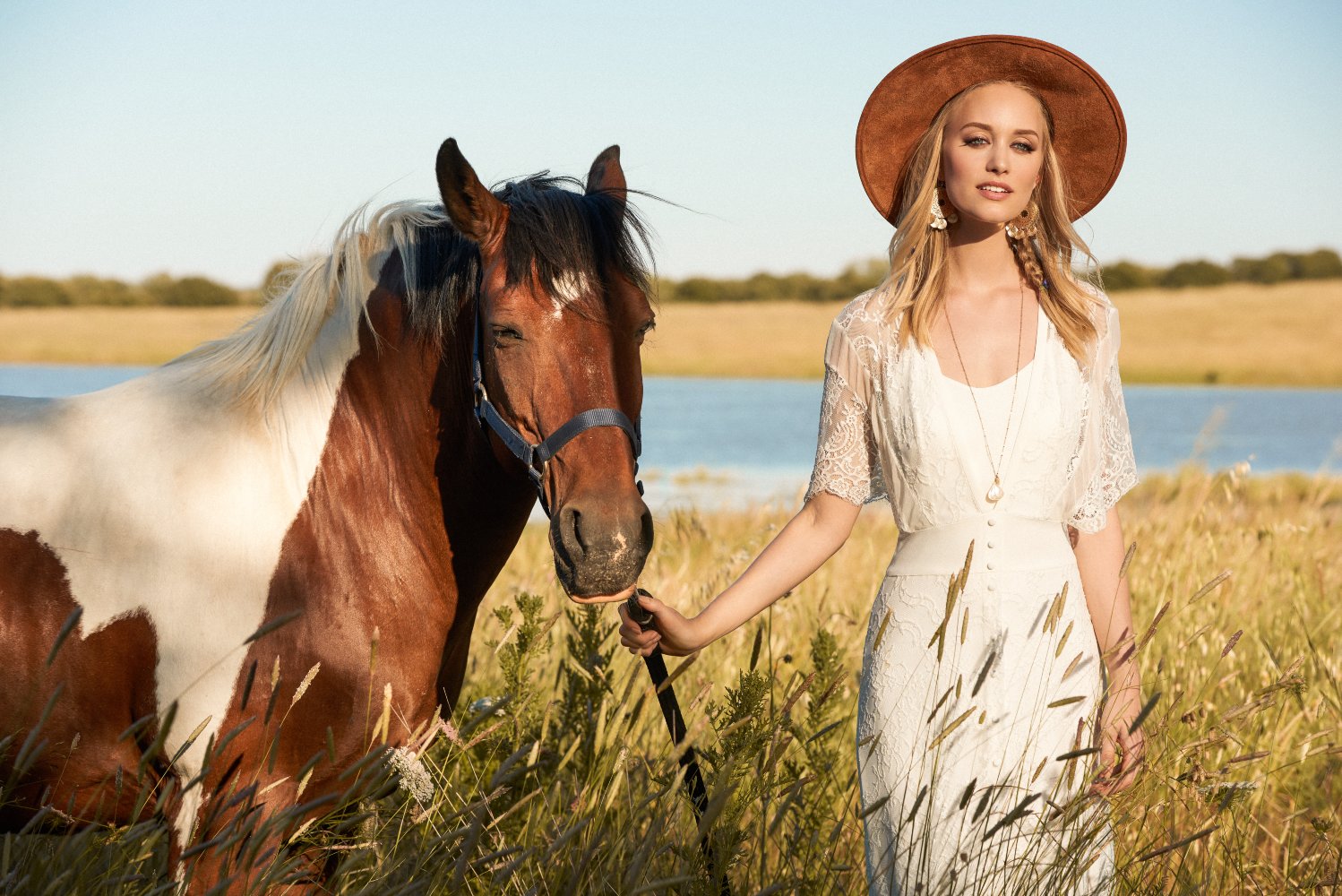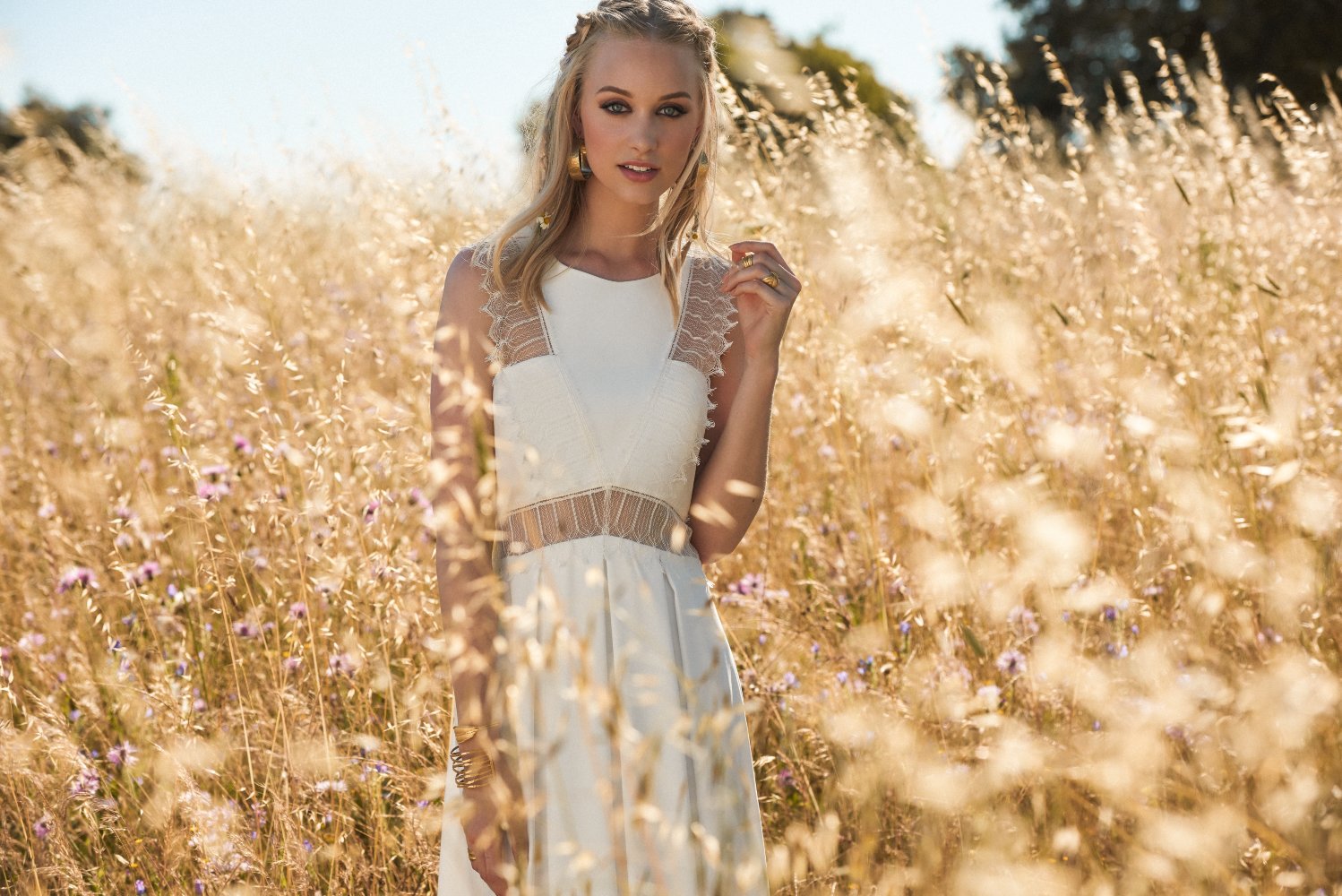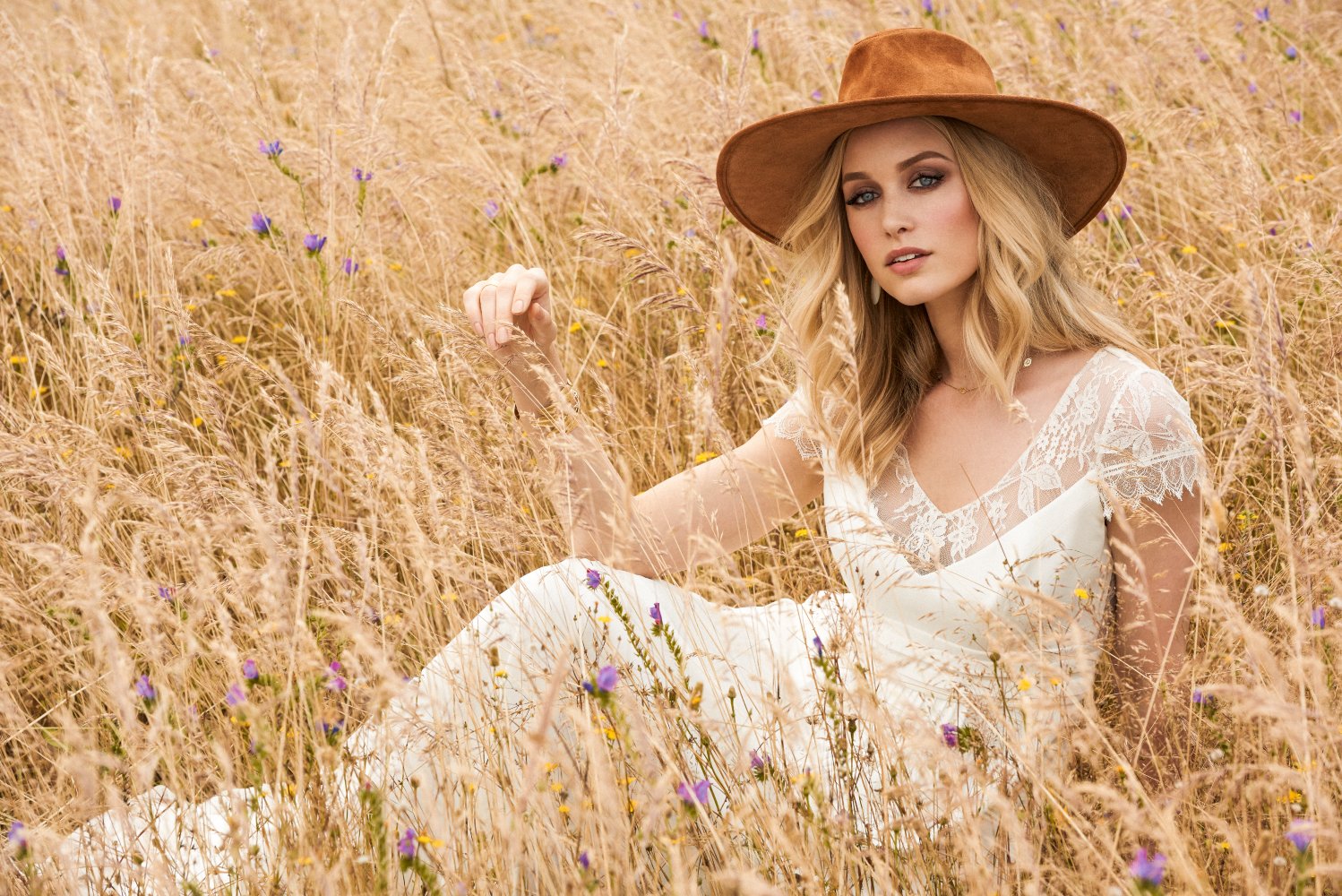 Lillian West Bridal Dresses
Lillian West wedding dresses can be described as romantic, classic and chic. They feature beautiful details such as re-embroidered laces, soft fabrics and rich satins. Lillian West has launched her first bridal collection in 2014. She also has amazing bohemian inspired wedding dresses.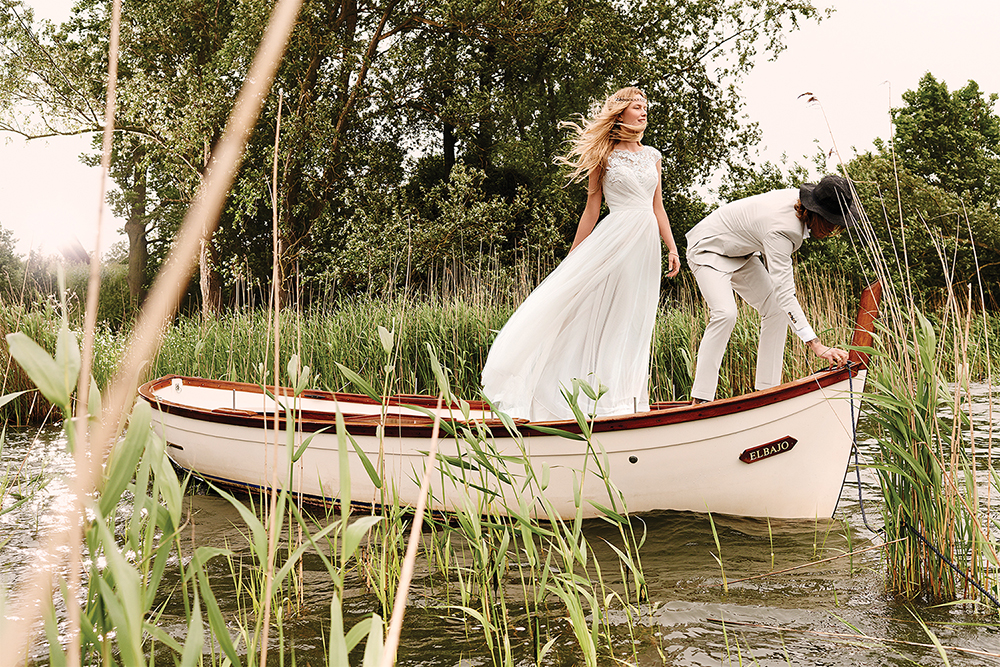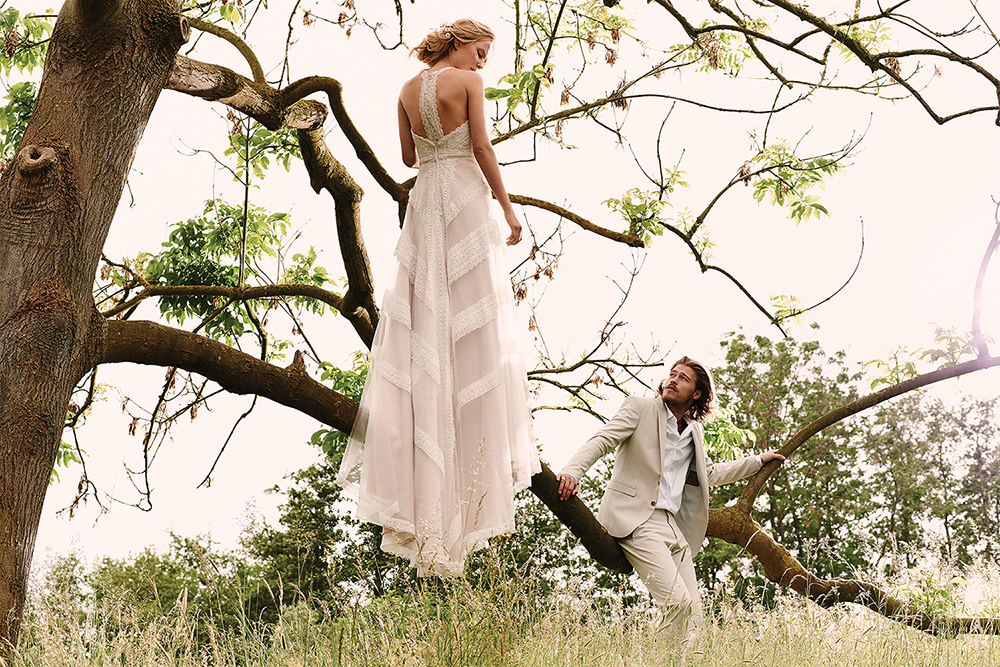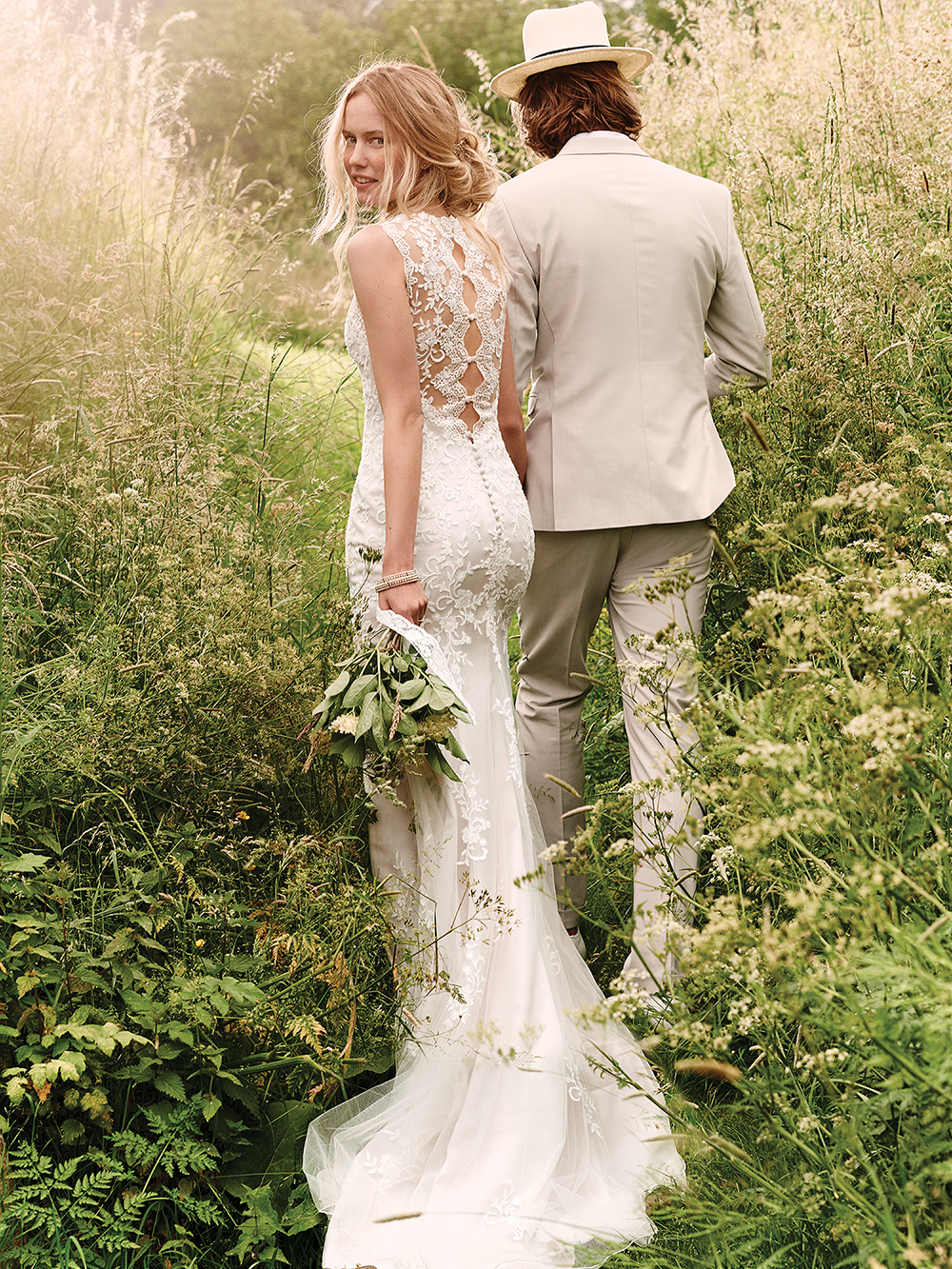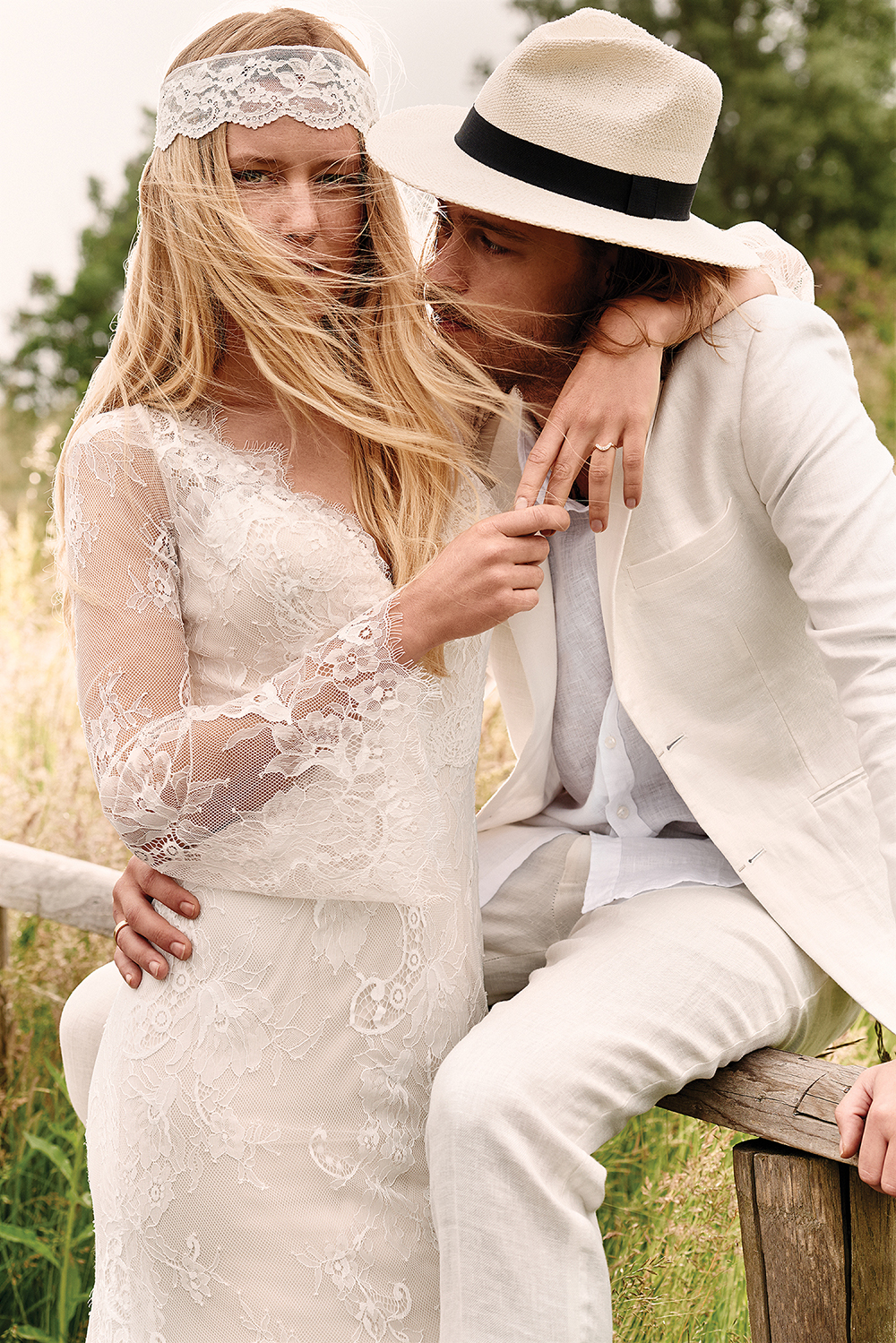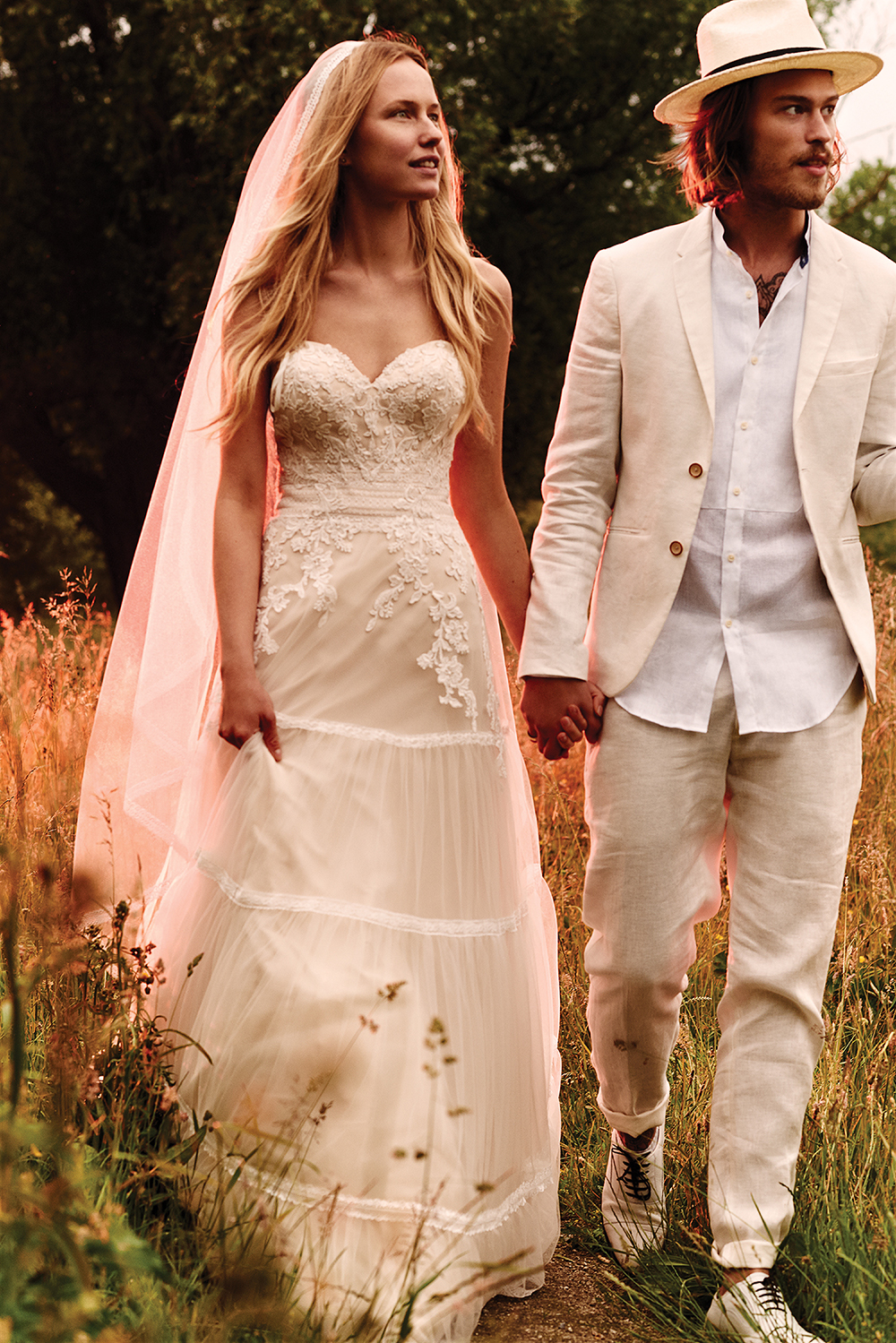 Island Tribe
Bohemian wedding dresses for the free spirited bride from Miami. The Island Tribe – Angeline Hayling and "OD" Odero – is all about freedom and good vibes. They get their inspiration from the ocean and from the elements of life. If you want a unique, boho wedding gown then head to The Bali Hut in Miami.
The dress below – Coral – with its body hugging front fitted bodice and its flare bottom a great example of their bohemian vibe.

The Santorini wedding dress is a layered, crinkled, silk chiffon over charmeuse. It looks really feminine and airy.
The Santorini wedding dress is a layered, crinkled, silk chiffon over charmeuse. It looks really feminine and airy.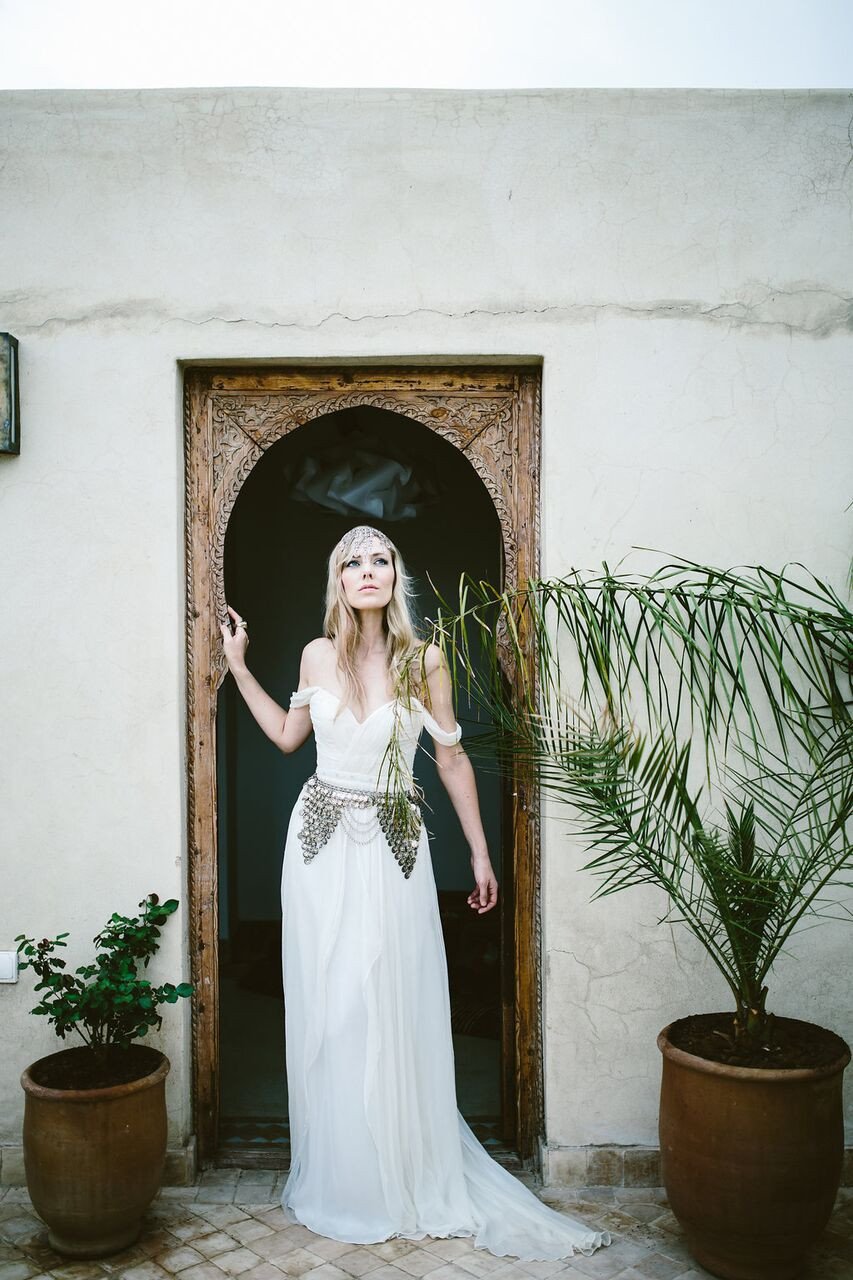 The Monterey is a long-sleeved French lace dress. It's perfect for the boho bride with its body-hugging fitted bodice.

The Neptune wedding dress is an intricate hand beaded, body-hugging gown made from stretch tulle. It's long-sleeved and has beautiful Swarovski crystal elements.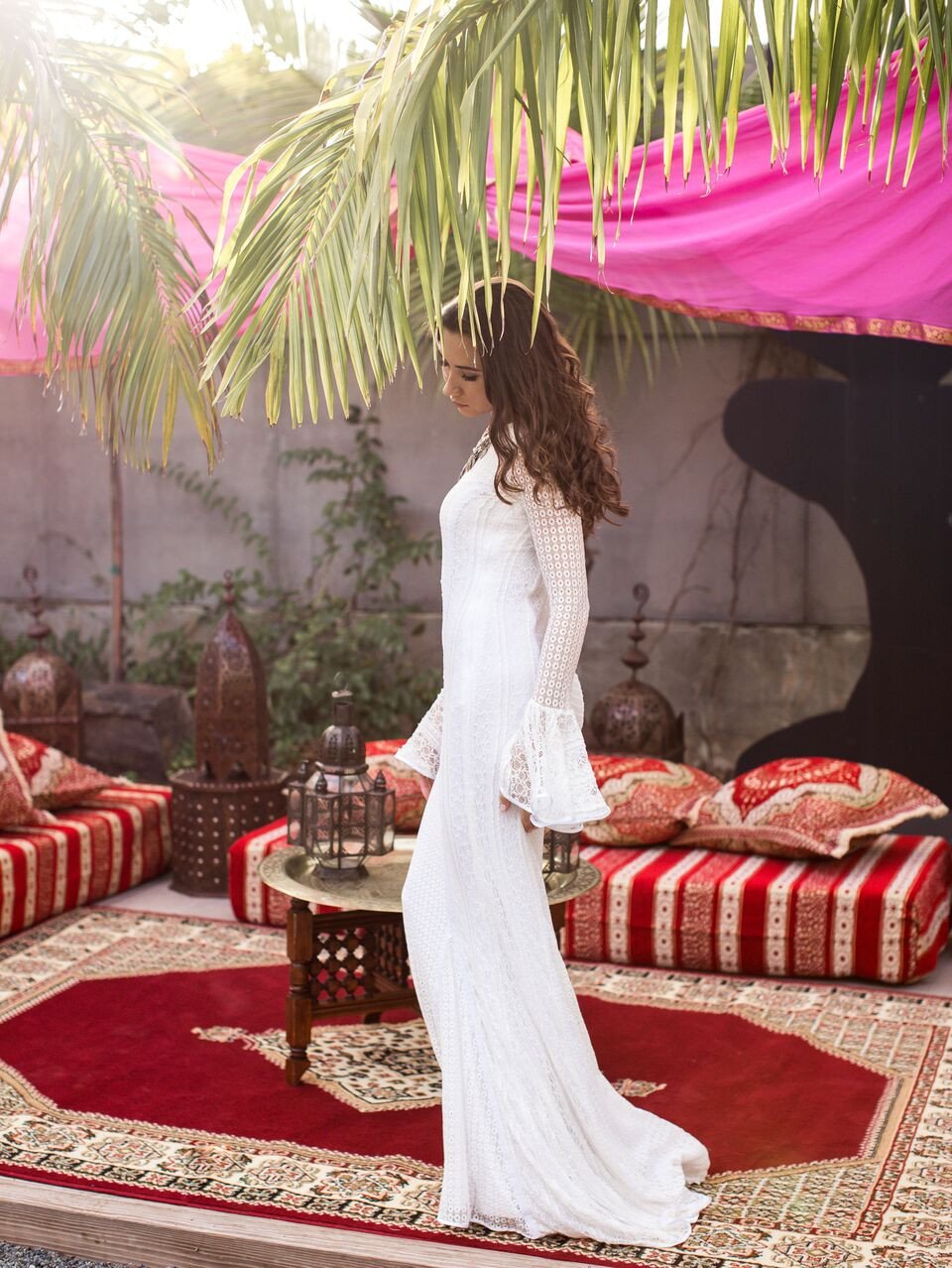 The Neptune wedding dress is an intricate hand beaded, body-hugging gown made from stretch tulle. It's long-sleeved and has beautiful Swarovski crystal elements.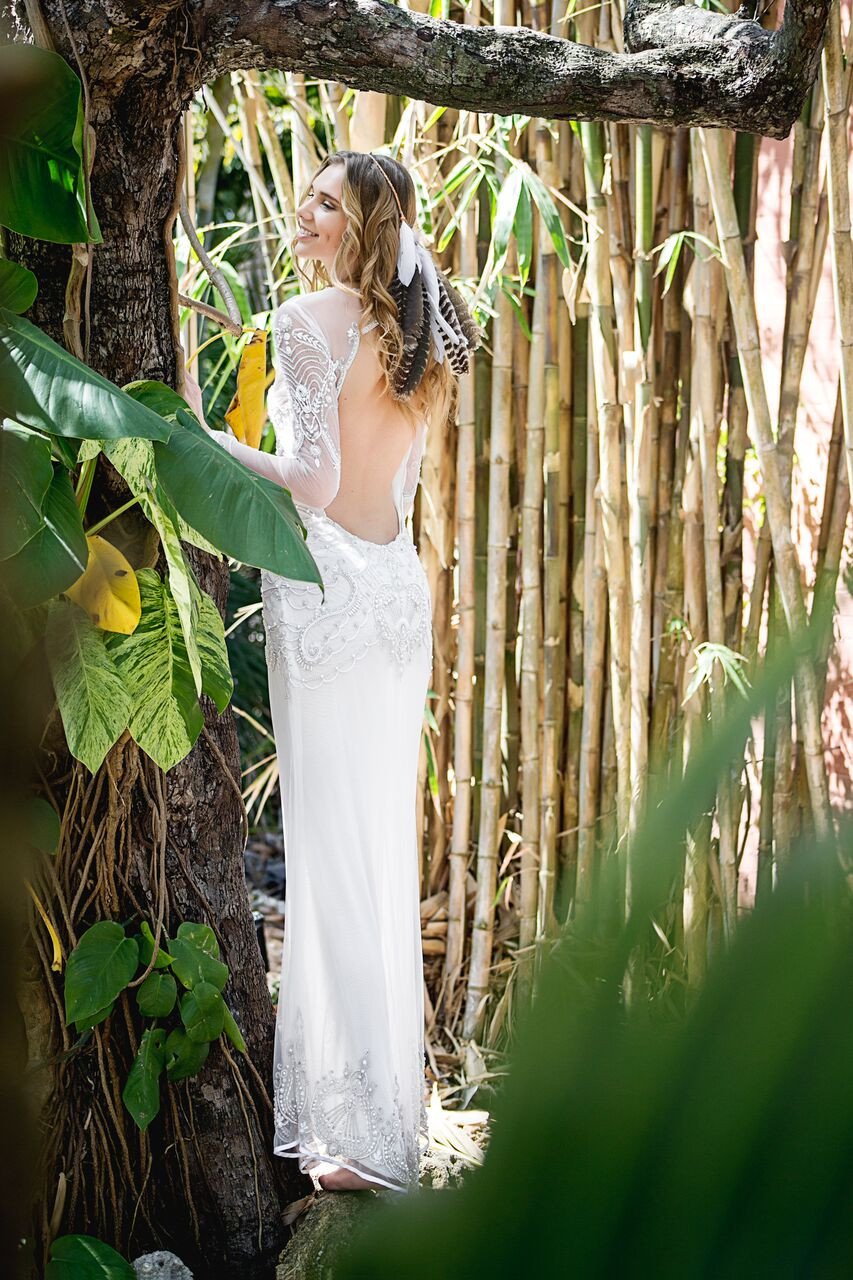 Karen Willis Holmes
Karen Willis Holmes is a famous Australian designer whose couture atelier and workroom are based in Sydney with boutiques located in Brisbane, Melbourne, Sydney and Perth plus a flagship boutique in the Soho, in New York. Fortunately she also has stockists all over Europe as well. Her WILD HEARTS Collection is for the free-spirited bride who would like to have a sophisticated look on her wedding day. Her handmade wedding dresses are very delicate and beautiful, using only the finest fabrics, laces and beading.
Let's see some examples of her amazing WILD HEARTS Collection: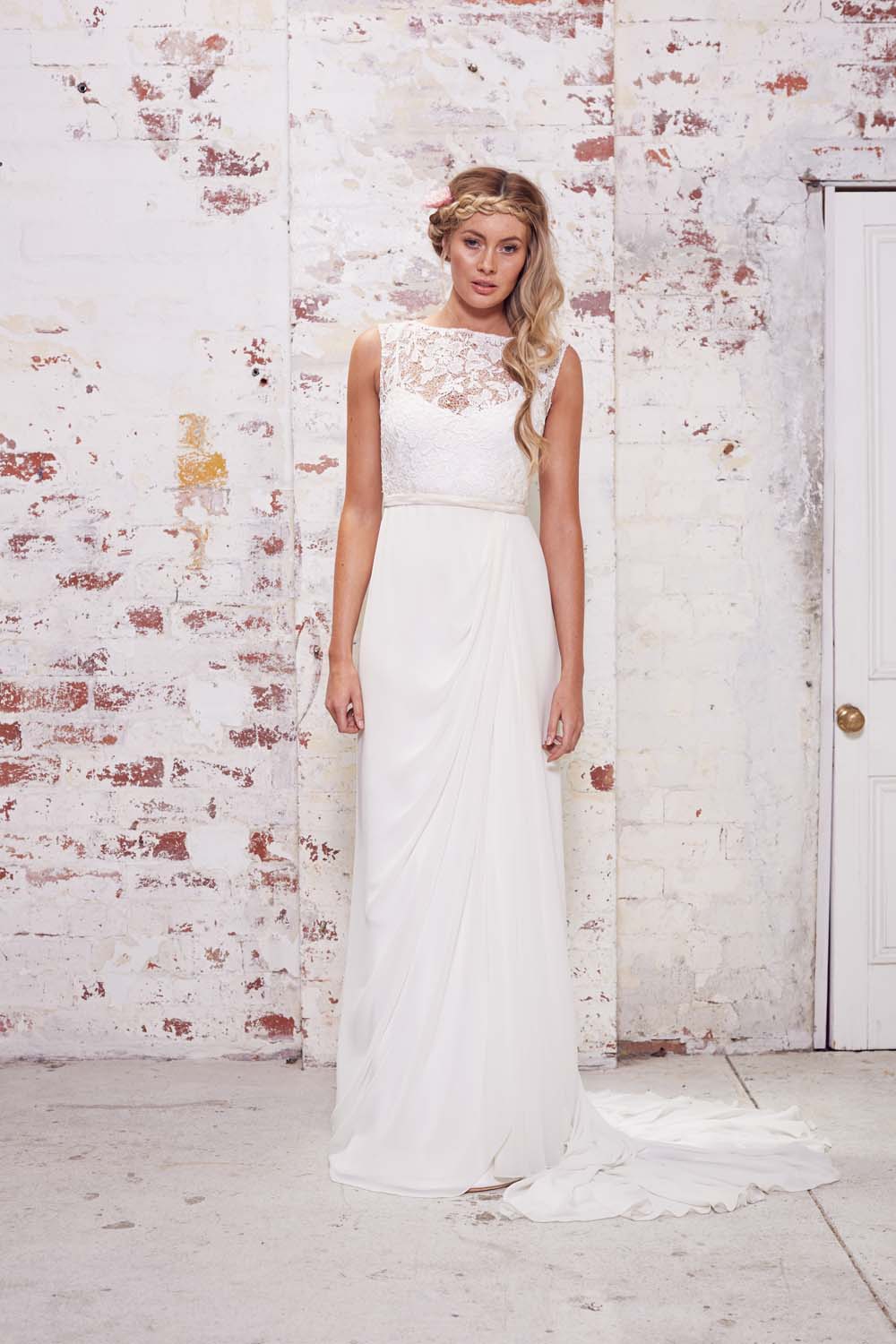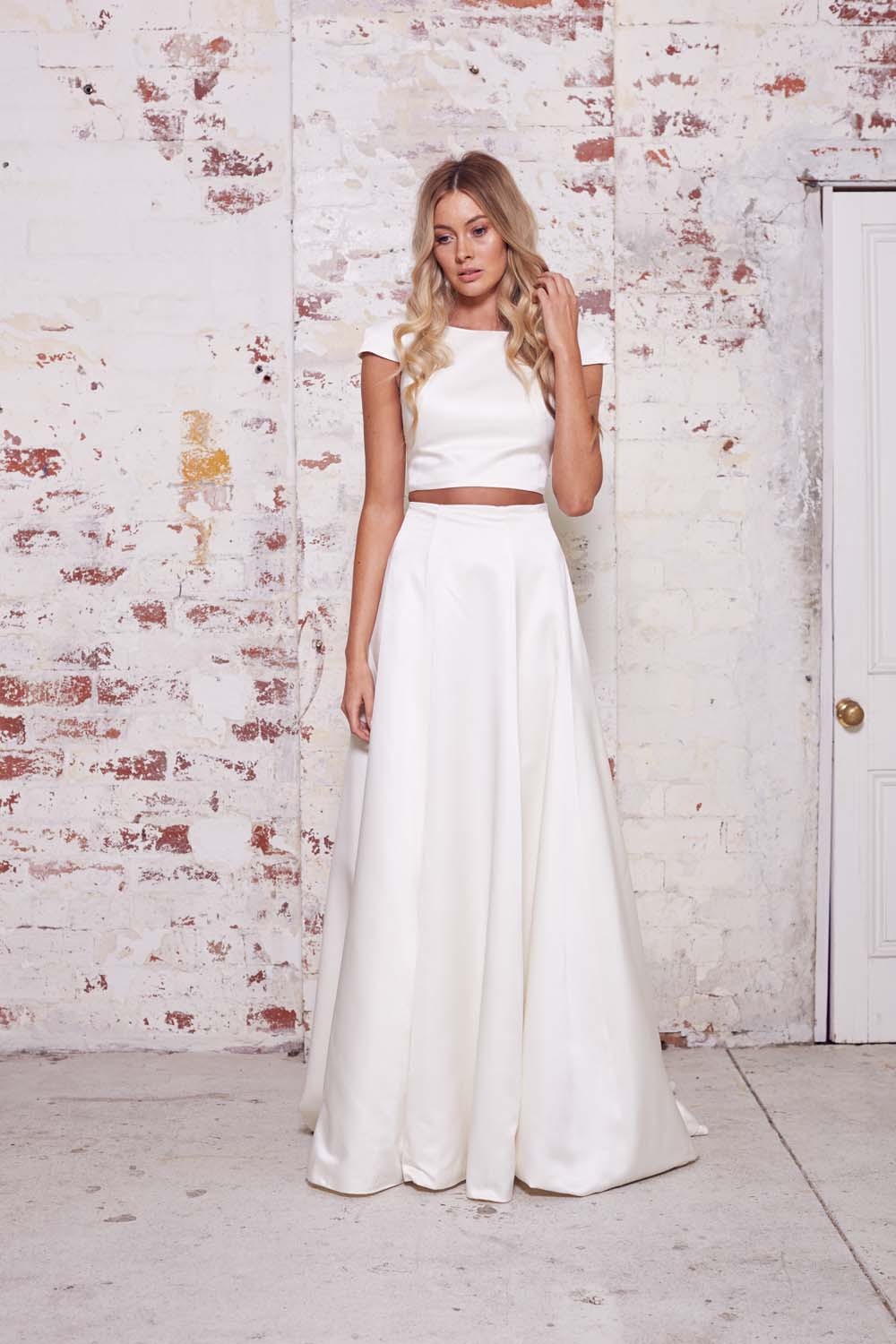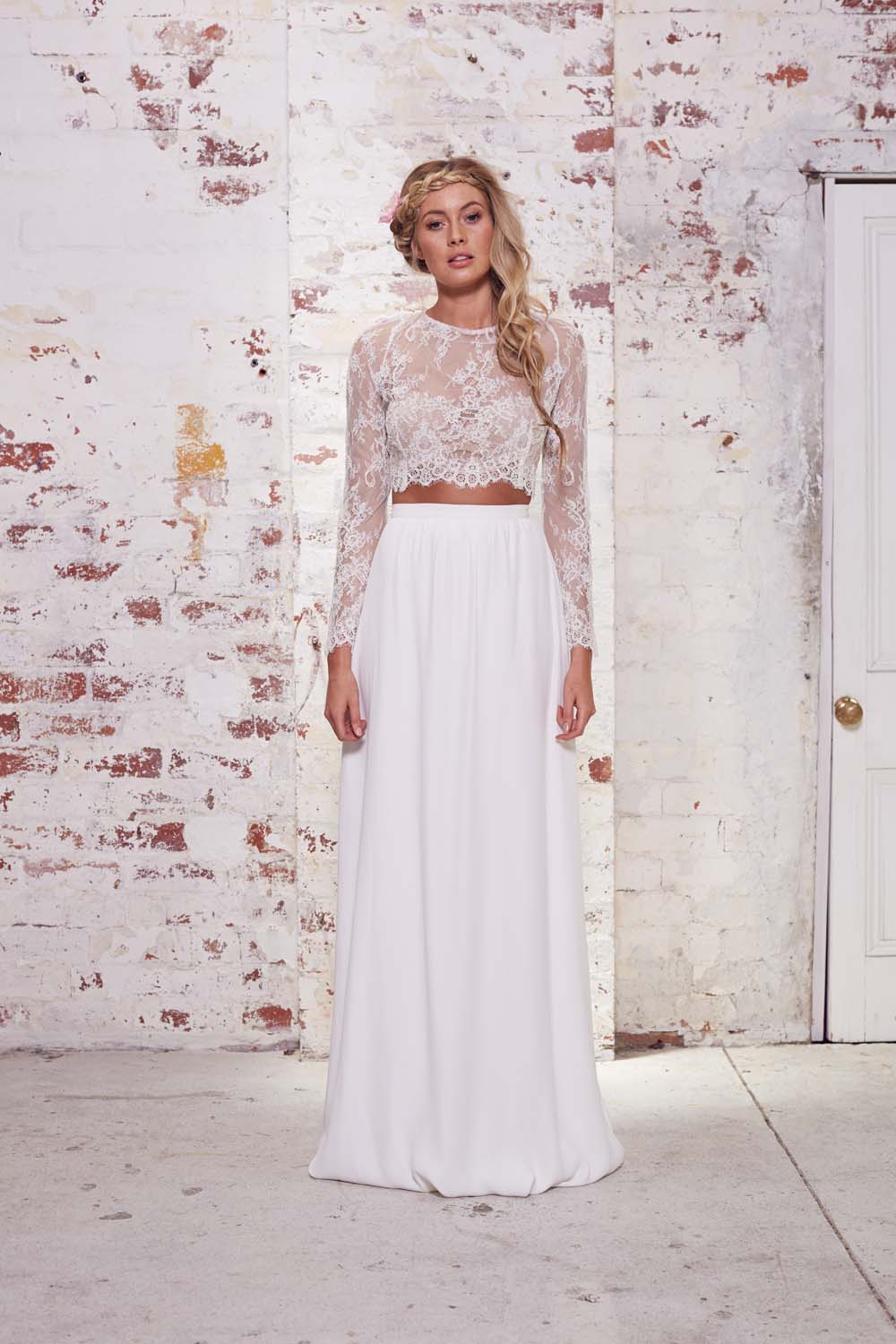 Her "Nomadic Boho Elopement" photo shoot is also wonderful. Just have a look at it – photos by Kyle Yee: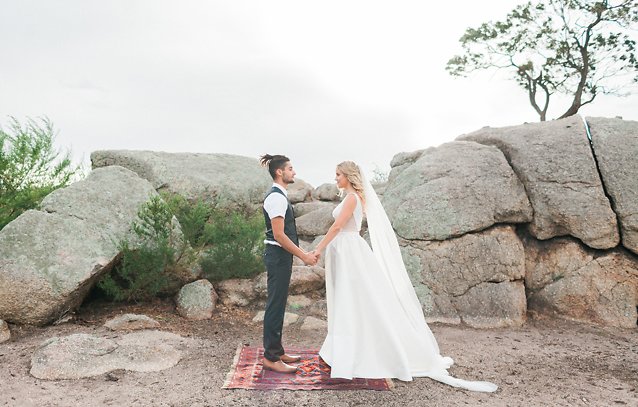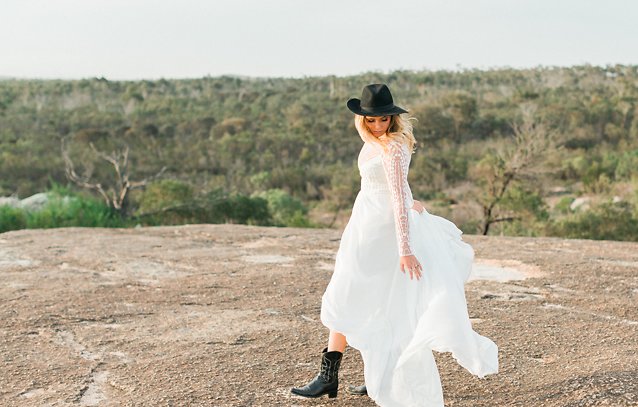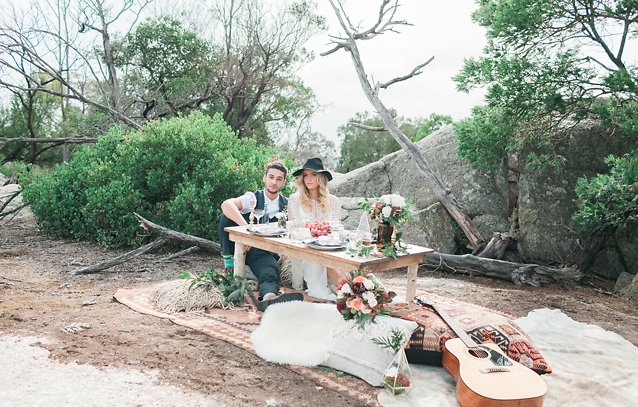 Wear Your Love – Jillian Leigh
Jillian Leigh designs feminine, unique wedding dresses, using luxurious organic cotton and silky soft bamboo. Her amazing dresses are for the free-spirited, modern bride who wants to be maximally beautiful and comfortable in her dress on her big day. Because she loves nature and it's her greatest inspiration, she only uses eco-friendly and sustainable fabrics. Her wedding dresses are so delicate that you'll never want to wear anything else.
The Rhiannon Dress by Wear Your Love is a soft white wedding dress for a romantic bohemian bride. The very soft organic cotton and the dotted tulle make this dress really comfortable and beautiful at the same time.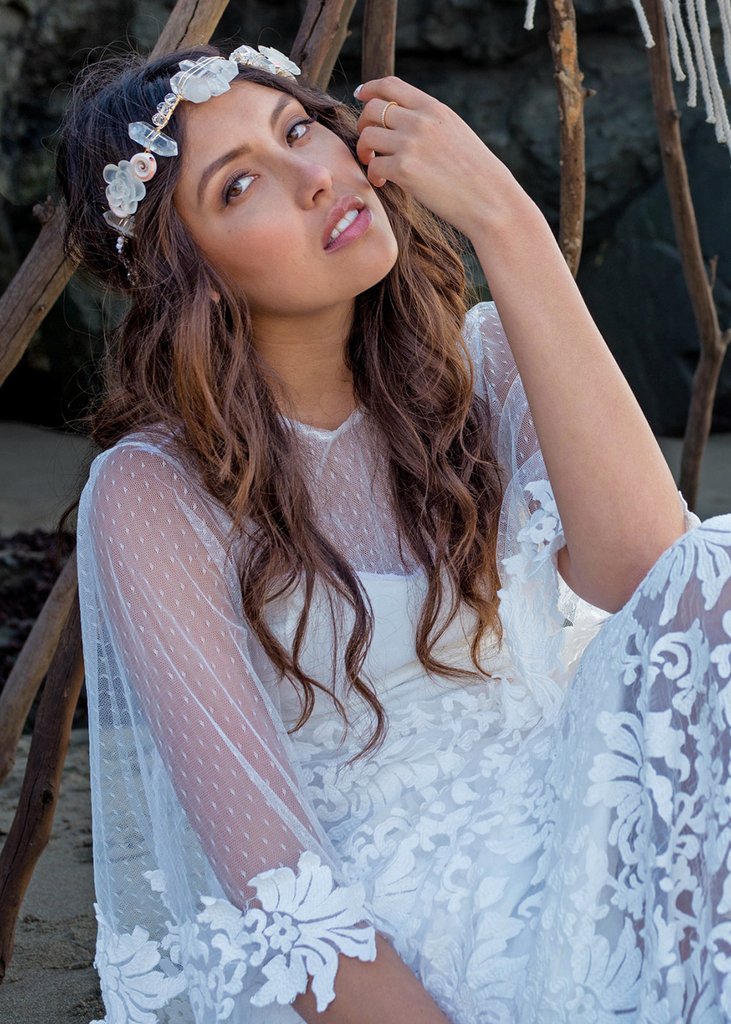 Paris Dress
In this dress you will feel free, timeless, sophisticated and feminine. The beautiful lace has Japanese floral design. The A-line style makes it comfortable to wear because it gives enough movement.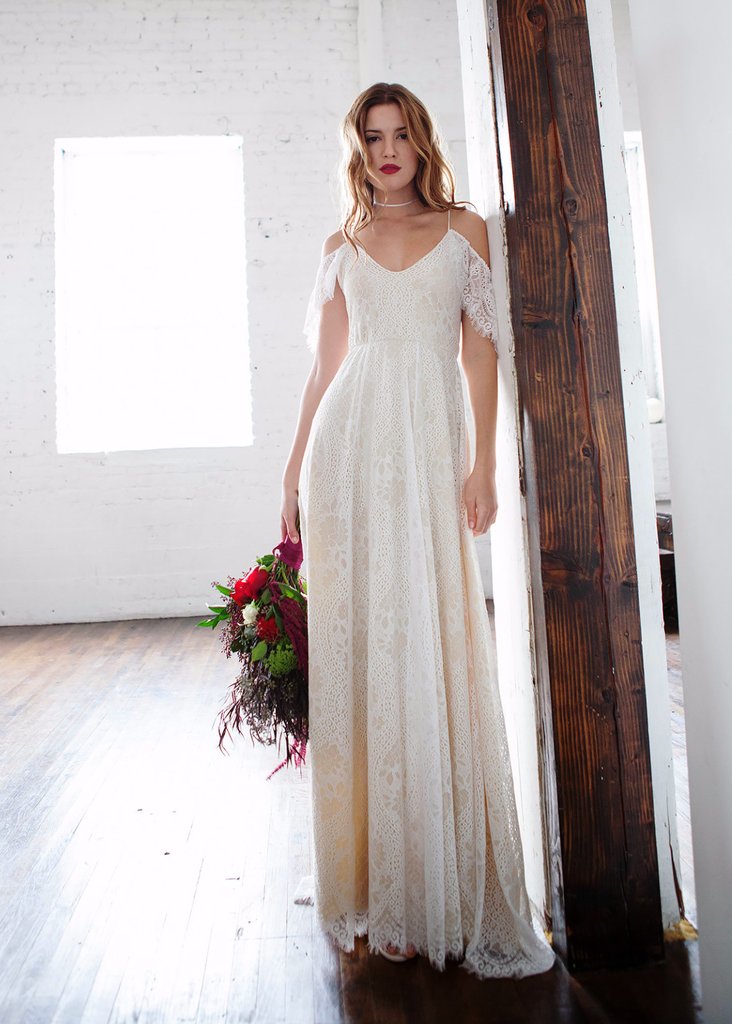 Zoey by Wear Your Love
The Zoey dress is really sophisticated, elegant and romantic. It will never goes out of style. The lace bodice is body-hugging and really luxurious. The skirt is made of organic cotton, natural silk chiffon and soft English tulle, these together create three ethereal layers that flow gracefully when in motion.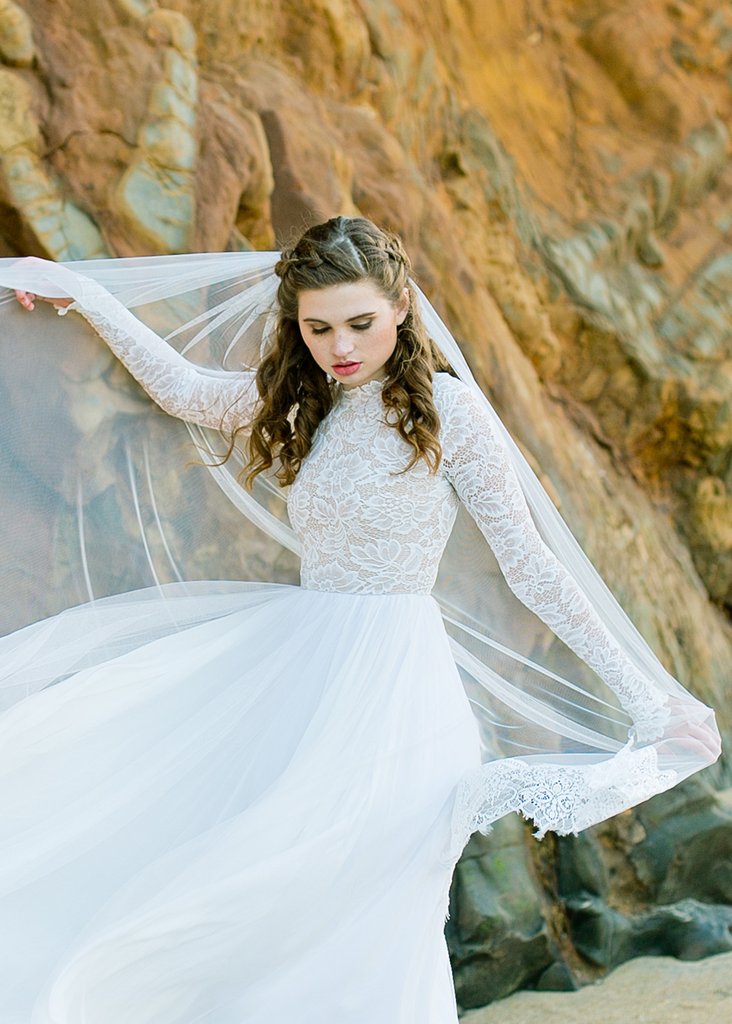 Kayla
The soft white Kayla Wedding dress is light, airy, soulful and really romantic. It's perfect for the bohemian bride and for an outdoor wedding. The bodice is made of delicate floral stretch lace while the skirt is made of soft chiffon, it's full and floaty.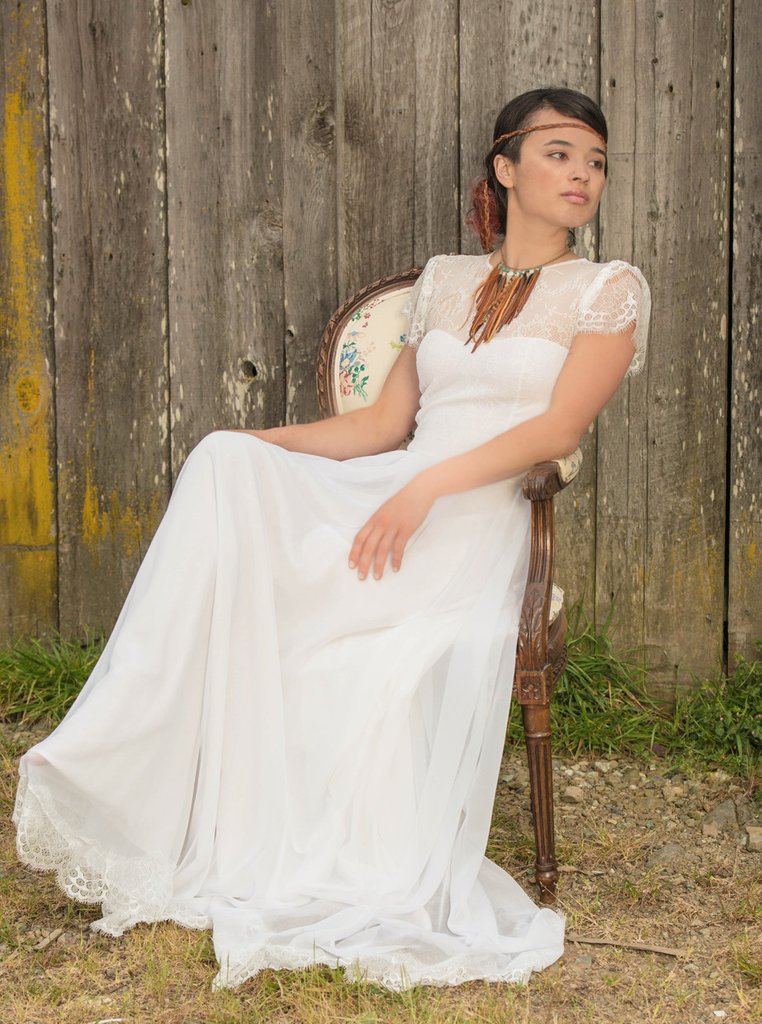 Once you have your perfect bohemian wedding dress it's time to think about the perfect bridal accessories.

Nicki Young from Adele Amelia designs beautiful wedding accessories, using the finest laces, fabrics, bead and vintage treasures from all around the world. She makes everything by hand in her Savannah studio. Her designs were featured in magazines such as Style Me Pretty, Bridal Musings and in many more. Nicki was trained at Parsons the New School for Design in Manhattan.
Let's see her beautiful wedding accessories: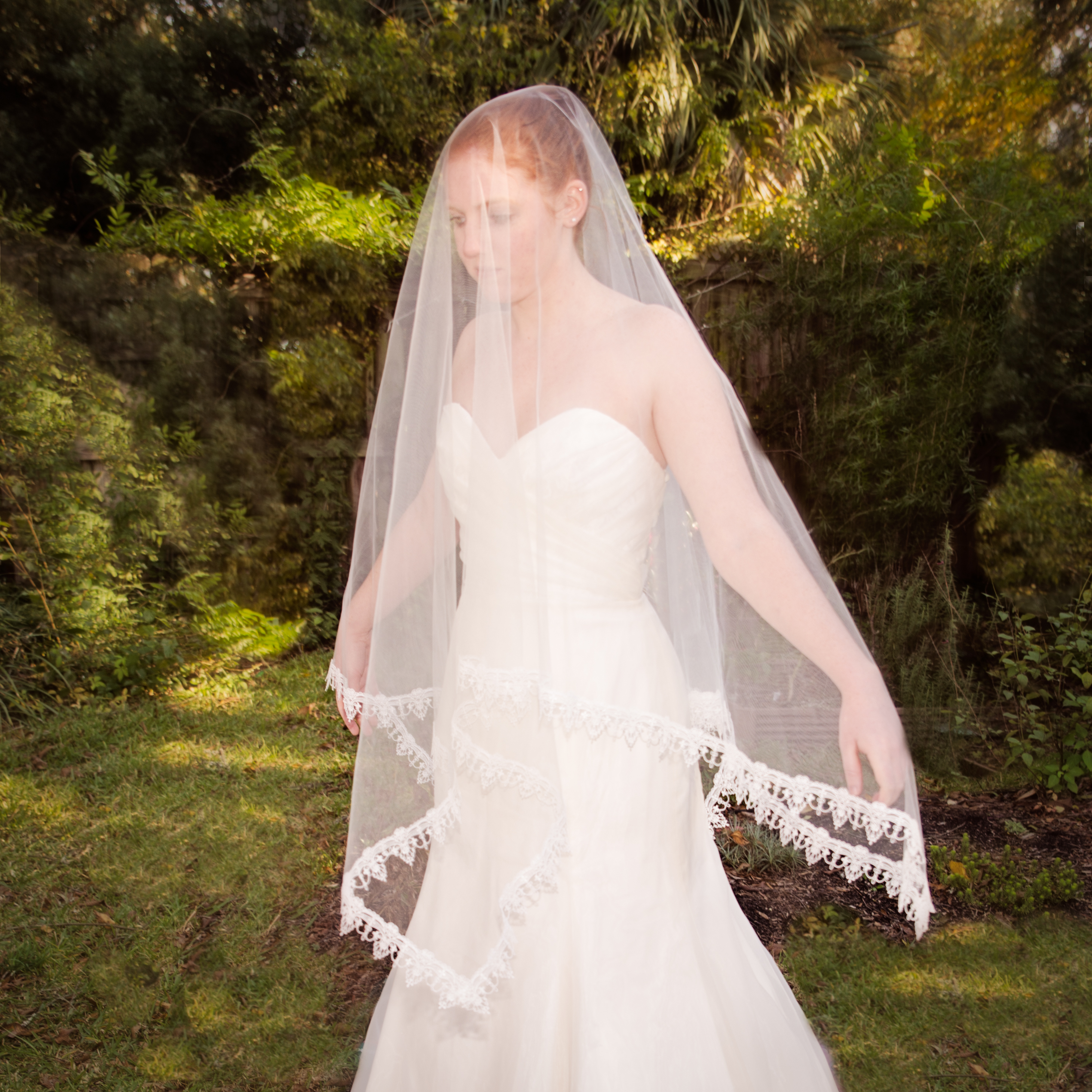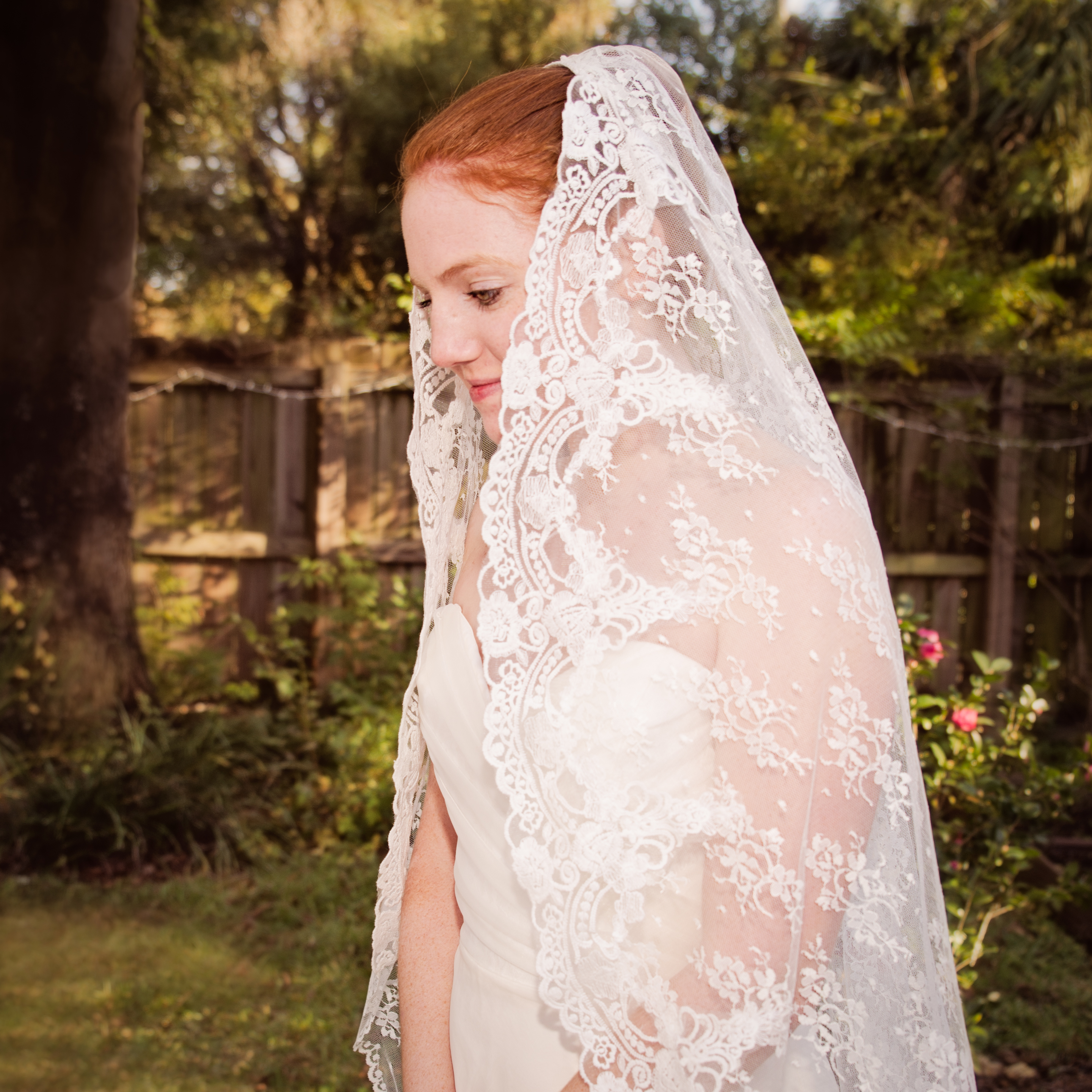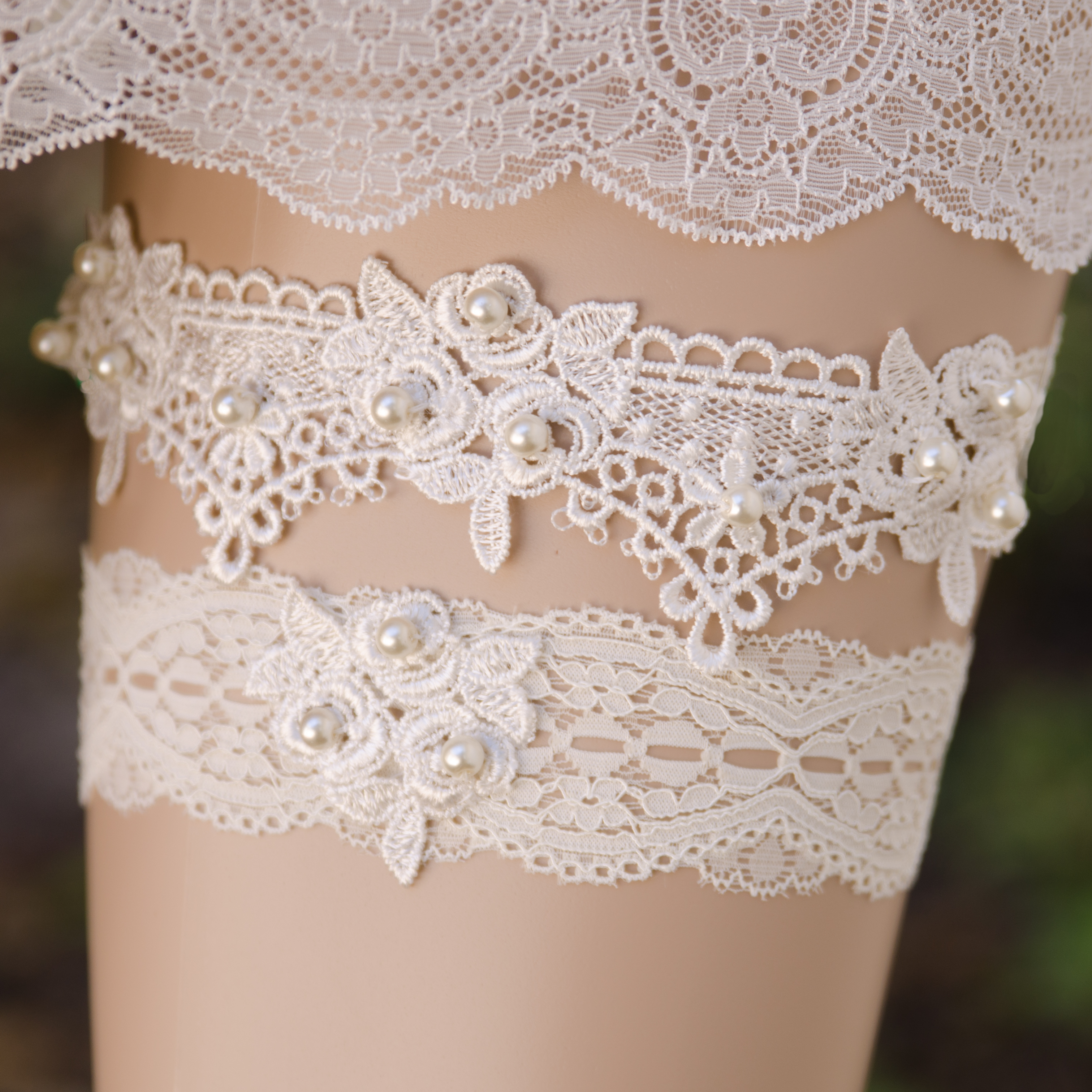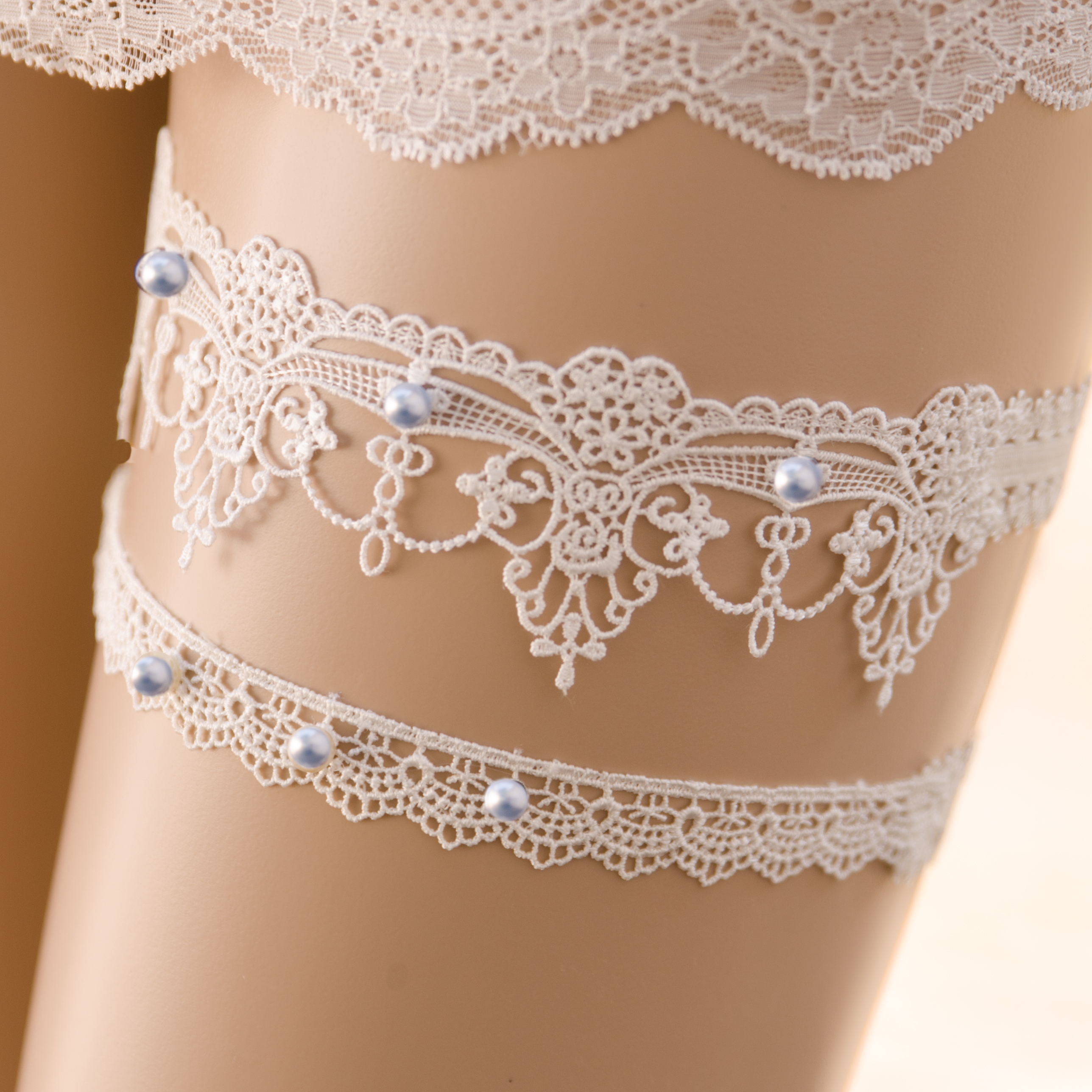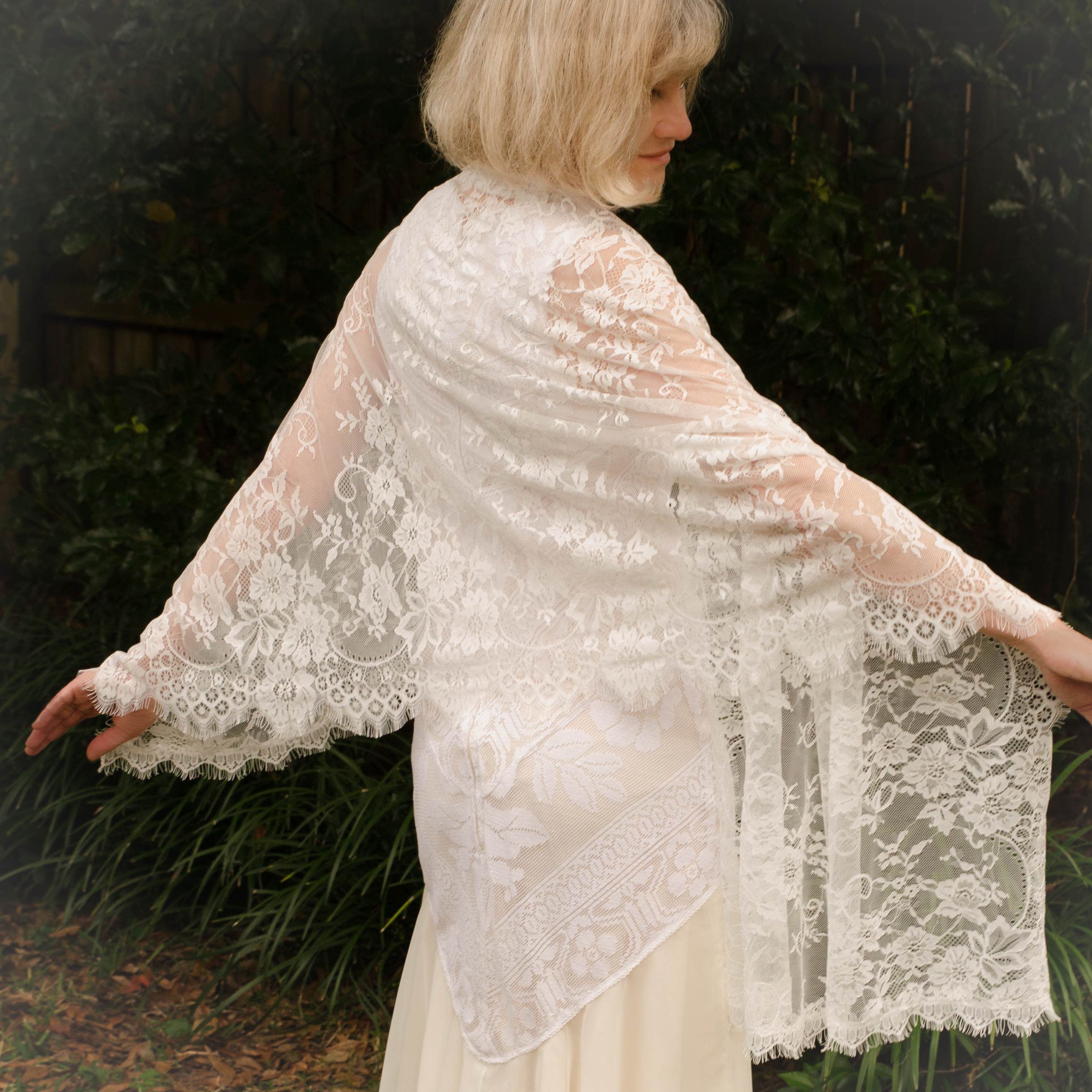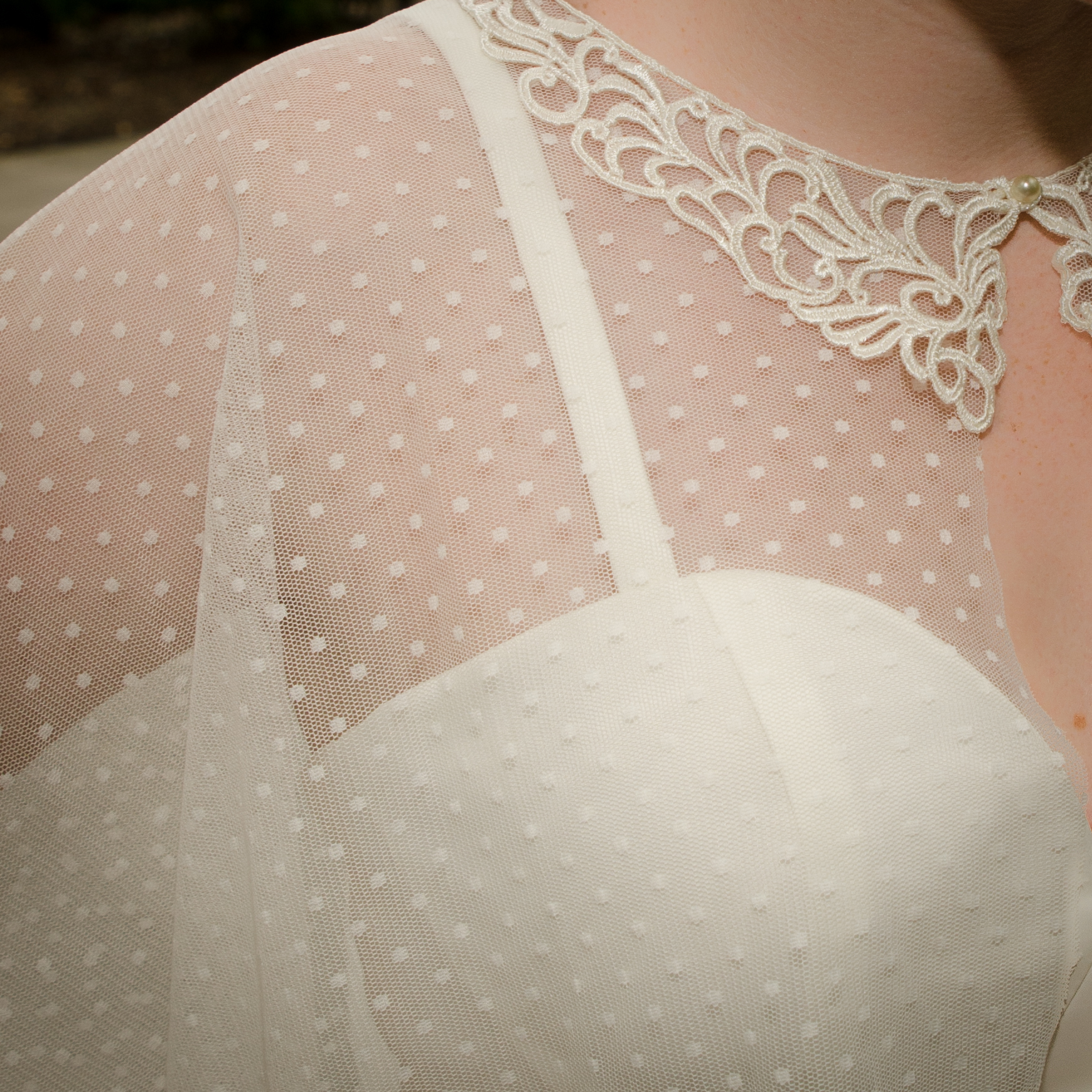 Thea Bloch-Neal from  hushedCOMMOTION designs vintage style and really elegant bridal accessories in her New York studio. She creates headpieces, belts, veils, wonderful pieces of wearable art, using unique beading and gold detailing.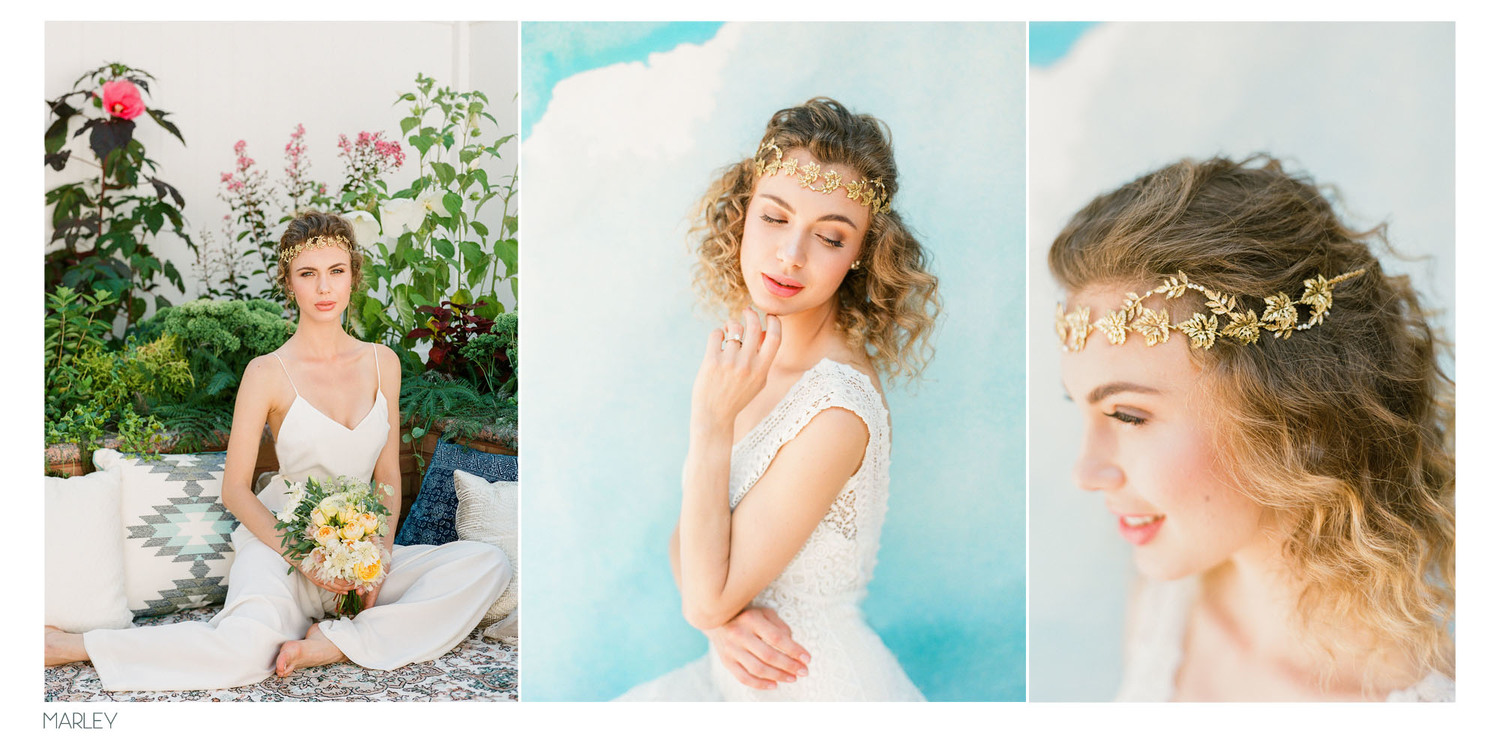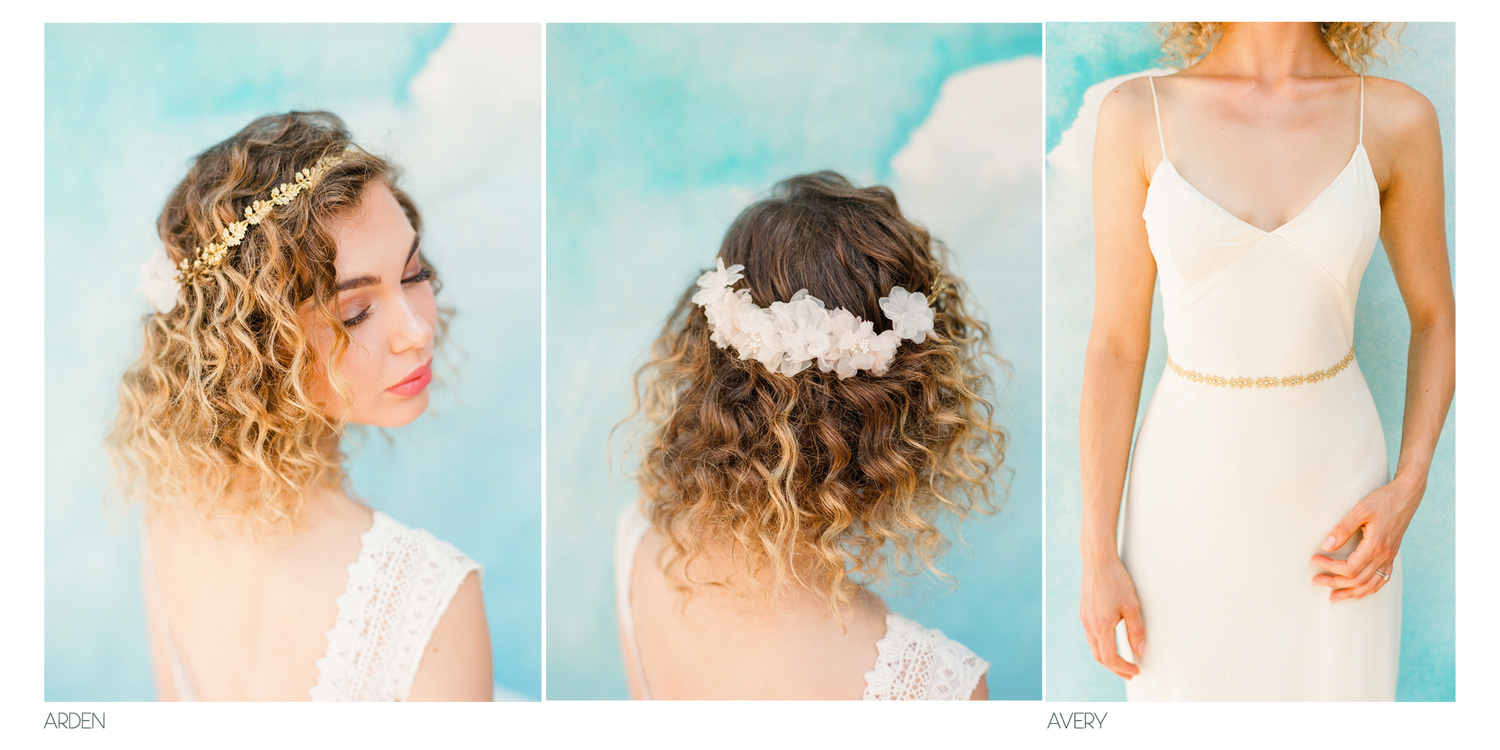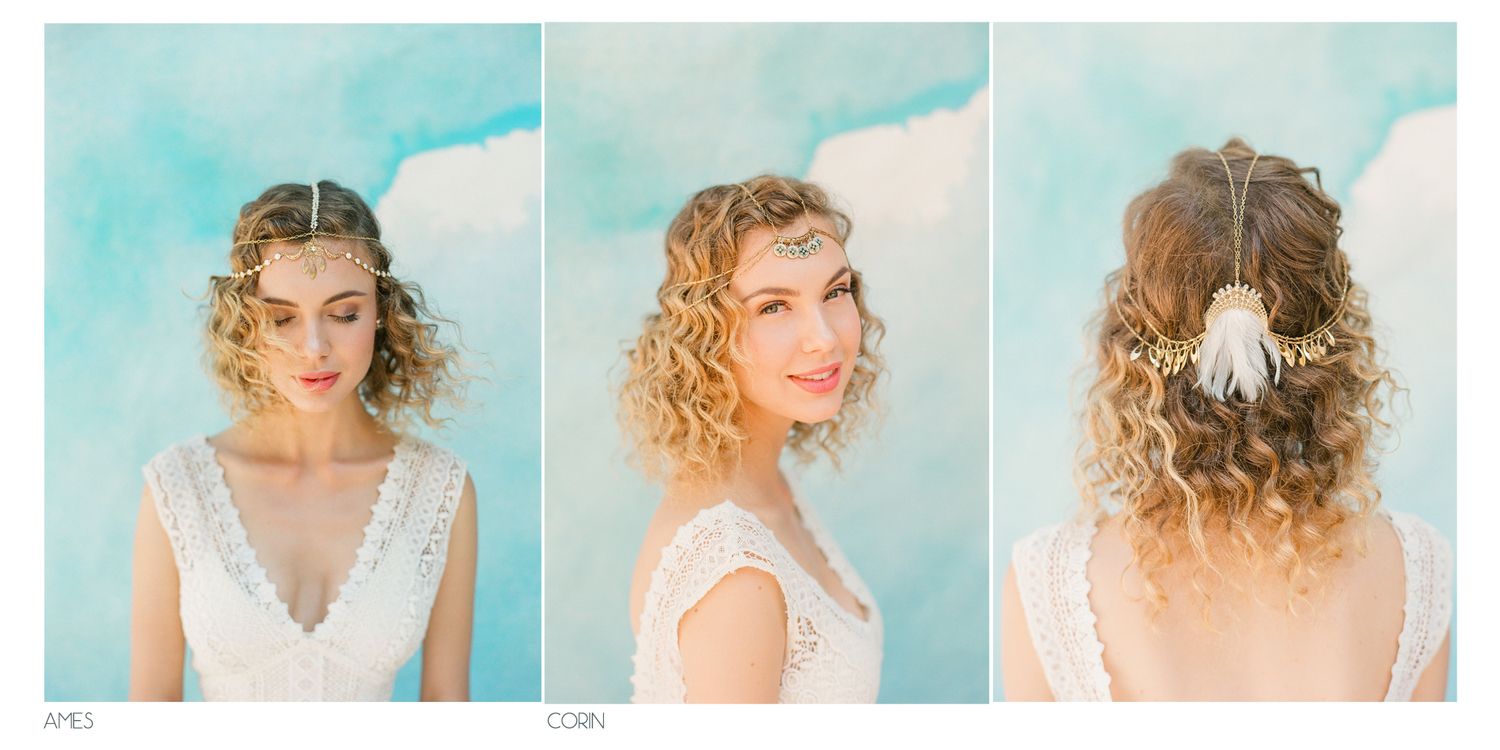 So these were the top 20 bohemian wedding dress designers and 2 of my favourite bridal accessory designers.  There are so many beautiful bohemian wedding dresses, so you can choose from plenty of options. The most important thing is that you feel comfortable, beautiful and confident on your big day. Enjoy the sweet moments and your amazing bohemian dress.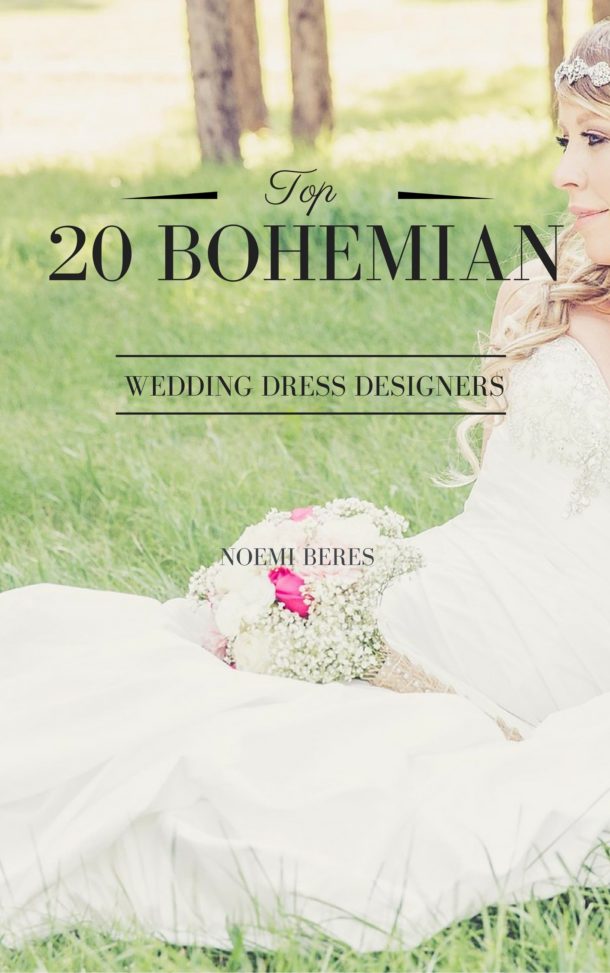 Download Your Free Boho Wedding Dress Catalogue
Download the free catalogue which inludes many beautiful bohemian wedding dresses from the top 20 designers.
Please enter your email address below and I send the free catalogue to your inbox.
Thank you. Please check your inbox for the download!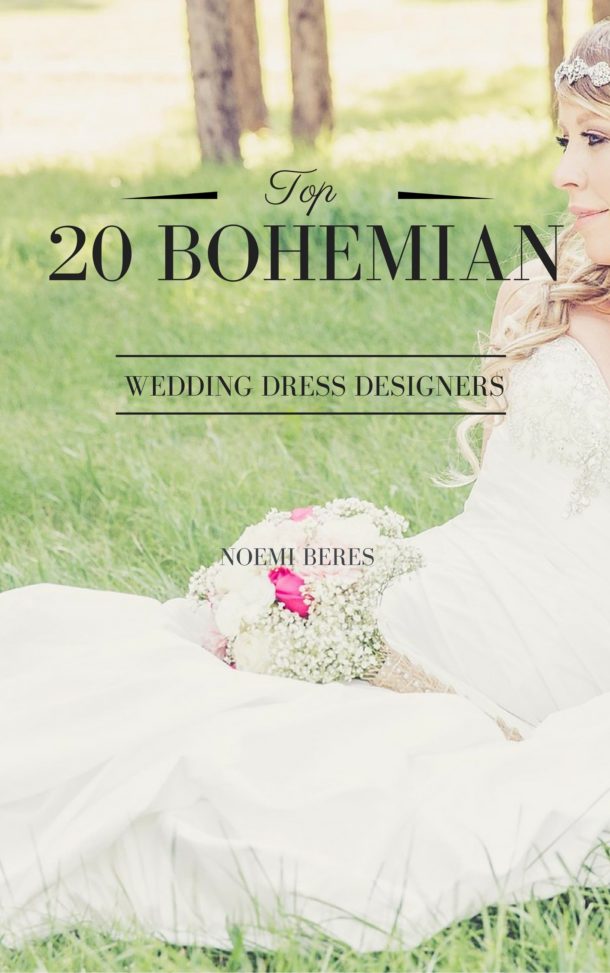 Download Your Free Boho Wedding Dress Catalogue
Download the free catalogue which inludes many beautiful bohemian wedding dresses from the top 20 designers.
Please enter your email address below and I send the free catalogue to your inbox.
Thank you. Please check your inbox for the download!